Baby bald eagle gets its own 'no fly zone' as choppers battle wildfire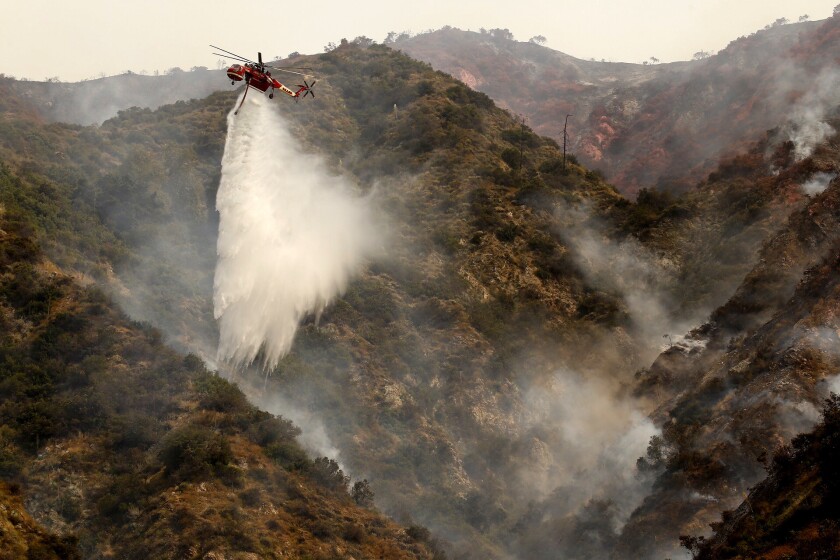 Firefighters battling a pair of wildfires in the San Gabriel Mountains have been instructed to avoid a 1,000-foot radius area around a nest where a baby eagle is getting ready to fledge, a U.S. Forest Service official said Wednesday.
The bald eagle's nest is not located in part of the forest where the Reservoir and Fish fires are burning. The buffer zone above and around the nest is intended for water-dumping helicopters, which create noise and air turbulence that could disturb the chick, said Ann Berkley, a wildlife biologist with the Forest Service.
"We don't want to startle him out of the nest because it could be very detrimental to his survival," Berkley said.
More than 1,000 firefighters were battling the blazes, which are separated by about 1 ½ miles. The wildfires broke out during Monday's record-breaking heat wave, and are jointly called the San Gabriel Complex fire. So far, they have burned about 4,900 acres, authorities said. The fires were about 10% contained on Wednesday.
See the most-read stories in Local News this hour >>
It is extremely unusual for bald eagles to nest in the San Gabriel Mountains, Berkley said.
"The fact that this one nested so successfully — we're doing everything we can to protect it," she added.
An adult bald eagle was first spotted by a firefighter and reported to the U.S. Forest Service in late 2011, Berkley said. In mid-April of this year, amateur bird watchers reported seeing the baby, which was estimated to be 10 to 12 weeks old.
The bald eagle is no longer considered an endangered species, but it is federally protected under the Bald and Golden Eagle Protection Act.
The situation with the eagle is emblematic of the broader challenges firefighters face when battling flames in protected areas like the San Gabriel Mountains National Monument or other areas with sensitive habitats.
Berkley, a resource advisor on the San Gabriel Complex fire, identifies and alerts crews to any critical habitats or threatened species they might encounter while fighting the fire. Some resource advisors even go out on the fire line with firefighters, she said.
Fire crews in the Angeles National Forest have been told to be wary of Spanish broom, a non-native shrub with bright yellow flowers that is considered an invasive species.
Forest Service officials are asking crews to wash their fire engines'tires before coming down the mountain in an effort to contain the spread of the species as it gets ready to release new seeds, Berkley said.
"It's very pretty, it's very aromatic, and it's very hard to get out," Berkley said.
Times staff writer Hailey Branson-Potts contributed to this report.
MORE LOCAL NEWS
Huge increase in dead trees across California forests, heightening fire risk this summer
L.A. Uber driver threatens to hit passenger with a rock, steals his iPhone, police say
Twin fires in San Gabriel Mountains force hundreds of evacuations amid brutal conditions
---
The perils of parenting through a pandemic
What's going on with school? What do kids need? Get 8 to 3, a newsletter dedicated to the questions that keep California families up at night.
You may occasionally receive promotional content from the Los Angeles Times.