26 million trees have died in the Sierra since October, raising fire risk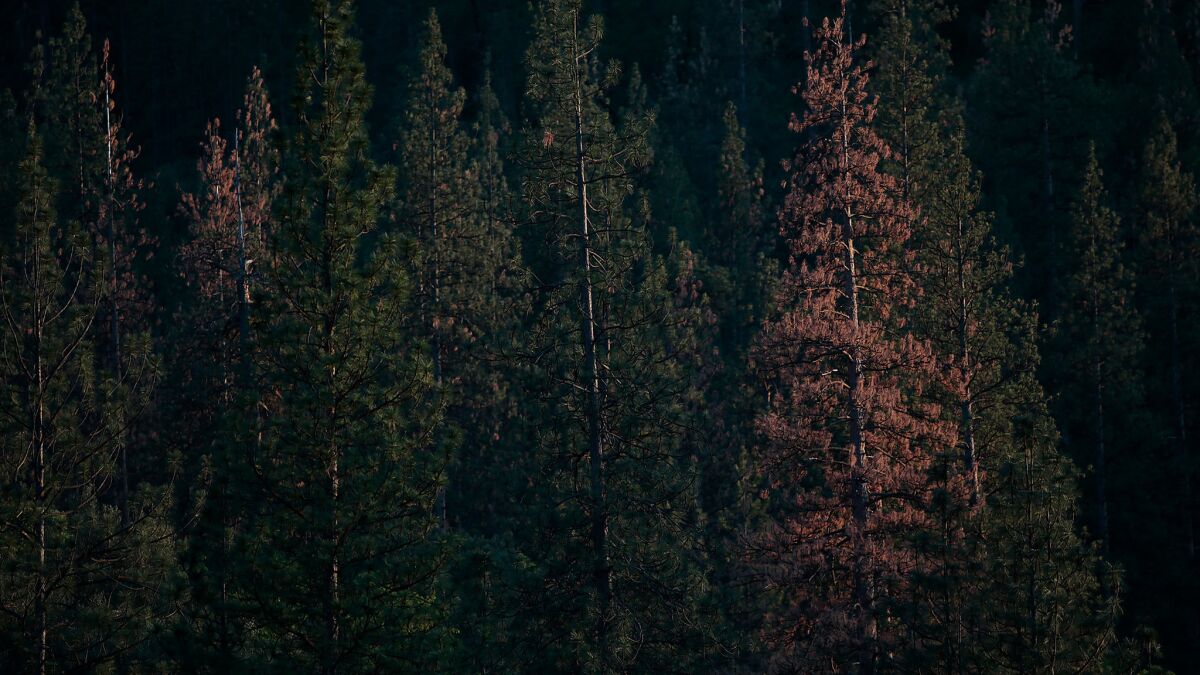 A lethal combination of drought, heat and voracious bark beetles has killed 26 million trees in the Sierra Nevada over the last eight months -- an alarming finding for a state already raging with wildfires fueled by desiccated landscapes.
The dire estimate offered Wednesday by federal officials brings the loss of trees since 2010 to at least 66 million, a number that is expected to increase considerably throughout the year, despite an average winter of rain and snow that brought some relief to urban Californians.
"Tree dies-offs of this magnitude are unprecedented and increase the risk of catastrophic wildfires that puts property and lives at risk," Agriculture Secretary Tom Vilsack said in a statement.
U.S. Forest officials say 40 million trees died between 2010 and late 2015. In October, Gov. Jerry Brown declared a state of emergency and formed a tree-mortality task force to help mobilize additional resources for the safe removal of fallen and dying trees.
The latest number was reached after a May survey of six southern Sierra counties: Fresno, Kern, Madera, Mariposa, Tuolumne and Tulare.
See the most-read stories this hour »
The Forest Service, which spent more than half its budget last year on fire management, plans to conduct additional surveys on tree mortality throughout the summer and fall.
In his statement, Vilsack called on Congress to address finances allocated for firefighting, warning that the agency will otherwise lack the necessary resources to address and restore the forests.
"Forcing the Forest Service to pay for massive wildfire disasters out of its preexisting fixed budget instead of from an emergency fund like all other natural disasters means there is not enough money left to do the very work that would help restore these high-mortality areas," he said. "We must fund wildfire suppression like other natural disasters in the country."
The rapid escalation of tree deaths should be considered a grave issue, threatening the collapse of an ecosystem that has made California the sixth-largest economy in the world, said Andy Lipkis, president and founder of TreePeople, an L.A.-based environmental advocacy nonprofit.
"We tend to think of trees as decoration," Lipkis said. "Unfortunately, we've forgotten that trees are the actual pillar of our life-support system, critical for our food, water, habitat -- for our air and for temperature stability."
Trees can help cool areas, but as evidenced by the record-setting temperatures this week in the Southland, Lipkis said, "we're heading rapidly in the other direction."
NEWSLETTER: Get essential California headlines delivered daily »
For fire officials, the dramatic loss of trees has them on edge.
"It doesn't necessarily mean more fires, but if a fire gets into those areas where there's massive tree die-off, it's going to be much faster and more intense," Cal Fire spokesman Daniel Berlant said. "It's going to be much harder for us to stop a fire in these dead forests, as opposed to when they were alive."
Berlant said that last week alone his agency responded to more than 250 fires. Crews are readying themselves for the summer and fall months when conditions are drier and the Santa Ana winds come into play.
"A fire with those conditions in those tree mortality regions can be devastating," Berlant said. "We absolutely see it as a huge public safety risk."
Forest Service scientists believe the remaining trees need at least two years of normal or above-normal rain to fully regain their health. Water-starved trees are unable to produce their usual pitch or sap, the secretions that tend to protect them from fungi and insects. Bark beetles are notoriously fond of frail trees, burrowing destructive paths into limbs and trunks to mate and lay eggs.
Although the epicenter of the die-off is the southern Sierra Nevada, the march of death is rapidly moving north to places such as Lake Tahoe and Eldorado National Forest.
Environmental experts are not surprised by the latest number of tree deaths.
Trees that may have looked green and healthy last fall may have, in fact, been at death's door, said Adrian Das, a forest ecologist with the U.S. Geological Survey. And tree mortality will "lag" even after the drought ends, he said.
Das, who works in Sequoia National Park, said dead trees are generally trees found at lower elevations, but that there is much to be learned in the field.
"Trees just don't die that often," he said.
There are also new forays to be made into the study of forest regeneration.
"If we're in a warmer climate, are we going to see the same forest come back in or is it going to change the landscape?" Das said. "These forests have been here a long time. You might not get the same thing that you had before. "
And then there is the issue of which types of trees should be planted in the areas where trees have died.
"We're doing a lot of reforestation right now," said Randy Moore, who oversees the Pacific Southwest region of the U.S. Forest Service. "Do we bring back pine, or another species? Do we want it to come back as chaparral?"
In a statement Wednesday, the Forest Service said it had committed to spending $32 million in California to restore trees along roads and recreation sites.
But limited resources mean it can be hard to strike a balance between planting trees and fighting fires. California's forests, Moore said, still contain "lots of material" for future blazes.
Twitter: @bymattstevens
Twitter: @corinaknoll
ALSO:
California Democrats among dozens of lawmakers staging sit-in demanding gun vote
Cooler weather aids wildfire battle in Angeles National Forest; some evacuations lifted
'Seismic strain': Land around the San Andreas fault is rising and sinking, new earthquake research shows
---
UPDATES:
2:30 p.m.: This article was updated with additional reporting and editing.
12:18 p.m.: This article was updated with additional reaction.
11:28 a.m.: This article was updated with additional reporting.
This article was first published at 10:30 a.m.
The stories shaping California
Get up to speed with our Essential California newsletter, sent six days a week.
You may occasionally receive promotional content from the Los Angeles Times.