L.A. officials moved to ban rental scooters in March. So why are they everywhere?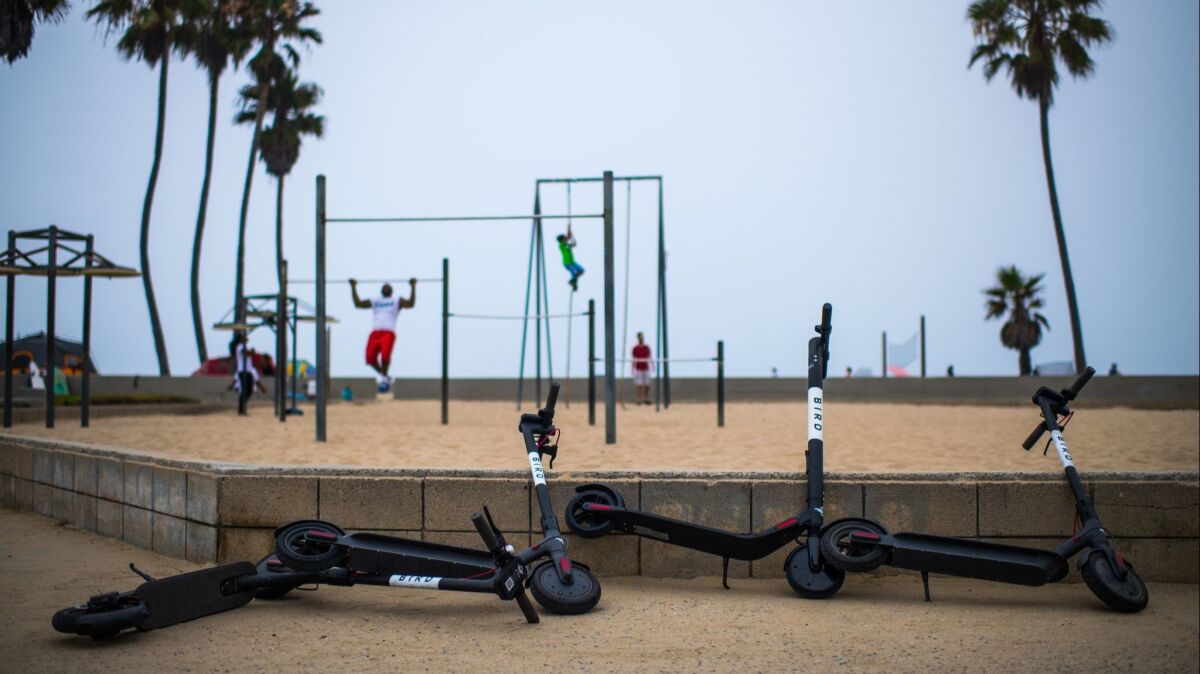 A proposal in July to temporarily ban rental scooters in Los Angeles sparked an outcry from transportation advocates and some lawmakers, who said the zippy devices were a transportation innovation that should be regulated, not banished.
During that debate, though, a crucial point went unmentioned: L.A. lawmakers had already backed a temporary scooter ban.

For the record:
12:35 p.m. Aug. 16, 2018An earlier version of this article said the City Council had temporarily banned scooters. The council approved a motion to impose a ban, but no ordinance implementing the ban was approved.
Five months ago, the Los Angeles City Council unanimously approved a motion to place a moratorium on "dockless transportation systems" until officials could approve rules governing their use.
The motion was drafted to apply to the shared bicycles that can be rented and dropped off anywhere. Some City Hall officials realized only last week that the language was broad enough to apply to the hundreds of Bird and Lime scooters that have appeared in Venice Beach, Playa del Rey, Beverly Grove and other L.A. neighborhoods.
The moratorium vote has been referenced in city documents, including a cease-and-desist letter that the Transportation Department sent to the scooter company Bird in June. But whether it is enforceable is a matter of interpretation at City Hall.
Scooters "should fall under the umbrella" of the moratorium, said Oliver Hou, a Transportation Department spokesman. The City Council never took the final step to turn the motion into a law, but in some parts of City Hall, lawmakers' wishes seemed clear: For the time being, the scooters weren't welcome.
The confusion underscores the mixed messages from Los Angeles officials as they debate how to regulate companies that already are operating, expanding and winning support across the city. Taking a page from Uber's playbook, Bird and Lime have placed hundreds of scooters on sidewalks across the city without approval from lawmakers, and with few repercussions.
Enforcing a blanket ban on scooters would be difficult, if not impossible, without more instruction from the City Council, City Hall officials said. Employees would have no instructions on how to handle a wide range of potential problems, from a rider without a helmet to an errant scooter in a tree, they said.
"This is typical of how Los Angeles operates," said Robert Cherno, a land-use consultant who lives in the Fairfax district. "These companies were bold enough to go out there, and how many scooters did they put out there? And where was the city? Nowhere."
Lime spokeswoman Mary Caroline Pruitt said the company was "aware of the moratorium, and remain[s] committed to working closely" with city leaders to pass regulations. Bird did not return a request for comment.
To ride, users must sign up through the scooter company apps, providing a driver's license number and credit card information.
Riders use the interactive maps to find a scooter nearby, and scan a code on the scooter to unlock it. Rentals cost $1, plus 15 cents per minute.
The City Council is drafting rules that would limit the number of scooters per company to 5,000 during the first formal year of operation, and would impose other requirements on speed, payment, parking and data-sharing with the city.
Westside residents have complained that scooting on sidewalks poses a safety risk to pedestrians, and that parked scooters that block doorways and wheelchair ramps violate the Americans with Disabilities Act.
Earlier this month, City Council members proposed requiring a device in each scooter that would limit its operating speed to 12 mph — an acknowledgement that, even though riding scooters on the sidewalk is illegal in California, it's where many riders end up.
The City Council's public works committee Wednesday recommended a 15-mph speed limit. Lawmakers will probably vote on the bundle of rules and regulations next week, officials said.
"It's been something that people have loved," Mayor Eric Garcetti told reporters last week. "But we're also seeing a lot more emergency room visits, and it's unsafe."
In early June, just months after the City Council had passed the ban on the dockless systems, Bird deposited a few dozen scooters in the Arts District downtown.
The area's councilman, Jose Huizar, supports scooters "in theory," said spokesman Rick Coca, but "just wants to make sure everything makes sense in practice."
Transportation Department General Manager Seleta Reynolds sent a rare cease-and-desist letter after the scooters appeared, demanding that Bird "remove any and all vehicles" in Los Angeles immediately. If the company didn't comply, she wrote, city officials would confiscate and impound the scooters, even if people were riding them.
The letter referenced the City Council's March vote, saying: "Since Bird has no existing pilot in the city of Los Angeles you are in violation of the citywide moratorium."
But the Transportation Department, which installs bike lanes and issues parking violations, doesn't "have the ability to impound the vehicles," chief sustainability officer Marcel Porras said at a City Hall meeting last week.
The Bureau of Sanitation, which owns dump trucks and handles bulky item pickups, had not received instructions to start impounding, spokeswoman Elena Stern said.
The cease-and-desist letter, officials said, was less a hard-and-fast legal demand and more of a request that the company stay out of downtown, where sidewalk space is at a premium. (City officials "reached out via cease-and-desist," Porras said.)
The message, Garcetti told reporters last week, was: "Hey, we're actually at the table together right now — don't … cause problems before we can resolve them." Bird removed the scooters in the Arts District, but nowhere else.
For more transportation news, follow @laura_nelson on Twitter.
---
UPDATES:
4:05 p.m.: This article was updated with background on how the scooter rentals work.
1:05 p.m., Aug. 16: This article was updated with the public works committee recommending a 15-mph speed limit for scooters.
This article was originally published at 10:10 a.m. Aug. 15.
The stories shaping California
Get up to speed with our Essential California newsletter, sent six days a week.
You may occasionally receive promotional content from the Los Angeles Times.