L.A. starts debating rules for electric scooters and bike-share companies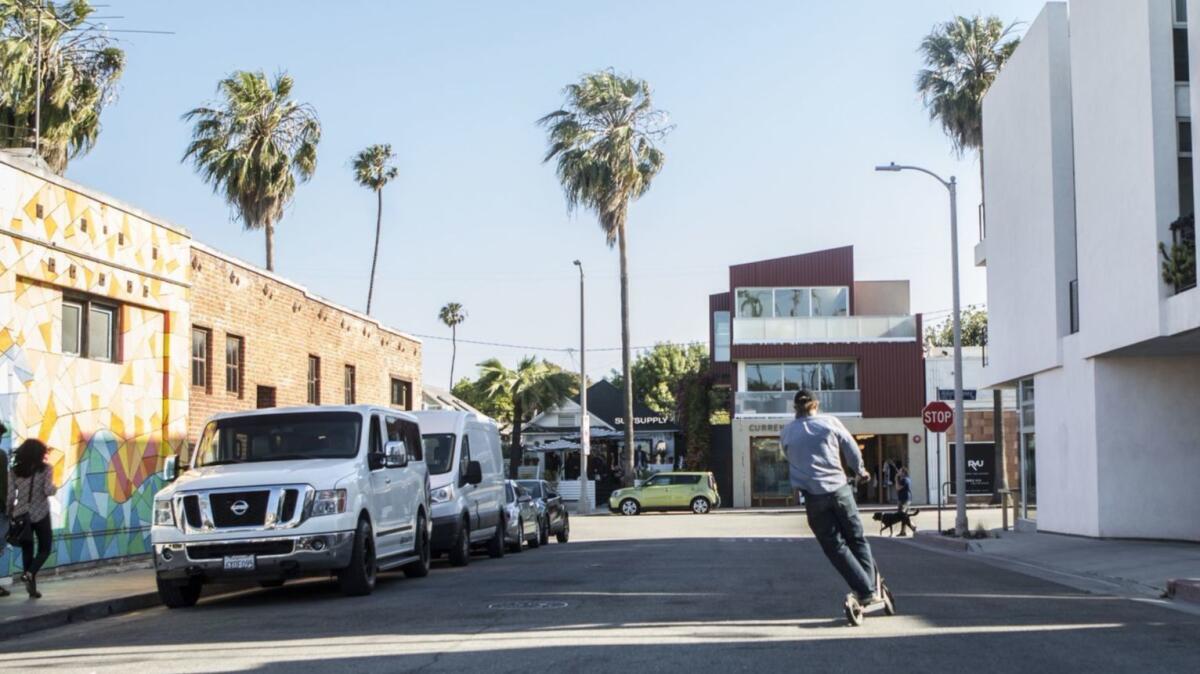 With electric scooters and short-term bicycle rentals continuing to flood the Westside, Los Angeles city officials have begun to discuss how to regulate the transportation companies to minimize cluttered sidewalks and ensure rider safety.
The Transportation Department proposed a one-year test program Wednesday that would limit each company — including the start-ups Bird, LimeBike and Jump Bikes — to no more than 2,500 vehicles within city limits, and would impose strict rules for parking and data sharing.
The motorized scooters typically cost $1 to rent, plus 15 cents per minute during the ride, and have exploded in popularity in Southern California's beach cities, racking up thousands of trips within months. A more flexible and chaotic form of bicycle sharing, which enables users to pick up and drop off bikes anywhere, is also gaining popularity.
The influx of wheeled vehicles has sparked complaints from Westside residents who say speeding users have collided with pedestrians and careless parkers have blocked sidewalks and doorways.
The Los Angeles proposal would require that the scooters and bicycles be parked in the outer edge of the sidewalk and locked to something, such as a bike rack or a parking meter. In-app directions would guide users to an appropriate spot, officials said.
The city's most controversial proposal would stop the more flexible model of bicycle sharing from competing with L.A.'s existing bike-share system, which is run by the Metropolitan Transportation Authority. The bikes would not be allowed within three miles of an existing or a planned Metro bike-share station. Scooters would not be allowed within three miles of downtown.
The proposal, which would remove vast swaths of central and west Los Angeles from the companies' business areas, faced immediate pushback from bicycle advocates and the firms at a City Council committee meeting Wednesday. The committee recommended that the proposed geographic bans be eliminated.
John Howland, a representative for scooter company Skip who attended Wednesday's meeting, called the plan a "downtown monopoly." Other representatives said city leaders should allow as many options as possible that let Angelenos get around without driving.
The ban on scooters and dockless bicycles in downtown, central L.A., Venice and San Pedro could end within six months, once the rental companies establish relationships with the city and show they can follow the laws, city officials said.
Other cities have not successfully changed the behavior of the short-term rental companies, or their users, by issuing fines, Transportation Department general manager Seleta Reynolds said.
"We think that a better approach is incentivizing good behavior," Reynolds said, "and rewarding it with the things these companies care most about, which is the size of the fleet and the ability to operate freely throughout the city."
City Councilman Mike Bonin, whose Westside district has already seen an influx of scooters, said he was concerned that the proposal would take away "a huge chunk of the market," particularly in dense neighborhoods where the scooter rentals have already proved popular.
Bonin urged the Transportation Department to eliminate the ban on operating within three miles of Metro bike-share stations and the rule that would require that the vehicles be locked to something when not in use. He also asked the city to reconsider how many vehicles the companies would be allowed to operate.
More than 2,500 Bird scooters are already on the street in two City Council districts, and a cap would restrict the company's "ability to service the community," said Carl Hansen, the company's director of government affairs.
Councilwoman Nury Martinez, who represents the eastern San Fernando Valley, asked whether the council offices could be involved in determining where the services operate. Then she offered a brief reality check.
"We don't have any dockless bicycles or fancy scooters in my district," Martinez said. "We're just trying to cross the street without getting killed."
Metro discussed the scooter and bike-share regulations with Los Angeles in December, but had not seen the city's final proposal and did not have a position, an agency spokesman said.
Since launching in downtown in 2016, Metro's bike-share system has struggled to attract new users. The bicycles in downtown average less than one trip a day, one of the lowest rates of any U.S. city. The bikes in Venice Beach average about 1.2 trips a day.
Critics have said that the system does not serve enough areas, and the neighborhoods where bikes are available — in downtown, San Pedro, Venice and Pasadena — don't have enough stations. Metro officials have attributed the sluggish ridership to a "lack of a bicycle culture" and residents' fears of riding in L.A. traffic without protected lanes.
On Thursday, Metro's directors will consider expanding the service to Westlake, Pico Union, Koreatown, Echo Park and Silver Lake, creating a contiguous service area where commuters and tourists can pick up and drop off the bicycles. They will also consider reducing the cost of a half-hour ride to $1.75 from $3.50, and creating a $5 day pass.
Twitter: @laura_nelson
Sign up for Essential California for news, features and recommendations from the L.A. Times and beyond in your inbox six days a week.
You may occasionally receive promotional content from the Los Angeles Times.