San Diego considering a ban on polystyrene containers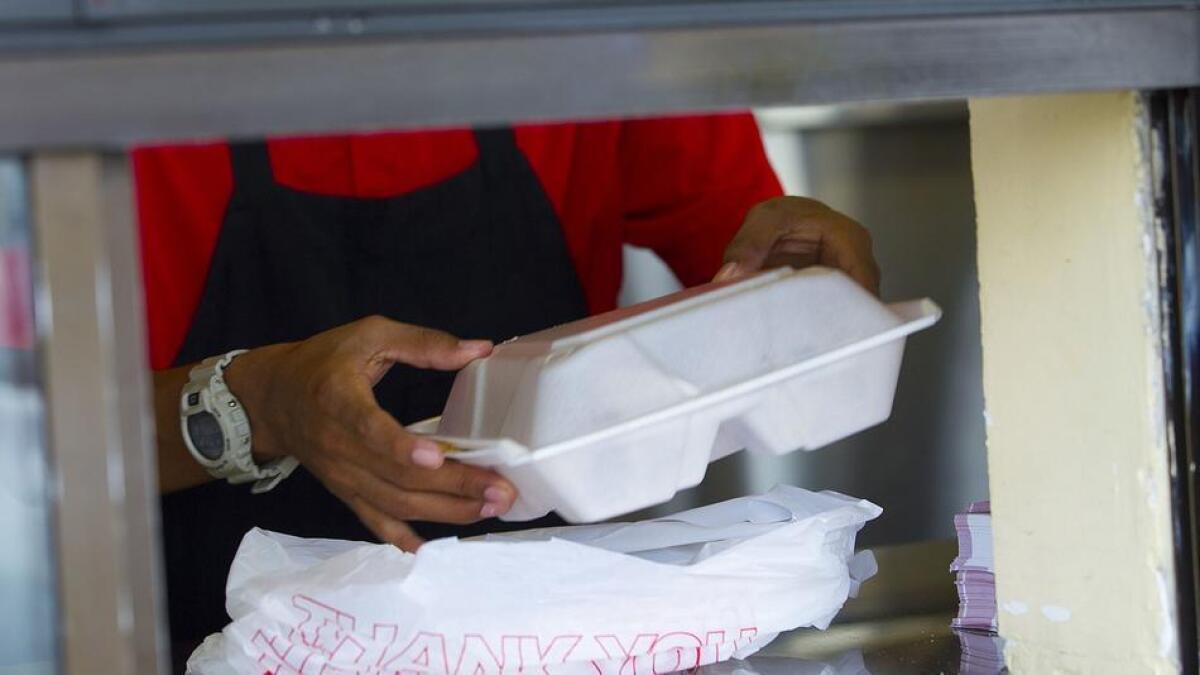 Reporting from San Diego —
San Diego city officials are proposing a ban on food and beverage containers made of polystyrene.
Polystyrene, a petroleum-based plastic foam product that has been banned by 116 cities across California, is not biodegradable and has been blamed for poisoning fish and other marine life and damaging the health of people who eat seafood.
Restaurants and other businesses have lobbied against such bans, contending alternative packaging doesn't properly keep food warm or cold while costing more, an added expense that would be passed on to customers.
City Councilman Chris Ward, who is spearheading the proposal, said at a Thursday news conference that those concerns are no longer valid.
"I think we've seen the packaging industry start to evolve over time," he said, a trend he credited to more communities banning polystyrene. "There are now alternatives that would do pretty close to as well, if not an equal job of keeping things hot or cold. And that cost differential has become negligible."
San Diego would join Solana Beach, Encinitas and Imperial Beach among cities in San Diego County to enact bans. Del Mar and Vista have also been discussing the idea.
Statewide, San Diego would be the largest city to impose a ban. Major cities including San Jose, San Francisco and Long Beach have banned polystyrene, and Los Angeles officials have been discussing it.
Ward's proposal would also require city officials to recommend alternative packaging to businesses, educate them on those options and allow the ban to be phased in over time.
"This is all about trying to get the plastics out of our oceans and out of our streams," he said.
The California Restaurant Assn., in an emailed statement on Thursday, criticized the proposed ban as trading one problem for another.
Chris Duggan of the association's San Diego chapter said a ban would prompt restaurants and other businesses to switch their packaging to mixed paper, which can't be sold by recycling facilities because there is no market for it.
"A ban would only create more mixed paper and would do nothing to help the environment, reduce landfill waste or actually create solutions for a more stable and thriving recycling industry," Duggan said in an email.
Ward said that a city effort to begin recycling polystyrene last summer has not been successful.
Michael Torti, chairman of the local Surfrider Foundation, said the city is paying $90,000 a year to recycle polystyrene. That's in stark contrast to the more typical set-up with recyclables like glass and aluminum, where the city receives money from recyclers.
Surfrider officials say they collected more than 12,500 pieces of polystyrene on local beaches in 2017.
Ward sent a memo on Thursday to City Council President Myrtle Cole asking that the council's Rules Committee discuss the ban in June.
The next step would be a July hearing at the Environment Committee and potentially a September vote by the full council.
In addition to restaurant food and beverage containers, the ban would apply to polystyrene egg cartons, coolers, ice chests, pool toys, dock floats and mooring buoys.
The proposal would make it illegal to sell such products or to use them.
Fines would be $200 for a first offense, $350 for a second offense within the same 12-month period, and $500 for a third offense during that time frame.
Garrick writes for the San Diego Union-Tribune.
Sign up for Essential California for news, features and recommendations from the L.A. Times and beyond in your inbox six days a week.
You may occasionally receive promotional content from the Los Angeles Times.