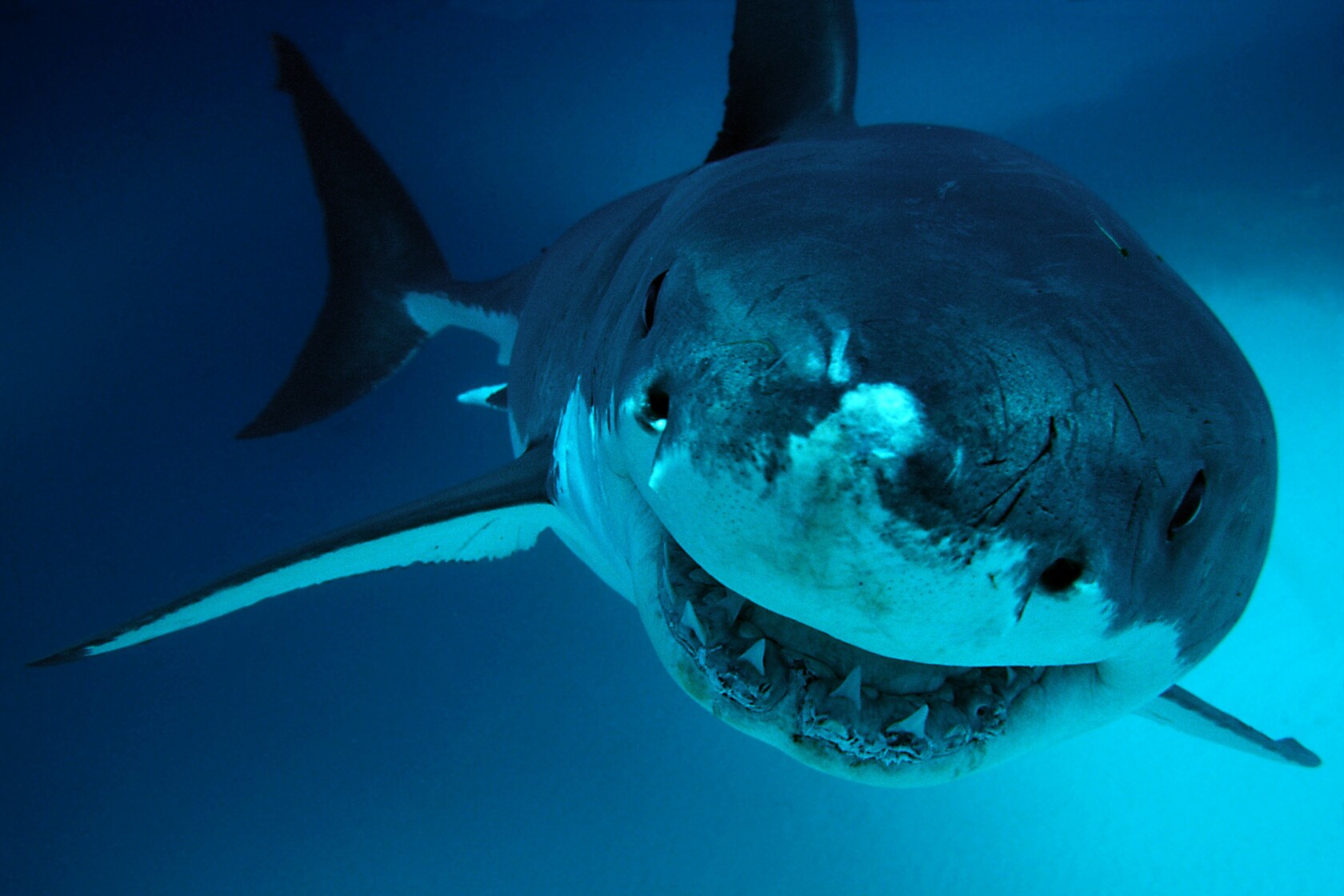 Though being attacked by a shark like this great white is extremely unlikely, the number of unprovoked shark attacks worldwide has grown at a steady pace since 1900. According to the Florida Museum of Natural History, there were 39 reported shark attacks in California from 2001 to 2013.
(David Fleetham / Discovery Channel)
When sharks do attack humans, the encounter is often a mistake. Researchers at the National Oceanic and Atmospheric Administration say an agitated or frightened shark could attack in self defense, or a curious shark might bite a swimmer or surfer thinking he or she is a seal.
(Cousteau Society / Getty Images)
Many species of shark, like this Mako shark caught by a group of Huntington Beach fishermen, have rows of serrated teeth that they use to tear the flesh of their prey. Researchers from the University of South Florida said this ripping motion pulls food into the shark's mouth.
(Genaro Molina / Los Angeles Times)
One of the reasons sharks have so many fearsome rows of razor-sharp teeth is that they lose them so often. Shark teeth often fall out when the predators attack their prey, according to the Shark Research Institute.
(Scot Anderson / Discovery Channel)
Great white sharks breach, or jump out of the water, to surprise and overpower their prey, as described in the Marine Biology Research journal.
(Tom Campbell / Associated Press)
Great whites often feed on seals and sea lions, fish and even the occasional sea turtle, according to UC Santa Cruz research. Of course, that doesn't rule out other food, such as the dead gray whale this great white is devouring.
(David Lominska )
Great whites, like this juvenile shark spotted in 2012, can swim as fast as 35 mph. The round shape of the body acts like a torpedo, according to the Smithsonian Institution.
(Eric Martin / Roundhouse Aquarium)
Female lemon sharks return to the same place they were born to have their own babies, according to a study published in the journal Molecular Ecology that tracked the sharks over a 17-year period in the Bahamas.
(Tristan Guttridge)
Whale sharks claim the title of the largest fish in the ocean and can grow to more than 40 feet in length, according to National Geographic.
(Sam Shelanski / Associated Press)
Sharks were around even before dinosaurs, with ancestry dating back more than 400 million years. Ancient sharks survived two major extinctions, according to the Smithsonian Institution.
(Greg Skomal / Associated Press)
More than 2,400 great whites, like this one in the northern Pacific Ocean, live off the coast of California, according to a 2014 study conducted by the Florida Program for Shark Research. These predators can reach 21 feet in length and weigh up to 3 1/2 tons.
(Scot Anderson / Discovery Channel)
A man who was bitten by a great white shark while surfing with friends off Central California on Sunday is expected to survive, officials said.
The unidentified man in his 50s was in waters off Sand Spit Beach in Montana De Oro State Park about 11:30 a.m. when the shark, described as an 8- to 10-foot-long juvenile, rose from the depths and bit him on the right hip, said Supervising State Park Ranger Robert Colligan.
The man had "zero warning" before the shark attacked, his friend Andrew Walsh told the San Luis Obispo Tribune.
Though extremely rare, unprovoked shark attacks worldwide have grown steadily since 1900, and there were 39 reported shark attacks in California from 2001 to 2013.
"It was pretty radical," Walsh said. "You could see from his board he got hit pretty hard."
The man, a resident of Morro Bay, was treated by medics at the scene and then airlifted by helicopter to a local hospital.
Walsh told the Tribune that the man was his longtime surfing buddy. After the man swam to shore, he created a tourniquet with the cord attached to his surfboard.
Two doctors who happened to be walking by rushed to his aid while others called for help, according to the Tribune.
"It was a severe wound," Walsh said, "but it hadn't gotten any arteries."
Information on the shark attack victim's condition was not immediately available, but his injuries were said not to be life threatening. About 12 other surfers were in the water, but no other injuries were reported.
"Witnesses said the shark came up from below," Colligan said. "It looked from the evidence that the board took the majority of damage but in the process the shark took a little bit from the right hip."
The man managed to stay composed throughout the ordeal.
"He was fairly calm throughout, other than he didn't want to look down at his leg," Colligan said.
The bite marks on the board -- their size and description -- seemed to indicate that the shark was indeed a young great white, which are not uncommon farther north in colder waters.
Attacks on humans, though, are rare, the last occurring in 2003 near Avila Beach, about 10 miles south of the latest incident, Colligan said.
Sand Spit Beach will remain open but will have signs posted about the latest attack.
"Mainly to let the public know that they enter the waters at their own risk," Colligan said. "They will remain up for the next few days and pending no other sightings, the posts will come down."
For California news, follow @JosephSerna and @CarlaRiveraLat.
---