Southern California newspapers once routinely described the region's air with words such as "strangling."
Breathing it, reporters noted, could be "agonizing."
As recently as the 1970s, a visitor standing in the foothills on many summer afternoons might not realize that the San Gabriel or San Bernardino mountains towered just above, hidden by a curtain of brown smog.
"You'd go swimming in the summertime and your lungs would be burning," said Richard Frank, who directs the California Environmental Law & Policy Center at UC Davis. He grew up in the San Fernando Valley and endured the horrible smog sieges that sickened people and cut lives short in 1950s Los Angeles.
State and local authorities began attacking the problem in the '40s. Inspectors prowled orange groves to monitor farmers' efforts to fight frost with oil-burning smudge pots. They wrote tickets to people who burned trash in backyard incinerators on the wrong days.
Then, in the '50s, Caltech scientist Arie Jan Haagen-Smit proved that automobile tailpipes were the main source of smog.
This finding was inconvenient for a region that had embraced cars as its prime mode of transportation.
But gradually officials began winning victories in the battle against smog: lifting the pall, ending the Stage 3 smog alerts that used to shutter factories, schools and courtrooms, and making the air breathable again, if far from perfectly healthy.
But now smog fighters warn that Trump, who Wednesday said his administration would re-examine national emission standards, seems ready undermine California's war against air pollution by limiting its power to set its own stricter rules.
"It's the foundation for everything we've been able to accomplish," said Mary Nichols, chairwoman of the California Air Resources Board. "It's what's enabled us to make the big inroads we've made in cutting smog. It's what's made us an international leader in transportation emissions.
"To reach both our air pollution and climate goals, California needs the ability to continue to push the auto industry to build cleaner cars," Nichols said. "Any threat to that, even if it's indirect, is of grave concern to us."
The state's focus on vehicle emissions dates back to the 1950s, when Caltech scientist Arie Jan Haagen-Smit linked Los Angeles smog to automobile tailpipes.
Aerial view of the downtown Los Angeles skyline covered in smog looking east towards the San Gabriel mountains in August 1990.
(Robert Durell / Los Angeles Times)
Buildings in Los Angeles Civic Center are barely visible in picture looking east at 1st and Olive Streets when smog was at its peak.
(John Malmin / Los Angeles Times)
Downtown Los Angeles shrouded in smog as seen from the top of the Angels Flight funicular on December 19, 1958.
(Don Cormier / Los Angeles Times)
There is limited visibility in this 1959 image of a smog attack in downtown Los Angeles looking south on Broadway from 1st Street.
(Edward Gamer / Los Angeles Times)
The tall buildings in downtown Los Angeles rise above a blanket of smog in October 1973.
(Fitzgerald Whitney / Los Angeles Times)
Smoggy view of the civic center area of downtown Los Angeles in March 1974 from the roof of the Dept. of Water and Power building.
(Ben Olender / Los Angeles Times)
View of downtown Los Angeles civic area from the roof of the Arco tower in July 1978.
(Christopher Hardy / Los Angeles Times)
Aerial view of downtown Los Angeles with the junction of the Harbor and Santa Monica Freeways in the foreground in July 1982.
(Boris Yaro / Los Angeles Times)
April 1988 view of Torrance beach looking north from Palos Verde Estates.
(Harry Chase / Los Angeles Times)
The Los Angeles skyline shrouded in smog as seen from the 1st street bridge in July 1993.
(Tammy Lechner / Los Angeles Times)
The downtown Los Angeles skyline peaks out above a layer of smog as seen from Griffith Park.
(Genaro Molina / Los Angeles Times)
The state and regional air quality officials warn that dispite years of efforts and billions of dollars in programs, Southern californiaand the San Joaquin Valley won't meet federal smog targets.
(Francine Orr / Los Angeles Times)
A view of downtown Los Angeles from Hilltop Park in Signal Hill. A high pressure system along the West Coast that has been warding off rain for months has also worsened air pollution across California and the Southwest, leaving a brown haze hanging in the air many days.
(Francine Orr / Los Angeles Times)
Downtown skyscrapers reflect the light from the setting sun as seen from more than 20 miles away on the Palos Verdes Peninsula.
(Luis Sinco / Los Angeles Times)
Southern California is experiencing its worst smog in years this summer as heat and stagnant weather increase the number of bad air days and drive up ozone pollution to levels not seen since 2009.
(Francine Orr / Los Angeles Times)
Trump, in announcing the need for "common-sense changes," said his team would review the Obama administration's greenhouse gas emissions standards, which would require cars to get an average of 54.5 miles per gallon by 2025.
"These standards are costly for automakers and the American people," U.S. Environmental Protection Agency Administrator Scott Pruitt said in a statement, pledging to "take a fresh look to determine if this approach is realistic."
California environmentalists say the cost to public health makes aggressive standards well worth the price.
Unlike other parts of the country with coal-fired power plants, California's air pollution is caused overwhelmingly by motor vehicles and other "mobile" pollution sources regulated by the state and federal government. Cars, trucks and buses release about half the state's smog-forming pollution and about 40% of its greenhouse gas emissions.
In 1966, California imposed the nation's first tailpipe emission standard, and the fight grew more aggressive in the 1970s with rules requiring cars to have catalytic converters.
In the 1980s and '90s came requirements for cleaner-burning gasoline and diesel and smog check programs to get gross polluters off the roads. More recently, California has adopted low-carbon fuel standards and mandates that automakers sell an increasing number of zero-emission cars.
The last Stage 1 smog alert was in 2003.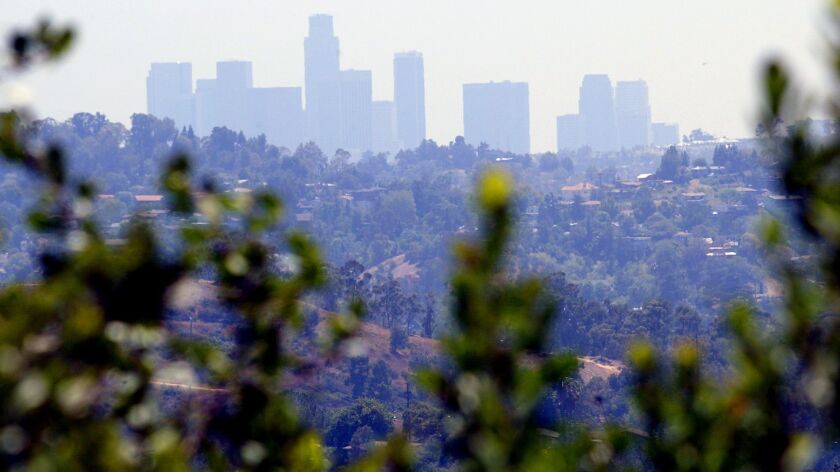 Only by focusing on vehicle tailpipe emissions has California curbed the hazardous levels of air pollution that were common decades ago, said Frank, who worries that the move by the Trump administration "would stunt and halt the tremendous progress we've made over the last 50 years."
An analysis last year by the American Thoracic Society found that about 3,600 Californians die prematurely each year from polluted air, more than one-third of the nationwide total. Most of those fatalities occur in Southern California, where a 2010 study found that air pollution contributes to as many early deaths as traffic accidents.
In the 1970s and '80s, Southern California often saw more than 200 bad-air days a year, with ozone levels exceeding 300 parts per billion on the smoggiest summer days. Peak concentrations of ozone are now about one-third of what they were, even as the population has grown and the number of vehicle miles traveled has doubled. The last Stage 1 smog alert was in 2003. And recent research has measured significant gains in the health of the region's children, whose lungs are growing bigger and stronger as air quality improves.
Despite decades of improvements, Southern California still has the nation's highest levels of ozone and does not meet federal standards for fine particulate matter, or soot. And there are signs progress is slowing.
After seeing a jump in air pollution related to stagnant weather during the drought, the region in 2016 experienced the worst summer smog season in years, with the highest ozone levels since 2009 and 132 bad-air days — up from 112 the previous year.
At the South Coast Air Quality Management District, which this month adopted a pollution-reduction plan, officials acknowledge that it will be impossible to clean smog to federal health standards over the next two decades without continued federal action and billions in government incentives to slash emissions from cars, trucks and other vehicles. They are counting on a massive transformation to electric, fuel cell and other zero- and near-zero-emission technologies.
To reach both our air pollution and climate goals, California needs the ability to continue to push the auto industry to build cleaner cars.
Mary Nichols, chairwoman of California Air Resources Board
Frank said a rollback of vehicle emissions standards would frustrate those efforts by diminishing the government's hand in prodding such innovations.
"It's going to inhibit a transition to clean cars, all-electric cars and alternative-powered vehicles," he said. "Basically, if the Trump initiative goes forward, it's going to change the longstanding tradition in both Republican and Democratic administrations of the past to engage in technology-forcing regulations."
Twitter: @tonybarboza
ALSO
In the battle over California climate policies, green projects are now in the hot seat
California won't meet its climate change goals without a lot more housing density in its cities
Southern California regulators approve smog plan with tougher refinery rules, voluntary measures for ports
---
UPDATES:
5:27 p.m.: This article was substantially updated with new material.
---