Dry, hot California winter closes ski resorts, stalls wildflower blooms and revives drought fears
Reporting from Truckee, Calif. —
In the Sierra Nevada, snowpack levels are running below even the darkest days of the drought, with cross-country ski resorts closed and mountain biking becoming the sport of choice until the snow returns.
In the Bay Area, cities like San Francisco, San Jose and Santa Rosa are experiencing the hottest starts to a year on record.
And Southern California remains in the grip of unprecedented dry and hot conditions, despite a weak storm that moved in Monday.
February is historically a wet month, but not this year. And the long-term forecast offers little hope for relief.
"If you're buying rainfall stocks, go short," said climatologist Bill Patzert. "Essentially, that storm we had in Montecito was the only major storm we've had in the last 12 months. It stopped raining in mid-February 2017, and, you know, there hasn't been much rain since."
Southern California is desperate for rain, but this week's precipitation is expected to be so paltry experts are loathe to even call it an actual storm.
"While many places may see some light, showery precipitation this week, it does not appear that this event will bring the kind of widespread significant rain and snow that is currently needed," said UCLA climate scientist Daniel Swain. At this rate, by Feb. 19, L.A. is on track to have a full year with only one day of significant rain — the day that brought deadly mudslides to Montecito in Santa Barbara County.
Downtown L.A. has seen only 1.96 inches since July 1, less than one-quarter the historical average for this time of year, which is 8.54 inches. The last time Los Angeles broke the record for the driest year was when 3.21 inches of rain fell for the rain year that ended June 30, 2007.
The odds are that California will have below-average precipitation through the rest of February, according to the National Weather Service's Climate Prediction Center. And the main culprit, an intensely persistent mass of high pressure, refuses to budge in any significant way.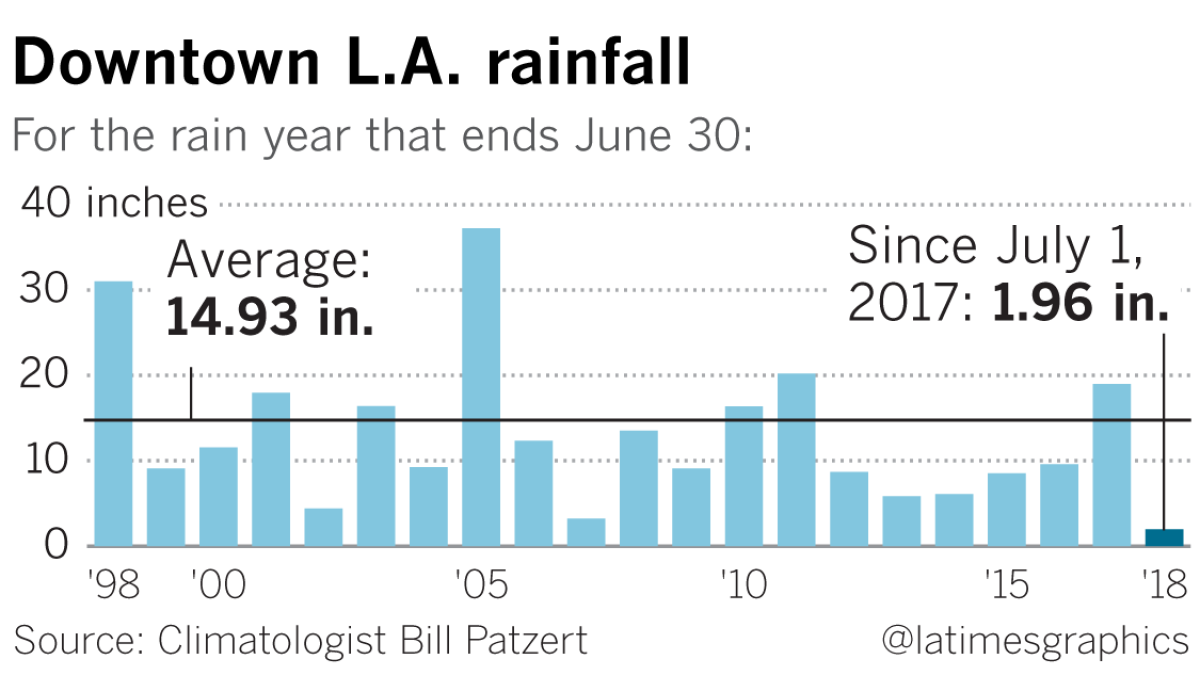 This time last year on the Sierra Nevada's Donner Pass — amid the wettest year on record in the northern Sierra — heavy snows pushed cabins from their foundations, and buried cars within 20-foot snowbanks, only to be uncovered and sliced by snowplows struggling to keep access to the packed resorts open.
The picture this year is equally telling — bare ground and mountains with broken snow on one flank, raw granite on the other.
On Monday, the remnants of an overnight dusting had already vanished. A few skiers came off slopes where machines spewed flumes of the snow to half-empty parking lots.
It was enough snow for Lana Hamilton of Alta, Calif., to bring out her 2-year-old daughter, strapped into pink ski boots, but her husband didn't even bother.
"It's been abominable," Hamilton said. While downhill resorts remain open, making their own snow, the cross-country business in the Tahoe basin is struggling.
Before this week's storm, temperatures around Truckee, near Lake Tahoe, hit the mid- to upper 50s — way above normal for this time of year and more of what's expected in April.
Royal Gorge, Tahoe Donner, TahoeXC and other Nordic trails were closed to skiers, in hibernation until the next storm. Fat tire biking instead was in order.
"Think snowy thoughts," said the recorded line at Royal Gorge.
The only significant snowstorm of the season was an "atmospheric river" event before Thanksgiving. But the skies haven't been kind since then, leaving statewide snowpack accumulations at 21% of average for this time of year.
There have been so many clear days with bright sun that the rays have melted snow off the south slopes, leaving them rocky and brown. Researchers at the Central Sierra Snow Lab in Soda Springs reported the lowest water equivalent yet recorded for a Feb. 11, below even the drought years of 2012 through 2015.
A year ago, the Sierra snowpack was 182% of the historical average, and residents complained they had run out of room to put the snow they were clearing from their decks and driveways.
UC Berkeley researcher Randall Osterhuber at the snow lab in Soda Springs has been measuring the frozen water bank on which California's summer supplies so keenly depend on: just 13 inches Monday morning. Last year at this time, there were 128 inches, or nearly 11 feet of snow.
In the deserts of Southern California, chances of a brilliant springtime wildflower bloom are fading fast. Only a few poppies have sprouted at the Antelope Valley California Poppy Reserve, and the hills are mostly brown.
At Anza-Borrego Desert State Park, California's largest state park, some flowers, including lavender, are blooming. But even a half-inch more rain would do wonders, said Betsy Knaak, executive director of the Anza-Borrego Desert Natural History Assn. Since New Year's Day, less than an inch of rain has fallen in Borrego Springs; last year, Borrego Springs saw more than 2½ inches in January and nearly 2 inches in February.
The persistent mass of high pressure hanging around California doesn't seem to be going anywhere. It has budged slightly, enough to allow this week's storm to get through — but it's moving in a way that results in a pretty dry system.
The ridge of high pressure has pushed the track of storms from the Pacific Ocean first north into Alaska before making a hairpin loop down from British Columbia and into California. That takes it through an overland route that keeps the storm relatively dry, said meteorologist David Sweet of the National Weather Service's Oxnard office.
Only a few hundredths of an inch of rain are expected to hit the lower elevations of L.A. County. "It's not much," Sweet said. "There might be a little bit of snow on the Grapevine."
"To get that really beneficial rainfall and Sierra snowfall, we need these 'atmospheric river' type storms, where the moisture is coming off the Pacific Ocean," said meteorologist Tony Fuentes of the weather service's Reno office. But the track of atmospheric river storms, which California benefited from last year, has been blocked by the high pressure sitting around the state.
San Francisco has now seen 18 consecutive days without rainfall, said meteorologist Jan Null. If that pace keeps up for the next 10 days, the city will have reached the ninth longest streak of no rain during the wintertime. And if no rain appears for four additional days, San Francisco will be in the running for the fourth longest dry spell in the wintertime, Null said.
If February joins December and January into record-setting dryness, "then California is marching into unprecedented territory, which has never been seen before in the recorded climate history," Steve Johnson, long-range forecaster with Atmospherics Group International, said in an email. "Unless March and/or April bring abundant rains … this rainfall season could end up being one of, or possibly THE driest in our climate history."
Some held out hope for a March miracle, in which just one or two wet weather systems could lay down enough snow to make up the difference. One such memorable March came in 1991.
It was the thought all over Truckee, from sidelined snowboarders to idle tourist shop owners. At Donner Lake Gift Shop, Karen Mertle said business was so slow, she and her husband Fred kept watch on the shop through an open door from their home behind their storefront. The shelves of tire chains were fully stocked, untouched. The lakefront was a strip of old-fashioned motels announcing Vacancy, Vacancy, Vacancy.
"I should close here," Mertle said, "and go to Donner Ranch for lunch."
"They're all hoping. Miracle March," said Reed Winter, 24, working behind the Formica-and-steel diner counter at Jax in Truckee. It has been a lousy winter for snowboarding and Winter does not expect it to get better. "Me, I don't know. I think I'm ready for the warm weather."
But there's a reason why it's called a March miracle — it's rare. And given how delicate the burned areas of California are, a deluge would bring catastrophic mudflows.
"Be careful what you wish for," Patzert said. "We don't need another Montecito."
St. John reported from Truckee, Lin from San Francisco and Parvini from Los Angeles.
Twitter: @paigestjohn | @ronlin | @sarahparvini
---
The stories shaping California
Get up to speed with our Essential California newsletter, sent six days a week.
You may occasionally receive promotional content from the Los Angeles Times.