Northern California gets its wettest winter in nearly a century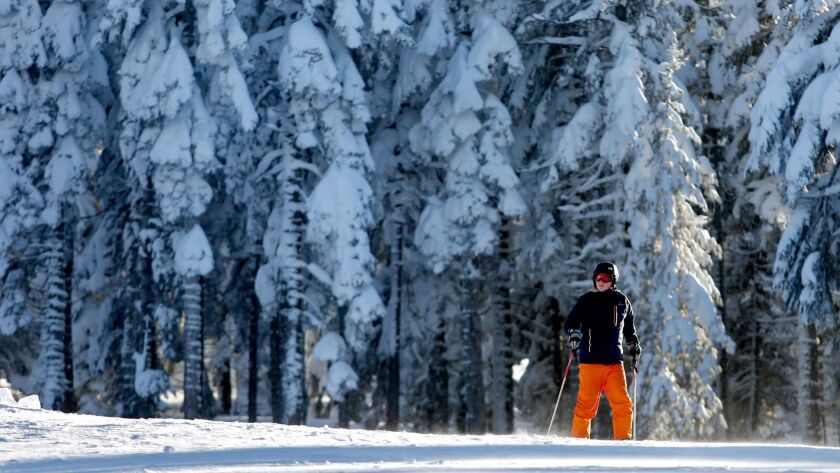 A series of late-season storms has vaulted this winter into the history books, making it the wettest winter for California's northern Sierra Nevada in nearly a century of record-keeping, according to the California Department of Water Resources.
As of Thursday, an astonishing 89.7 inches of precipitation across a zone of eight stations in the northern Sierra has been recorded since October. That breaks the record 88.5 inches that fell by the in the 1982-83 rainy season.
Sierra Nevada precipitation is significant because the mountain range supplies large amounts of water to the rest of the state.
"When we receive a record amount of rainfall in the north, that translates to everybody who benefits from water down the state," said Doug Carlson, spokesman for the California Department of Water Resources.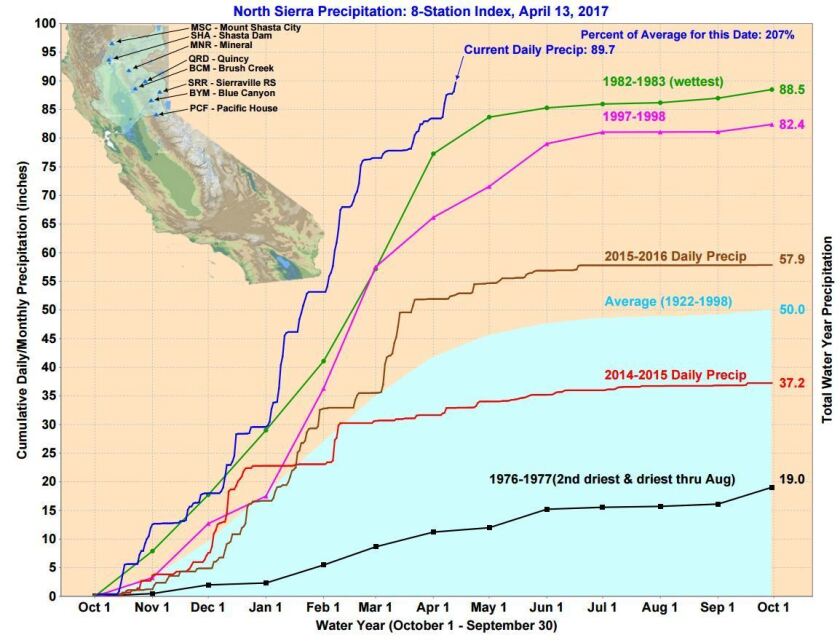 Carlson noted that California is only six months into the water year, and although the state doesn't normally see much rainfall in the latter part of the year, rain and snow in months ahead could break other records.
The San Joaquin index, which covers a zone of five stations, could also set a record this year. That region is tracking close to the 1982-83 record year.
Experts and state water officials say California is seeing more of these intense weather swings as temperatures warm, making wet years wetter and dry years drier.
"California is North America's most variable climate," said Jeffrey Mount, a water expert at the Public Policy Institute of California. "The year-to-year differences in precipitation are unmatched."
Still, Mount said, this is a "benign extreme wet year."
"What's happening here is great for Southern California. This relieves pressure on and creates an opportunity for Southern California to store more of their water and groundwater," he said. "It's really nice to take some pressure off of everybody, including the environment."
Two years ago, the lack of snow left locals in many parts of the Sierra anxious.
The drought hurt ski resorts and changed the landscape of the mountains. In some areas, trees died at an alarming rate. In others, the typically snow-capped mountains were bare and dry.
This winter, however, many residents say they've never seen so much snow.
"There's just been too many road closures, too many power outages, and just too much snow and nowhere to put it," said Janet Tuttle, who with her husband owns Donner Ski Ranch, one of the oldest ski resorts in the state. She had a better season financially in the very ordinary weather of last year.
The intense winter prompted Gov. Jerry Brown last week to finally declare the drought over in all counties except Fresno, Kings, Tulare and Tuolumne, where diminished groundwater levels still require a need for emergency drinking water.
But right now, the above-ground water supply is much improved for most parts of the state.
For more California news follow me on Twitter: @sarahparvini
Times staff writer Rong-Gong Lin II contributed to this report.
ALSO
From extreme drought to record rain: Why California's drought-to-deluge cycle is getting worse
Record drought + record rain = toppled trees. How do you know if your tree is in trouble?
The Antelope Valley poppies have exploded into a spectacular burst of neon, signaling an end to drought
---
UPDATES:
2:15 p.m.: This article was updated with comments from Jeffrey Mount of the Public Policy Institute of California.
12:50 p.m.: This article was updated with comments from California Department of Water Resource spokesman Doug Carlson and ski resort owner Janet Tuttle.
This article was originally published at 11:30 a.m.
---
For reporting and exclusive analysis from bureau chief John Myers, get our California Politics newsletter.
You may occasionally receive promotional content from the Los Angeles Times.