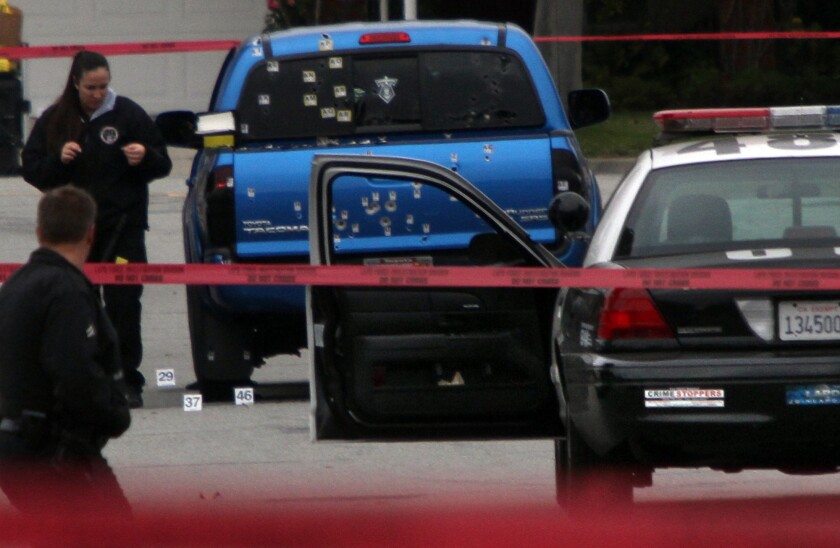 Los Angeles Times reporters Andrew Blankstein and Kate Mather will join L.A. Now Live at 9 a.m. Wednesday to discuss the $4.2-million settlement reached between Los Angeles and the women mistakenly shot at by LAPD officers during the manhunt for ex-cop Christoper Dorner.
Margie Carranza, 47, and her mother, Emma Hernandez, 71, were delivering Los Angeles Times newspapers in Torrance on Feb. 7 when LAPD officers shot repeatedly at their blue Toyota Tacoma. Hernandez was shot twice in the back, and Carranza's hands were injured by either broken glass or shrapnel, their attorney, Glenn Jonas, said.
The officers were protecting the home of a high-ranking official with the Los Angeles Police Department who was named in a threatening manifesto authorities said was written by Dorner, and they believed that the official could have been a potential target. Dorner at the time had already killed the daughter of an LAPD captain, her fiance -- a USC police officer -- and a Riverside police officer, officials said.
Dorner was believed to be driving a gray Nissan Titan, and there was an alert preceding the shooting that reported a truck matching Dorner's was in the area.
Jonas said his starting point for the negotiations was $15 million or $16 million, but said the agreement ensured that the women received a timely payment and avoided potential risks of going to trial.
"I have a 71-year-old client. You think she wants to risk the appellate court reversing it for one reason or another?" Jonas asked.
Trutanich called the agreement a "no-brainer because the costs were going to skyrocket."
"We got out of this thing pretty cheaply all things considered," he said.
Discuss the latest on the settlement -- which still must be approved by the L.A. City Council -- and a $1-million reward offered during the manhunt at 9 a.m. Wednesday. Questions can be submitted live during the event or tweeted @LANow.
LIVE
Join the discussion »
---