No historic designation for Tower Records store on Sunset Strip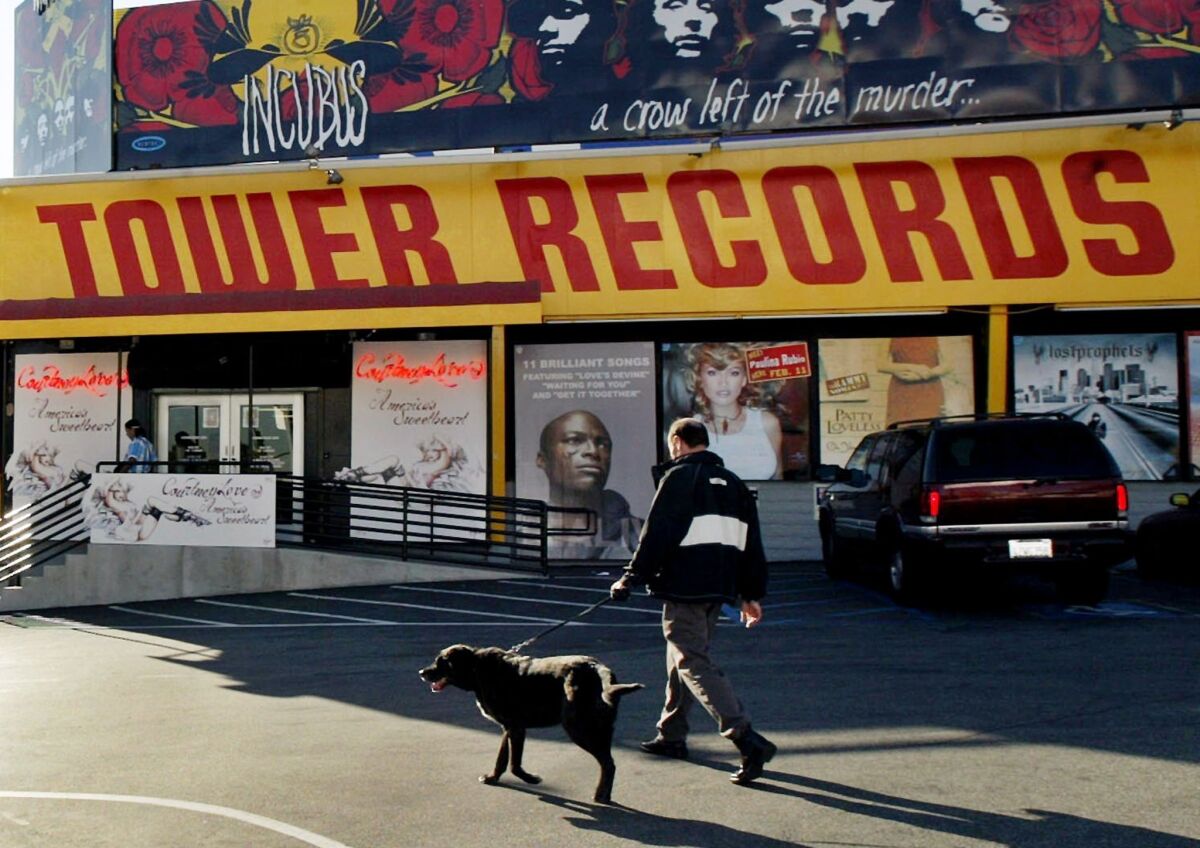 Though it held fond memories for legions of music fans, the nondescript building that once housed the Sunset Strip's legendary Tower Records was not significant enough to preserve as a cultural resource, the West Hollywood City Council voted Monday night.
The vote let an earlier decision by the West Hollywood Historic Preservation Commission stand.
The commission said earlier this year that it would not be possible to designate the squat building at 8801 W. Sunset Blvd. as a cultural resource without some hint of what was once there. The distinctive yellow and red signs and enormous album cover posters that once covered Tower Records' windows are long gone, the record bins ripped out. The building now is white and was most recently a clothing store.
West Hollywood resident Jerome Cleary, who has lived next to the retail and record store for years, appealed the commission's decision and created an online petition at Change.org that gathered more than 1,800 signatures, most from outside the city.
At Monday's council meeting, Cleary said the appearance of the building did not change its history or significance in the rock scene that flourished along the Sunset Strip starting in the early 1960s.
"If you painted the Pacific Design Center white, it would still be the Pacific Design Center. … The historical evidence of Tower Records is clearly evident," he said.
The record store chain filed bankruptcy in 2006, and its record and video inventory was sold off. The building, constructed in 1971, was Tower Records' flagship store and became known for concerts by the likes of Elton John and Duran Duran.
Before the unanimous vote upholding the Historic Preservation Commission's decision, all five city council members said they had visited Tower Records in its heyday and had fond memories of browsing its inventory.
They acknowledged that the building had social history and said they would consider other ways to recognize it, maybe with a plaque or a designation of its location as Tower Records Square.
ALSO:
Scientists visit L.A. to discuss list of buildings at risk in quake
Man killed in rooftop shooting was carjacking suspect, police say
Kurt Caselli, off-road motorcycle champ, dies during race in Mexico
Twitter: @haileybranson | Google+
---
Life is stressful. Our weekly mental wellness newsletter can help.
You may occasionally receive promotional content from the Los Angeles Times.