Richard Kiel dies at 74; actor played 'Jaws' in Bond movies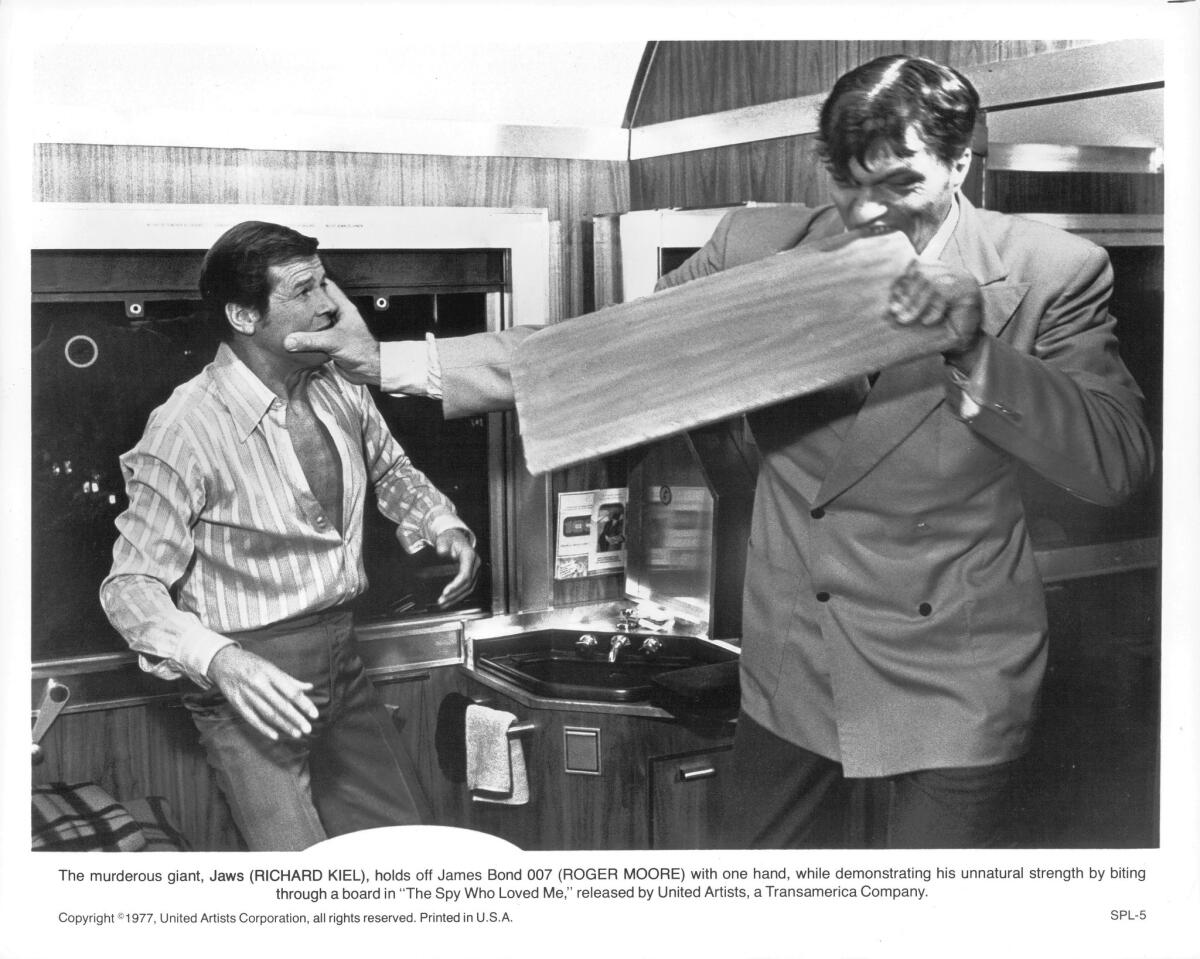 Acting wasn't in Richard Kiel's blood — his parents ran an appliance store — but it was certainly in his teeth.
Kiel, who at nearly 7 feet 2 loomed over many a movie set, was famous for his portrayal of "Jaws," a James Bond villain who chomped through funicular cables, killer sharks and unfortunate humans with a set of jagged, gleaming chromium steel teeth.
Kiel, who in real life was a gentle soul with a mischievous sense of humor, died Wednesday at a Fresno hospital. He was 74.
Richard George Kiel, a Fresno physician, said his father had been laid up with a broken femur. The cause of his death has not yet been determined.
Kiel (pronounced KEEL) was born with acromegaly, a hormonal condition that can result in abnormal growth. After suffering head injuries in a 1992 traffic accident, he lost his sense of balance and eventually had to use a motorized scooter to get around.
But he remained active, appearing at fan events around the world and chuckling at cluelessly rude queries, such as: "Have you always been this tall?"
When a reporter asked him how he managed to sleep in standard hotel beds, he told her he stuck his feet out the window. On the Studio 10 TV talk show in Australia last June, he was jokingly asked whether he really could bite through steel cable. He said the cables in his two Bond films — "The Spy Who Loved Me" (1977) and "Moonraker" (1979) — were licorice.
Asked about his 5-foot-1 wife Diane, he told his hosts that he'd be delighted to introduce her — and he dug his hand into his capacious jacket pocket.
Throughout his five-decade career, Kiel had both taken advantage of his height and tried to attain a stature independent of it.
In the low-budget "Eegah" (1962), he played a caveman living in the mountains outside modern-day Palm Springs. Kiel had the title role.
In Chico, Calif., he hosted a Saturday morning TV program for kids called "The Paul Bunyan Show." He moved on to episodes of "Lassie," playing Chinook Pete, a mute Native American who saves Timmy when the boy is lost in the wilderness.
In one of his most memorable roles, he was an alien emissary to humankind in the delectable "Twilight Zone" classic "To Serve Man."
Kiel appeared in more than 100 TV shows, including recurring roles in "The Wild, Wild West" and "The Barbary Coast." His film work included predictable B-movie roles as thugs and monsters, but also more memorable comic appearances in films like "The Longest Yard" (1974), "Silver Streak" (1976) and "Happy Gilmore" (1996).
Born in Detroit on Sept. 13, 1939, Kiel moved to Los Angeles with his family when he was 9. He attended Baldwin Park High School, which he entered as a 6-foot-4 freshman and from which he graduated in 1957 as a 7-footer.
For the record, Kiel was 7 feet 1 3/4. For ease, he rounded it up to 7-2 in interviews.
Before acting, he held a series of odd jobs, including selling vacuum cleaners door to door.
"I'd knock on the roof," he told David Letterman in 1985.
When his agent arranged a meeting for him with Albert "Cubby" Broccoli, the producer of many Bond films, Kiel was ambivalent. Broccoli told him over lunch that his character would be "a guy with teeth like a pliers, like a tool, like a shark," Kiel said in a 2005 interview with the Worcester (Mass.) Telegram and Gazette.
"And I was like, 'Oh my God. This is like a monster part.' It was almost like 'I don't think I really want to do this,' but there's a little voice in my head saying, 'Richard, this is a James Bond movie. Just make the best of it.'"
He did. While Jaws was a stone-cold killer with lethal dentures, Kiel gave him a few endearing human touches.
"I did little things," he told the Los Angeles Times in 1978, "like smiling, dropping a block on my foot, straightening my tie, showing frustration. It was more than just being menacing."
In "Moonraker," Kiel's character underwent a transformation. Bond, played by Roger Moore, persuaded him to fight for good instead of evil. At the end, Jaws falls in love with the petite Dolly and utters his only line of dialogue: "To us!"
Kiel moved to Coarsegold, Calif., a rural community where he owned and sold property, in 1980, and to Clovis, outside Fresno, in 2002.
In addition to Diane Rogers Kiel, his wife of 40 years, and son Richard George Keil, his survivors include sons Bennett and Christopher; daughter Jennifer; and six grandchildren. An earlier marriage ended in divorce.
steve.chawkins@latimes.com
Twitter: @schawkins
Sign up for Essential California for the L.A. Times biggest news, features and recommendations in your inbox six days a week.
You may occasionally receive promotional content from the Los Angeles Times.