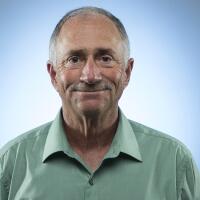 A former obituary writer, Steve Chawkins joined the Los Angeles Times in 1987 after working as a reporter and editor at the Santa Fe Reporter in New Mexico and the Rocky Mountain News in Denver. He has been a roving state correspondent and a columnist and reporter in the Ventura County edition. He also was managing editor of the Ventura Star-Free Press. He graduated in 1969 from Trinity College in Hartford, Conn. Chawkins left The Times in 2015.
Latest From This Author
Marsha Hunt appeared in more than 50 films before being accused of communist sympathies, short-circuiting her career. Hunt died last week at 104.

Nichols died of heart failure Saturday night at a hospital in Silver City, N.M.

Tyson's career spanned seven decades with works such as "Sounder" and "The Autobiography of Miss Jane Pittman."

Adelson, who went from a childhood in the mean streets of Boston to become one of America's richest men, used his wealth to buy political influence.

For 18 seconds on Oct. 14, 1947, Yeager was supersonic — a feeling he later likened to "a poke through Jell-O." The achievement made him an aeronautic legend.

Carl Reiner, the comedy actor, writer, director and producer who created 'The Dick Van Dyke Show' and played second banana to Sid Caesar, has died.

Freezing in a cramped trailer, shooting rabbits for dinner, slurping a gruel of ketchup and oyster crackers: Warren Miller's early 20s would have been downright Dickensian if they weren't so much fun.

Roger Moore, the suave British actor who starred in seven James Bond movies and brought a likable, comedic dimension to the unflappable secret agent, has died after a short battle with cancer, his family said Tuesday.

In the nearly five years it took Robert Pirsig to sell "Zen and the Art of Motorcycle Maintenance," 121 publishers rejected the rambling novel.