It's a mess along O.C.'s part of PCH, traffic study says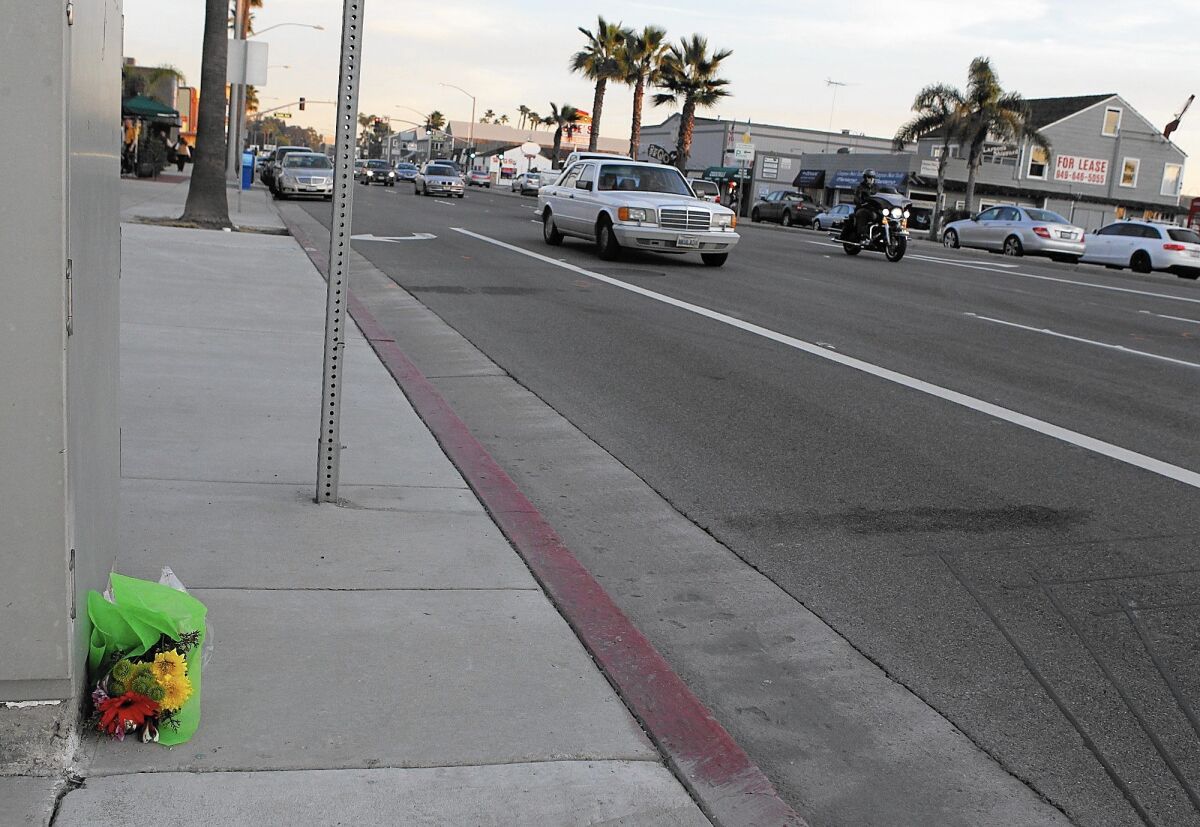 Traffic congestion and safety conflicts among vehicles, bicyclists and pedestrians continue to plague traveling conditions along Orange County's portion of Pacific Coast Highway, according to a newly published transportation study.
The nearly $400,000 report, released last month and conducted by the Orange County Transportation Authority and the California Department of Transportation, examined the iconic but aging 37-mile highway from Seal Beach to San Clemente.
The study's goal was to provide cities with strategies to make traveling the state highway safer and more efficient. It began in 2013 at the behest of local municipalities.
Improvements to traffic flow and safety were cited as universal needs.
But as OCTA Chairwoman Lori Donchak said in a statement, "Each city has its own priorities and its own needs. Our job now is to brief each city on the study's finding so we can figure out what improving PCH will look like for them."
In Newport Beach, the study pinpoints 11 areas for improvement.
Some of the major issues stem from heavy volumes of pedestrians, bicyclists and traffic through Mariner's Mile and in west Newport Beach, especially at Prospect Street, Orange Street and Superior Avenue.
The combination of significant traffic, narrow roadways, pedestrian activity, bicyclists and on-street parking also delays travelers along East Coast Highway in Corona del Mar.
Bicyclists on East Coast Highway in the Newport Coast area also face safety hazards because of traffic using the right turn lanes onto Newport Coast Drive, the study shows.
Newport Beach Public Works Director Dave Webb said the city has long been aware of the conflicts along its portions of Coast Highway.
See more of our top stories on Facebook >>
However, the study provides an opportunity for cities to move forward in solving their problems and seeking grant funding to do so, he said.
The city and OCTA have already started moving forward with improvements at 27 traffic signals along a nine-mile stretch of the highway between west Newport Beach and Newport Coast. The City Council this month approved an agreement with OCTA to install signal equipment and fiber optic cable, update signal timing and install closed-circuit television cameras along Coast Highway at Superior, Riverside Avenue and Dover Drive. The project is expected to enhance traffic signal coordination.
Much of the estimated $2.25-million project will be funded by a county grant. Newport Beach has agreed to chip in $450,000.
In Huntington Beach, the study identifies 11 points for improvement, including peak-hour traffic congestion along PCH at Warner Avenue and traffic backup as a result of signal timing problems citywide.
It also names traffic delays caused by pedestrians who cross at major intersections along PCH, particularly between Main and Huntington streets and between Huntington and Beach Boulevard.
Bicycle safety is a problem between Warner and Goldenwest Street, the study says, as are cyclists traveling between parked cars and vehicles traveling along PCH between Goldenwest and 6th Street.
In Laguna Beach, the combination of traffic, limited street capacity, pedestrians and parking issues delays travelers along Coast Highway between Broadway and Cress streets, the study says. Sections of the highway with narrow or missing sidewalks pose problems for pedestrians in South Laguna, according to the study.
The report highlights possible solutions, including improving sidewalks, installing illuminated pedestrian crossings and adding bike lanes, street striping and signage to improve traffic flow and safety.
In an email, Laguna Beach City Manager John Pietig called the study's suggestions "good ideas," but said removing lanes or parking along Coast Highway or reducing lanes on Glenneyre Street to fit in some bike lines "will require significant consideration to better understand the impacts to traffic flow, parking, bicycles, businesses and neighborhoods."
OCTA officials are expected to present their findings to local city councils over the next several months.
"It will be up to the cities to take the next steps on the projects," OCTA spokesman Joel Zlotnik said. "This includes prioritizing and securing funding for projects, developing them, handling environmental review, design and implementation. Competitive funding would potentially be available from local, state and federal sources."
Fry writes for Times Community News.
Times Community News writer Bryce Alderton contributed to this report.
ALSO
Man and his dog die in 'suspicious' Seal Beach duplex fire
Drink up! Mesa Water District relaxes outdoor watering rules starting Sunday
Protests rage outside Trump rally in Orange County; 17 arrested, police car smashed
Get the Latinx Files newsletter
Stories that capture the multitudes within the American Latinx community.
You may occasionally receive promotional content from the Los Angeles Times.