Review: On Theater: A splashy, flashy 'Nine' at the GEM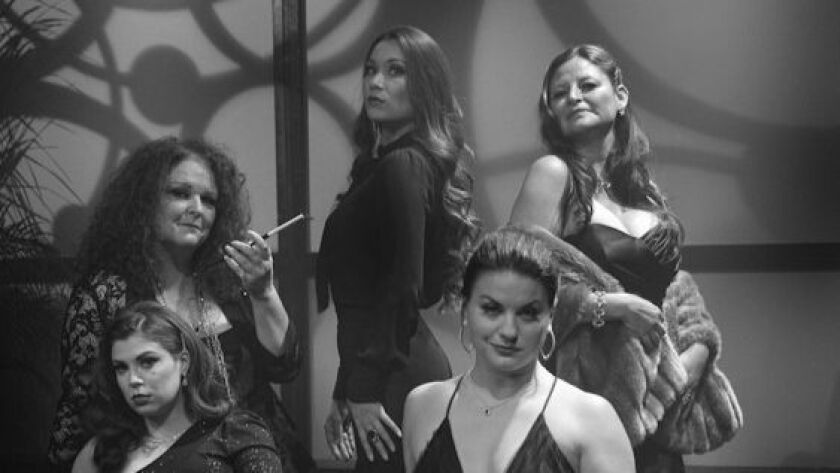 Musicals have tapped many genres for their source material, but probably only one owes its inspiration to a Federico Fellini movie. That would be "Nine," based on the Italian director's semi-autobiographical "8½."
"Nine" is a showcase for female talent, and there's plenty of it on display at Garden Grove's GEM Theater where director Damien Lorton has called on, among others, three actresses who've each been named "woman of the year in theater" in this column — Beth Hansen, Adriana Sanchez and Nicole Cassesso.
Given Lorton's penchant for spectacle, "Nine" is a natural choice. Beyond the handful of solo numbers, the elaborate ensemble weaves its way around the stage under the splendid choreography of Heather Holt-Smith, who also plays a nameless role in the chorus.
Story is subservient to song here, but the show still revolves around the mid-life crisis of Guido Contini, a womanizing Italian movie director who has the setting and the stars for his new project but still lacks a script. Ian Michaels tackles this role with zealous dynamism, his dramatic talents overshadowing his vocal abilities.
Cassesso enacts Guido's movie-star wife Luisa, perennially threatening to leave him over his infidelities. Her situation is nicely spelled out in her early-show solo "My Husband Makes Movies" and her presence is felt throughout the action.
Hansen dazzles as Liliane, a wealthy French woman backing Guido's movie and urging him to focus on the "Folies Bergeres" in a dynamic production number. Her influence also is ongoing during the show.
Sanchez appears for just one cameo segment, but it's a doozy. She's outstanding in a flashback sequence as a woman who introduced young Guido (a fine Eliot Delucia) to the joys of the flesh. Her rousing, ribald rendition of "Be Italian" brings down the house.
Equally proficient is Brittany Gerardi as Carla, a lovely actress and frequent paramour to Guido, who resists his efforts to involve her in the new project. Gerardi possesses a vocal range of operatic quality which she employs on several occasions.
Also impressive are Nickie Gentry as the spirit of Guido's mother appearing in flashbacks and Erika Baldwin as another mistress, Claudia, who beautifully sings a pair of numbers, "A Man Like You" and "Unusual Way."
Elaborate costumes, created by Ramzi Jneid, further enhance enjoyment, as does the sharp lighting designs of Harold Mendenhall.
"Nine," which twice won the Tony for best Broadway musical (once for the original in 1982 and again for the revival in 2003), is a cornucopia of flash and style, backed by a healthy helping of artistic tension. It's a gem of a musical at the GEM Theater.
IF YOU GO
What: "Nine"
Where: The GEM Theater, 12852 Main St., Garden Grove
When: Thursdays and Fridays at 8 p.m., Saturdays and Sunday at 2 and 8 p.m. through May 29
Cost: Starts at $26
Information: (714) 741-9550 or onemoreproductions.com
Tom Titus reviews local theater for TimesOC.
Support our coverage by becoming a digital subscriber.
For more news and features about Orange County, visit TimesOC.com or follow us on Twitter @timesocofficial.
---
The stories shaping California
Get up to speed with our Essential California newsletter, sent six days a week.
You may occasionally receive promotional content from the Los Angeles Times.