Lawmakers praise Mexican president's message of cooperation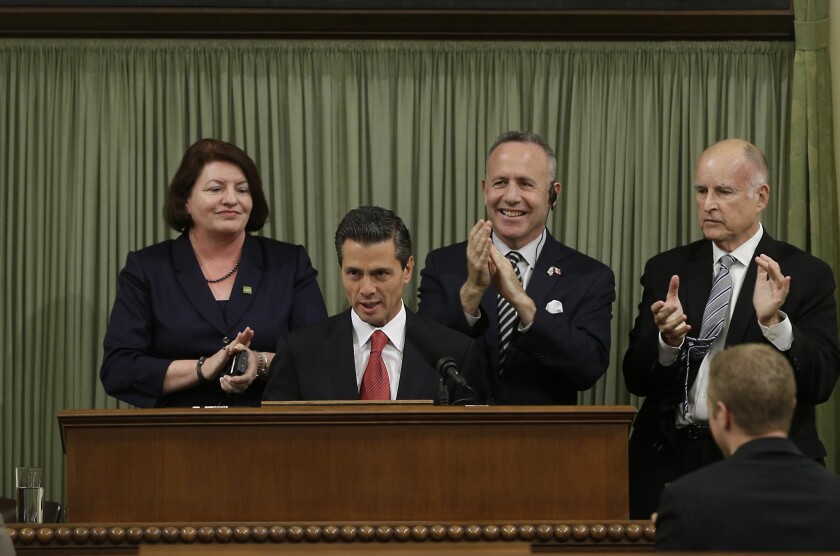 Reporting from Sacramento —
Lawmakers from both parties praised Mexican President Enrique Peña Nieto's message of economic and political partnership between California and Mexico after the president's address Tuesday to a joint session of the Legislature.
State Sen. Kevin de León (D-Los Angeles), the incoming Senate leader, said that because of "severe dysfunction in Washington D.C.," he expects California to continue working with the Mexican government directly on issues like infrastructure and trade.
"This opens up a new chapter of cooperation [and] collaboration," De León said of Peña Nieto's visit.
The speech was particularly poignant for De León, who started his political career as an activist against the anti-illegal immigration Proposition 187 in 1994. De León and other Latino lawmakers have marked the 20th anniversary of the ballot measure this year.
He said it would have been hard to imagine a similarly warm reception for a Mexican head of state 20 years ago.
"If you were to juxtapose the political environment back in the day to today, a president of Mexico most likely would not have even come to give an address in the California state Legislature, given how polemic, how polarizing, how emotionally raw the feelings were at that time," he said.
California's treatment of immigrants was a key topic in Peña Nieto's speech; the president in particular singled out last year's law to allow people in the country illegally to obtain driver's licenses.
Asssemblyman Luis Alejo (D-Watsonville), the author of that legislation, said that such actions have helped differentiate California from other states who have enacted strict anti-illegal immigration laws, such as Texas and Georgia.
But Alejo also emphasized California's ties to Mexico extend beyond immigration.
Peña Nieto's visit to California "really makes sense when you have over $60 billion in trade year after year between Mexico and California....[The state] is committed to build stronger ties not only on business but on climate change, on energy, on education and of course on immigrant issues as well. This sets an example that California is going to continue to forge stronger relationships in the years ahead."
Even lawmakers who had opposed the state's immigration-related policies such as the driver's license laws found bright spots in Peña Nieto's speech.
Assemblywoman Melissa Melendez (R-Lake Elsinore), for example, had voted against that measure, and her district includes Murietta, which was roiled by anti-immigration protests this summer. But Melendez said she agreed with the president's efforts to improve the Mexican economy.
"It's encouraging to hear that he's trying to make some reforms in his country so that that happens and so that his folks can have a better life and we can all benefit from that."
The warm reception did not extend to the Legislature's most outspoken critic of the president's visit: Assemblyman Tim Donnelly (R-Twin Peaks) did not attend.
Follow @melmason for more on California government and politics.
---
For reporting and exclusive analysis from bureau chief John Myers, get our California Politics newsletter.
You may occasionally receive promotional content from the Los Angeles Times.