Under pressure, Beverly Hills may fine water wasters $1,000
Beverly Hills will have to cut water use to comply with Gov. Jerry Brown's drought order.
(Mel Melcon / Los Angeles Times)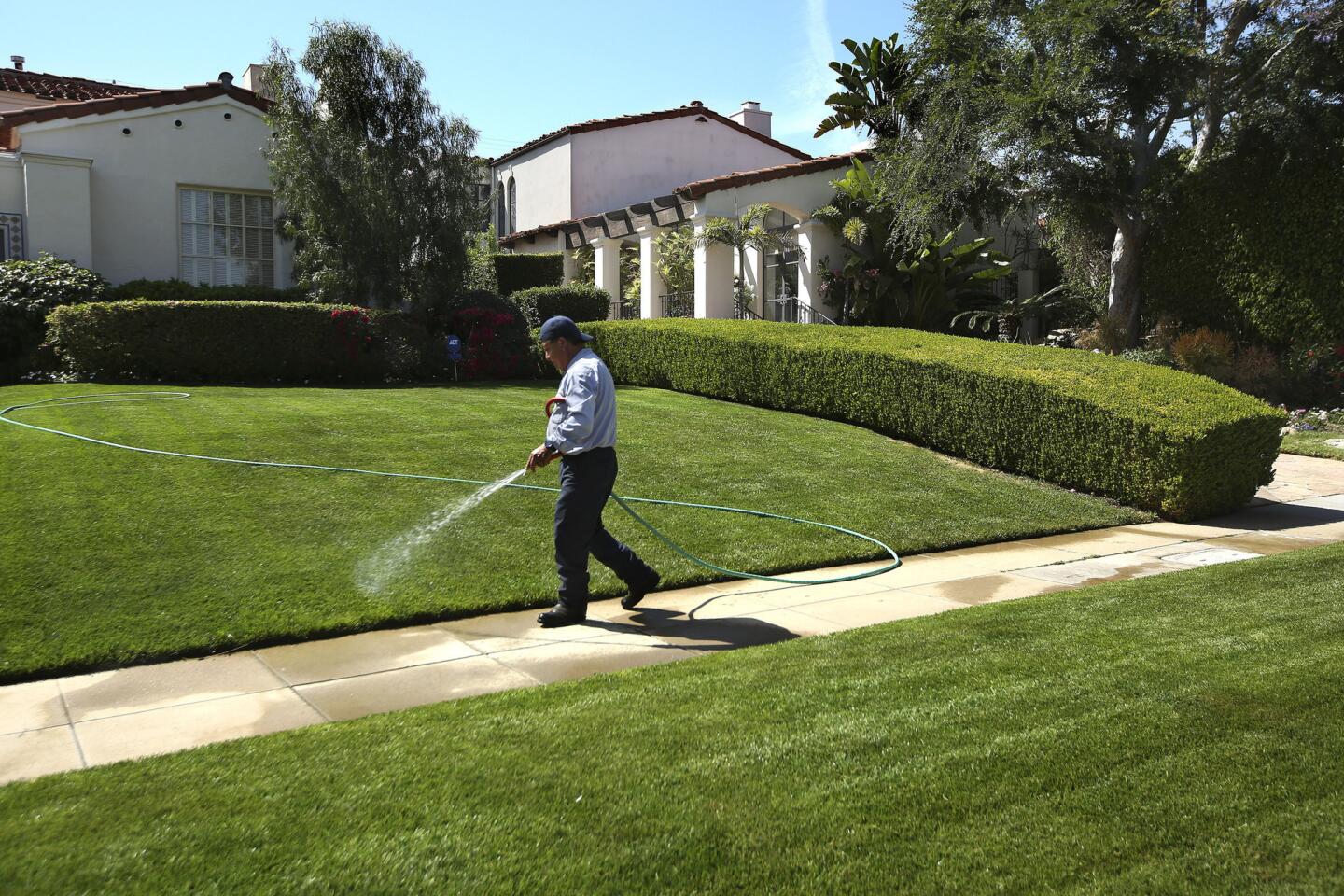 A gardener waters the front lawn of a home in Beverly Hills.
(Mel Melcon / Los Angeles Times)
A sign welcomes visitors to Newport Beach.
(Mark Boster / Los Angeles Times)
Newport Beach is one of the heaviest per-capita water using cities in the state.
(Mark Boster / Los Angeles Times)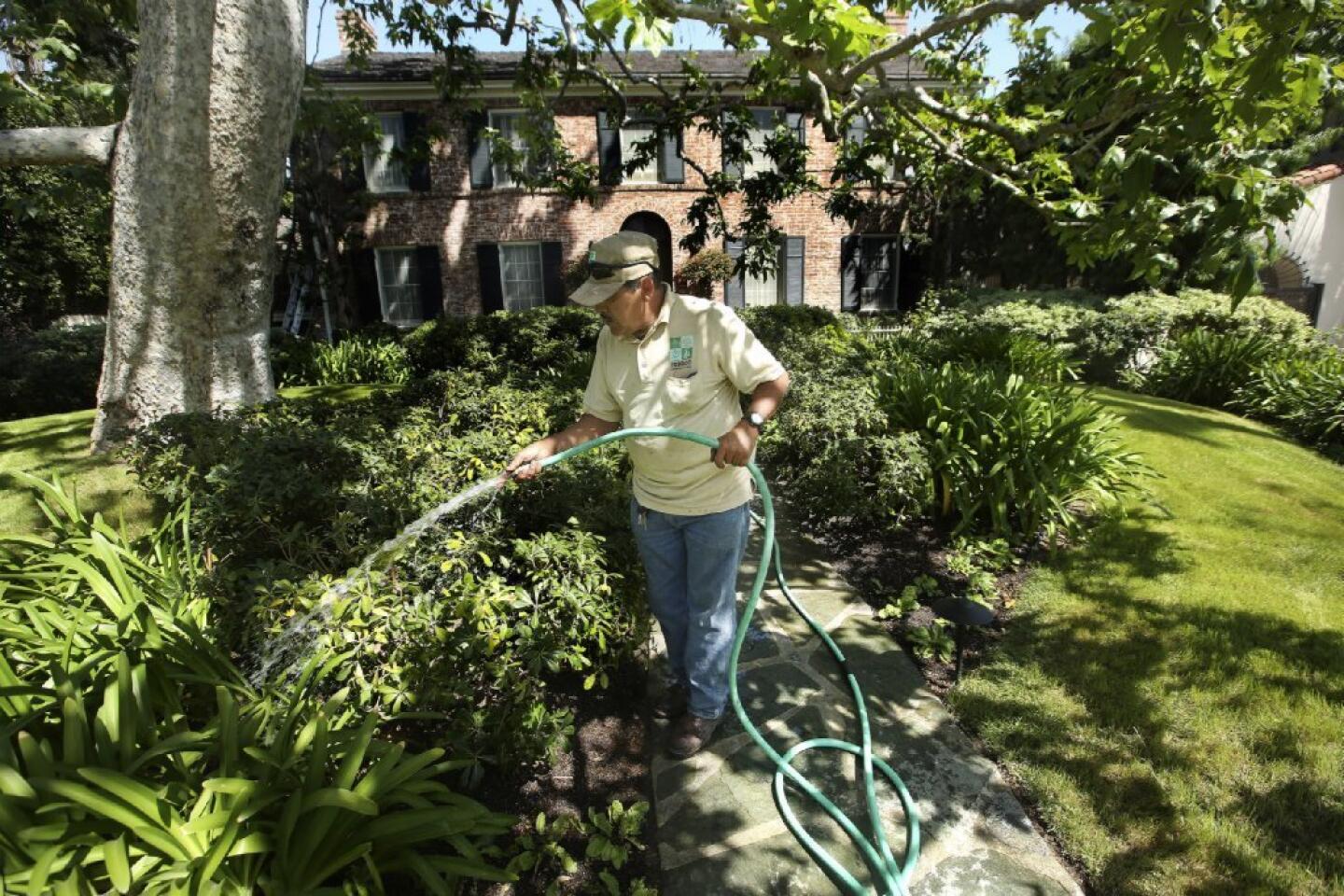 A landscaper waters the yard of a Beverly Hills home this week. Gov. Jerry Brown issued an executive order mandating that urban areas cut water use 25% by the end of February 2016.
(Mel Melcon / Los Angeles Times)
Homes with swimming pool line the streets of this neighborhood in Palm Springs.
(Chris Carlson / Associated Press )
A bicyclist rides by a Long Beach home that features drought tolerant plants.
(Genaro Molina / Los Angeles Times)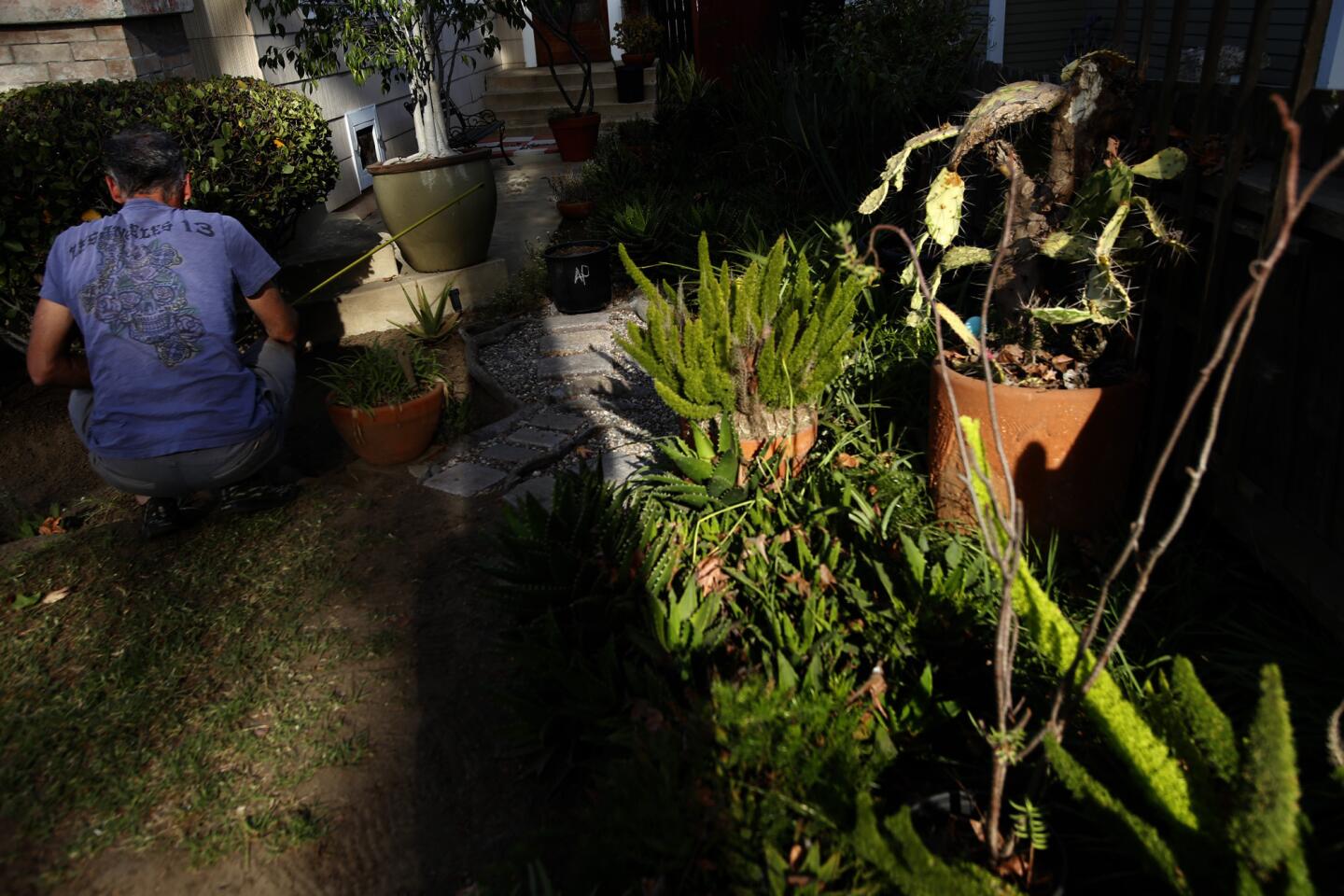 A Long Beach homeowner works in his frontyard alongside drought tolerant plants.
(Genaro Molina / Los Angeles Times)
Under increasing pressure to slash water use during California's ongoing drought, Beverly Hills is preparing to toughen watering rules and could decide to ban the refilling of pools and set fines as high as $1,000 for water wasters.
The city that symbolizes Southern California luxury has come under fire in recent weeks as one of the state's most profligate water users. State regulators have warned that it will face heavy fines if it does not cut its water consumption by 36% over the next year.
QUIZ: Test your knowledge of the California drought
Beverly Hills is just one of 94 water suppliers instructed by the State Water Resources Control Board to undertake such a major reduction.
The city has been in the second stage of its emergency water conservation plan — aiming to reduce consumption by 10% through voluntary measures such as reduced lawn watering. City officials said their goal was to educate rather than penalize heavy water users.
But on Tuesday, the City Council plans to discuss three proposed sets of tighter restrictions, which have been summarized in a report developed by city staff.
The city's public works commission is recommending the most stringent proposal, to move to the fourth stage of the emergency plan. It calls for water fountains to be turned off and bans refilling swimming pools, spas and ponds except when necessary for reasons of health.
Under this proposal, the city manager would determine when residents and businesses could water their landscapes. Those who violated water-use rules could be charged with misdemeanors and face fines of up to $1,000 if convicted.
The recommended plan would calculate fines according to violators' levels of water conservation. If customers failed to reduce their water use by the amount the city set, they could face surcharges on their water bills up to 10 times the water rate.
City Council members will also consider a less drastic option of going to stage three of the emergency plan, which calls for customers to cut water use by 20% and limit outdoor watering to two days a week. Penalties under this proposal would be lighter.
The third proposal, a hybrid, would require customers to make 30% cuts, but would not impose penalties based on usage. Under this plan, customers would be barred from washing buildings and cars, and fines for convicted violators could still reach $1,000.
Officials have cautioned that the 36% conservation benchmark for Beverly Hills and other communities could be revised before state regulators formally adopt the emergency water plan in early May.
Twitter: @matthjourno
Sign up for Essential California for news, features and recommendations from the L.A. Times and beyond in your inbox six days a week.
You may occasionally receive promotional content from the Los Angeles Times.