Editorial: Have a full and open debate on rules for LAPD body cameras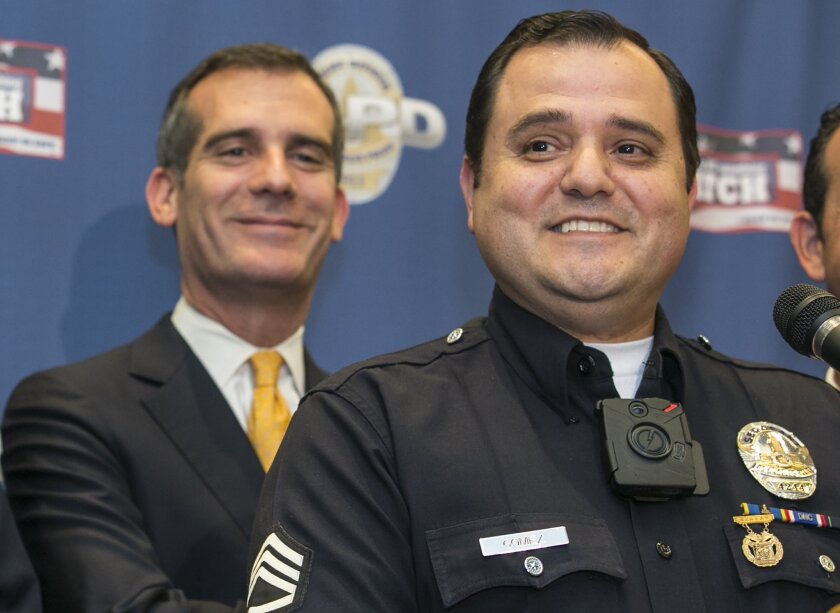 The Los Angeles Police Department has committed to outfitting all officers on patrol with body cameras starting next year. The effort was launched last year by Police Commission President Steve Soboroff, but it gained momentum after deadly encounters between police and unarmed black men in Ferguson, Mo., New York City and Los Angeles, and protests over how law enforcement and the criminal justice system treat minority communities. Mayor Eric Garcetti said he will include funding in next year's budget to buy 7,000 cameras with the goal of recording every officer interaction with the public by July 2016.
The hope is that the cameras will change the nature of police encounters and bring clarity to accusations of abuse. Too often in cases of alleged police misconduct, there's no clear record of what happened. Conflicting witness statements, blurry cellphone videos from bystanders and officers' after-the-fact accounts can make it impossible to confirm or refute allegations. That only feeds public distrust of law enforcement and makes it more difficult to establish the strong community ties that can prevent or reduce violent confrontations in the first place.
A video camera, mounted on an officer's chest and switched on at the beginning of an encounter, has several benefits. Both officers and civilians may behave better, knowing their actions are being recorded. And if they don't, there will be an objective record of the interaction. There's increased transparency and accountability on all sides, which is why the Los Angeles Police Protective League and the American Civil Liberties Union have supported the concept.
But buying the cameras is the easy part. The real work is developing and vetting the guidelines on how officers use the equipment and how the department uses the recordings. When will an officer switch on the camera and under what conditions may he or she turn it off? How will the department protect the privacy of individuals captured on video? Will officers record inside people's homes? Who will have access to the recordings and how long will the LAPD keep them? Will officers be able to review the videos before writing their incident reports?
Chief Charlie Beck says the cameras won't be used until the protocols are made public and approved by the Police Commission. That is crucial. The public deserves a full debate before the cameras start rolling.
Follow the Opinion section on Twitter @latimesopinion
---
Must-read stories from the L.A. Times
Get all the day's most vital news with our Today's Headlines newsletter, sent every weekday morning.
You may occasionally receive promotional content from the Los Angeles Times.