Quarter of UC population had bad experiences on campus, survey finds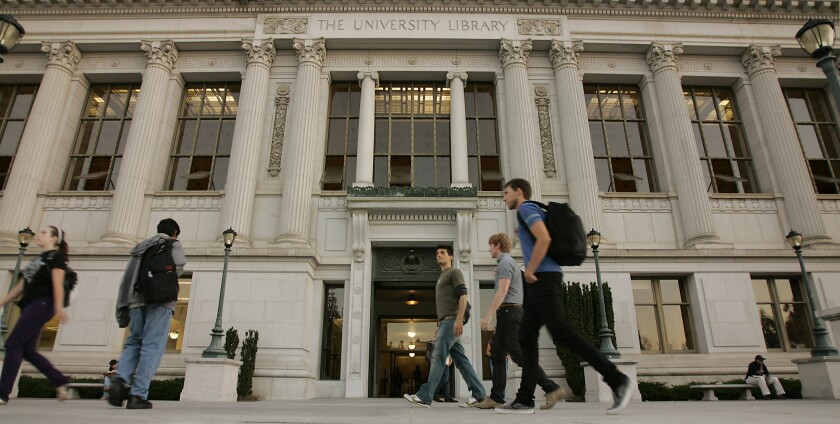 SAN FRANCISCO — About a quarter of UC students, faculty and staff reported that they had experienced some exclusionary, intimidating or offensive situations on campus and 9% said that had interfered with their abilities to study or work, according to a survey by the university system released Wednesday.
Those results in the long-awaited Campus Climate survey elicited mixed responses from leaders of the 10-campus UC system. They said they were pleased that 73% of UC undergraduates reported feeling "comfortable" or "very comfortable" in their classes and only about 7% "uncomfortable." But the officials were concerned about the reports of discrimination and isolation. (Sizable portions of the survey participants said they were neither comfortable nor uncomfortable.)
UC Regent Sherry Lansing said UC's goal should be to reduce the number of people who report feeling isolated and snubbed. "We want a welcoming environment. We know that if 1% feels uncomfortable, that's an environment we don't want," she said at the regents' meeting at a UC San Francisco facility.
Among the other findings: About 6% of undergraduate students said they experienced some unwanted sexual contact in the last five years. Across all UC students and employees, 4% of women and 1% of men reported rape or some form of unwanted, forced fondling or the use of drugs to incapacitate them.
The study was commissioned by former UC President Mark G. Yudof in response to several incidents of racial and religious bias in 2010. Among them was an off-campus party held by UC San Diego students that mocked African Americans, vandalism at a gay and lesbian student center at UC Davis, and the spray-painting and carving of swastikas at UC Davis. In addition, campus protests at UC Irvine and elsewhere about the Israeli-Palestinian situation raised tensions between some Muslim and Jewish students.
UC Merced scored the highest — 81% — for the share of its undergraduates who felt comfortable or very comfortable in classes, and UC San Diego, the worst, at 68%. Santa Barbara scored 77%; Davis, 76%; Riverside and Santa Cruz, 75%; Irvine, 74% ; UCLA, 71%; and Berkeley, 69%.
The survey showed some differences, but not drastic ones, between whites and minorities, and among religions. About 84% of white students and faculty said they were comfortable in their classes compared to about 74% for blacks, Latinos and Asians and Native Americans. About 76% of Muslim students and faculty reported feeling comfortable or very so in classrooms, below the 78% for Christians and 84% for Jews.
More than 386,000 students, staff and faculty were asked to take the survey but only about 104,000, or 27%, responded. Some regents expressed concerns that the sampling might be too small, but administrators said the information appeared accurate and useful. The results are similar to other surveys conducted at other schools by the consultant, Rankin and Associates, hired by UC.
UC system President Janet Napolitano said the university seeks "to create, and to nurture, an ethos of respect for others, and inclusion for all." That effort should not diminish the spirit of free speech and "robust constructive dialogue," she said, urging students, faculty and staff to maintain civility.
Student Regent Cinthia Flores said the statistics were not surprising and showed that "the university has room to improve." She said some of the feelings of exclusion resulted from the relatively low numbers of minorities, particularly blacks, at some UC campuses.
"If you feel you are outnumbered or explicitly under-represented, you will feel disenfranchised," said Flores, who is a UC Irvine law student.
Among the 24% of UC employees and students who said they experienced some hostility or isolation, about half reported being isolated or deliberately ignored. About 19% said they had received offensive verbal remarks, 9% said they feared for their personal physical safety, and 1% said they had been the victim of a crime.
Gender and sexual identities had some influence on perceptions about UC: 81% of men and 76% of women said they felt at least comfortable in classes; 78% of heterosexuals said so, six percentage points more than lesbian, gay, bisexual and transgender people.
The Campus Climate survey was conducted from November 2102 through May 2013 at all UC campuses, hospitals and its system headquarters and energy and agricultural research facilities.
Two years ago, a previous set of studies revealed that some Muslim students felt their rights to free expression were being suppressed and some Jewish students thought that anti-Israel protests on campus had become anti-Semitic. In August, the U.S. Department of Education exonerated UC campuses at Berkeley, Irvine and Santa Cruz of allegations that they fostered anti-Semitic climates by allowing protests against Israeli policies that Jewish students contended were illegal harassment.
In other matters, the UC system was hoping to avoid a five-day strike scheduled for next week by the union that represents about 13,000 patient care and technical workers at the five UC medical centers and numerous clinics in the state.
After lengthy negotiations, AFSCME 3299 alleged that UC is pursuing policies of unsafe staffing levels, a contention UC denies. Napolitano on Wednesday reached out to union President Kathryn Lybarger at the regents meeting, appearing to chat amiably with her. Officials later said no breakthrough was achieved.
The union struck for two days in May and held a one-day walkout in November, costing the university millions of dollars in replacement workers and lost revenue.
larry.gordon@latimes.com
---
Must-read stories from the L.A. Times
Get all the day's most vital news with our Today's Headlines newsletter, sent every weekday morning.
You may occasionally receive promotional content from the Los Angeles Times.