A shocking crime in Chicago — and the suspects have ties to leading universities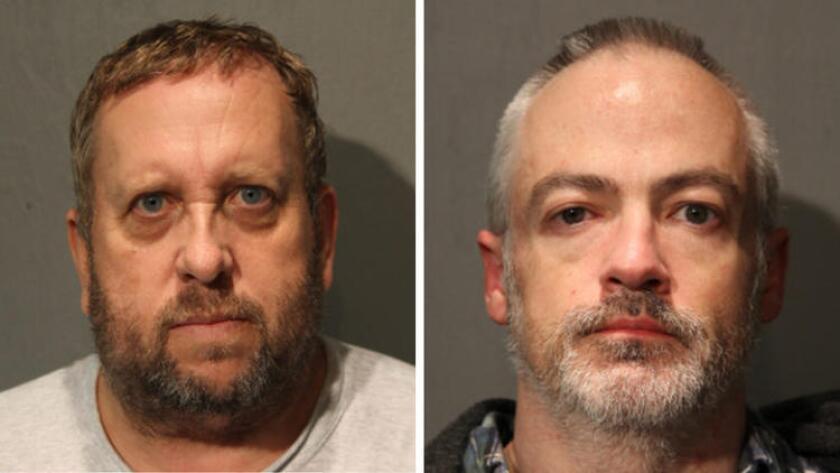 Reporting from Chicago —
A former Northwestern University professor and an Oxford University employee lured a 26-year-old man into a Chicago high-rise and stabbed him dozens of times to fulfill an elaborate, violent sexual fantasy, prosecutors said Sunday.
Wyndham Lathem, a former associate professor of microbiology, and Andrew Warren, a British national, were held without bail Sunday after prosecutors made the gruesome allegations public for the first time.
The two men had chatted online for months about their shared fantasy of killing other people and themselves, Assistant State's Atty. Natosha Toller said.
In late July, they took the first steps toward carrying out that fantasy: Lathem paid for Warren to fly to Chicago, prosecutors said, and the two came up with a plan.
The two planned to slay victims of Lathem's choosing, prosecutors said, and then the two men would kill each other simultaneously — Warren shooting Lathem while Lathem stabbed Warren.
Lathem had decided on their first victim, prosecutors said: his boyfriend, 26-year-old Trenton Cornell-Duranleau.
On July 26, Lathem "lured" Cornell-Duranleau to his apartment on Chicago's Near North Side while texting Warren that they would kill him that night, Toller said.
Warren came over about 4:30 a.m. the next day, after Cornell-Duranleau had fallen asleep in Lathem's apartment, prosecutors said. Lathem showed Warren a 6-inch drywall knife saw and gave him a cellphone, with instructions to record video of Lathem stabbing Cornell-Duranleau to death, according to prosecutors.
As Warren stood in the doorway to the bedroom, cellphone in hand, Lathem stabbed the sleeping Cornell-Duranleau "over and over in the neck and chest area," Toller said.
Cornell-Duranleau woke up and began to scream and fight back, prosecutors said.
Lathem cried to Warren for help, Toller said, so Warren walked in and put his hands on the victim's mouth, then hit him in the head with a heavy metal lamp.
Warren left to get two kitchen knives, prosecutors said, and both men then leaned over Cornell-Duranleau and stabbed him repeatedly, prosecutors said. Warren was stabbing with such force that he broke the blade of one of the knives, prosecutors said.
The attack left Cornell-Duranleau nearly decapitated, prosecutors said. He had sustained dozens of stab wounds, at least two of which would have been fatal on their own, Toller said.
His last words, prosecutors said, were "Wyndham, what are you doing?"
As Cornell-Duranleau bled out in the bedroom, his attackers showered, then tried to clean up the scene, prosecutors said.
They left Lathem's apartment in the early morning hours and fled — sparking a nationwide manhunt that ended when they surrendered to authorities in California nine days later, prosecutors said.
While they were on the lam, the men made two charitable donations in Cornell-Duranleau's name, prosecutors said: $5,610 to the Howard Brown Health Center, an LGBT health and social services provider, and $1,000 to a public library in Lake Geneva, Wis.
At the library, Lathem called the front desk of his apartment building and left an anonymous tip: Someone should check the apartment, because a crime had been committed in that room.
Both men have admitted to the slaying, prosecutors said. Warren spoke to police, and Lathem sent a video to his family and friends admitting that he killed Cornell-Duranleau, according to prosecutors.
In the video, Lathem "elaborated that he is not the person people thought he was," prosecutors said, and admitted Cornell-Duranleau "trusted him completely and felt safe with him but he betrayed that trust," Toller said.
Warren spoke to detectives in San Francisco, police said Sunday. Prosecutors said he admitted to planning and carrying out Cornell-Duranleau's slaying, though he said he did not videotape the slaying as Lathem had requested.
"Defendant Warren told the police that the victim had no idea what was coming," Toller said Sunday.
Ominously, Warren admitted that the two had planned to kill at least one other person, but Warren didn't know whether that person had ever shown up to Lathem's apartment after the two men fled, prosecutors said.
At the bond hearing Sunday, Lathem's attorney Barry Sheppard gave Judge Adam D. Bourgeois Jr. copies of dozens of letters from Lathem's friends and colleagues, attesting to his character and academic accomplishments — a highly unusual move.
"The court has read his professional and academic achievements," Bourgeois said from the bench after looking through the material. "Some of the finest in the world, right? It has nothing to do with this, though."
Sheppard also told the judge that prosecutors "cherry-picked" statements from the video Lathem sent his family and noted that in the video the word "mistake" is used.
Sheppard as well as Warren's attorney, Assistant Public Defender Courtney Smallwood, asked Bourgeois to set a bond for the two men — a request the judge denied.
"The heinous facts speak for themselves," he said, ordering both men held without bail.
After the hearing, Sheppard warned against a rush to judgment, telling reporters that Lathem "has led a life of outstanding, unblemished citizenship."
"We simply ask the public to patiently allow the legal system to work," he said.
Lathem was fired from Northwestern after fleeing the state, and Warren has been suspended from his job as a financial officer at Somerville College, part of the Oxford system.
Crepeau and Wahlberg write for the Chicago Tribune.
ALSO
Tweet from the account of Charlottesville rally organizer insults slain protester Heather Heyer
U.S. lays out ambitious schedule for NAFTA talks as opening round concludes
No, Trump's support hasn't collapsed, but yes, he's increasingly alone
---
Must-read stories from the L.A. Times
Get all the day's most vital news with our Today's Headlines newsletter, sent every weekday morning.
You may occasionally receive promotional content from the Los Angeles Times.