'We are not thugs': Black police chiefs push back on Trump's call to be 'rough' with suspects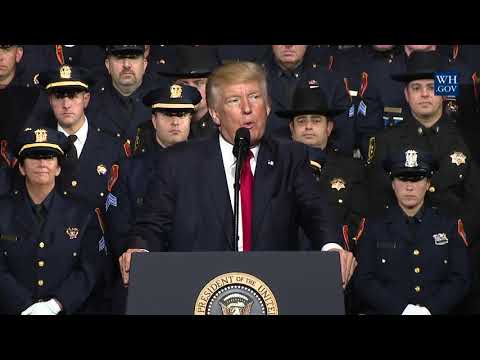 "Like when you guys put somebody in the car and you're protecting their head, you know the way you put their hand so they don't hit their head and they've just killed somebody … you can take that hand away.'' — President Trump
Reporting from Atlanta —
Days after police widely criticized President Trump for telling officers to be "rough" with people taken into custody, leaders of a prominent black policing group met with Atty. Gen. Jeff Sessions on Tuesday to air their concerns that the remarks could deepen divisions between police and racial minorities.
"We are not thugs. We are professionals. We fully expect law enforcement around the country to behave as professionals," the group's president, Perry Tarrant, said after meeting with Sessions.
For the record:
4:15 p.m. Aug. 1, 2017
An earlier version of this story misspelled White House Press Secretary Sarah Huckabee Sanders' name as Sara.
The closed-door talk between police and the nation's top law enforcement figure came after Sessions spoke publicly at a conference for the National Organization of Black Law Enforcement Executives in Atlanta, where he promised to work with black police chiefs to fight crime and protect civil rights.
Tarrant, an assistant chief in Seattle, said he told Sessions about the "the potential harm of off-the-cuff comments like those made by the president have in detracting from the legitimacy [of police], and detracting from the trust that local law enforcement and communities have."
Civil rights activists have accused Trump, who made the remarks on Friday during a speech to police officers in Brentwood, N.Y., of promoting police brutality. In his address, which focused on combating gang violence, Trump said police should be rough with gang suspects, who he described as "animals."
"Please don't be too nice," he said to applause at another point. "Like when you guys put somebody in the car and you're protecting their head, you know the way you put their hand so they don't hit their head and they've just killed somebody … you can take that hand away.''
Police reform advocates said the president's remarks could increase tensions in neighborhoods that have become sites of protest in recent years after unarmed African Americans have died at the hands of police.
After the speech, police departments across the U.S., including Los Angeles', issued statements clarifying that their use-of-force rules did not reflect Trump's comments.
White House Press Secretary Sarah Huckabee Sanders said Monday that the president was "making a joke." She repeated the defense on Tuesday after journalists asked about news reports citing an email from Chuck Rosenberg, the acting head of the Drug Enforcement Administration, to his staff that said Trump "condoned police misconduct."
"I think you guys are jumping and trying to make something out of nothing," Sanders said on Tuesday. Trump "was simply making a comment, making a joke, and it was nothing more than that."
In his Atlanta speech in front of hundreds of black police chiefs, officers and city leaders, Sessions did not directly speak to Trump's comments. His address largely stuck to themes he's hit elsewhere while traveling around the nation talking to law enforcement agencies about Justice Department efforts to tackle violent crime, gang activity, the illegal drug trade, illegal immigration and violence against police.
He also addressed fatal shootings by police.
"We all know the cases of the last several years where, in confrontations with police, lives have been cut short," Sessions said. "Just as I am committed to defending law enforcement who lawfully have to use deadly force to defend themselves ... I will also use the powers of the office I've been entrusted with to hold any officer responsible who violates the law. You know that all it takes is one bad officer to destroy the reputations of so many."
Despite those words, police at the Atlanta conference said Trump's remarks were still among their top concerns.
Tarrant said police pressed Sessions on the issue when they met.
"His response to us was he was aware of the comment. He believed it was done in jest," Tarrant said.
Cedric Alexander, deputy mayor of Rochester, N.Y., and past national president of the organization, said Trump's words undermined trust.
"We feel we have to fall back and start over again. When you're trying to build trust and you hear that type of inference coming from the commander in chief of this country, it creates a certain anxiety and fear," said Alexander, who was a member of President Obama's Task Force on 21st Century Policing.
Some chiefs expressed concern Tuesday that the administration's priorities on police reform could harm efforts to overhaul departments that have had troubled relationships with minorities.
Civil rights groups have said they were alarmed after Sessions issued a memo ordering Justice Department officials to review agreements, many that were signed under the Obama administration, with police departments over unconstitutional policing, use of excessive force and other misconduct. Sessions called such court-enforced police reform agreements "dangerous."
As Sessions spoke on Tuesday, the black law enforcement group's Washington chapter president, Tony Dixon, said he hoped the Trump administration would be "a little more careful and responsible" in order to build up relations with African Americans.
"The community needs to hear and recognize that they have a voice that's willing to step up and relate to them," Dixon said. "It would be nice if [Sessions] would acknowledge there are problems that are being discounted by the current administration's cavalier attitude that doesn't really address what's really going on between law enforcement and the community."
Times staff writer Kaleem reported from Los Angeles and special correspondent Jarvie from Atlanta.
ALSO
Trump urges officers and immigration officials to be 'rough' on 'animals' terrorizing U.S. neighborhoods
'It's not what policing is about today.' LAPD officials react to Trump's comments about arrestees
Atty. Gen. Jeff Sessions revives controversial practice of police seizing suspects' assets
---
UPDATES:
3 p.m.: The article was updated to report that Jeff Sessions told police chiefs that he thought President Trump's comment about being rough with criminal suspects was made in jest.
The article was originally published at 2 p.m.
Sign up for Essential California for the L.A. Times biggest news, features and recommendations in your inbox six days a week.
You may occasionally receive promotional content from the Los Angeles Times.