'It's not what policing is about today.' LAPD officials react to Trump's comments about arrestees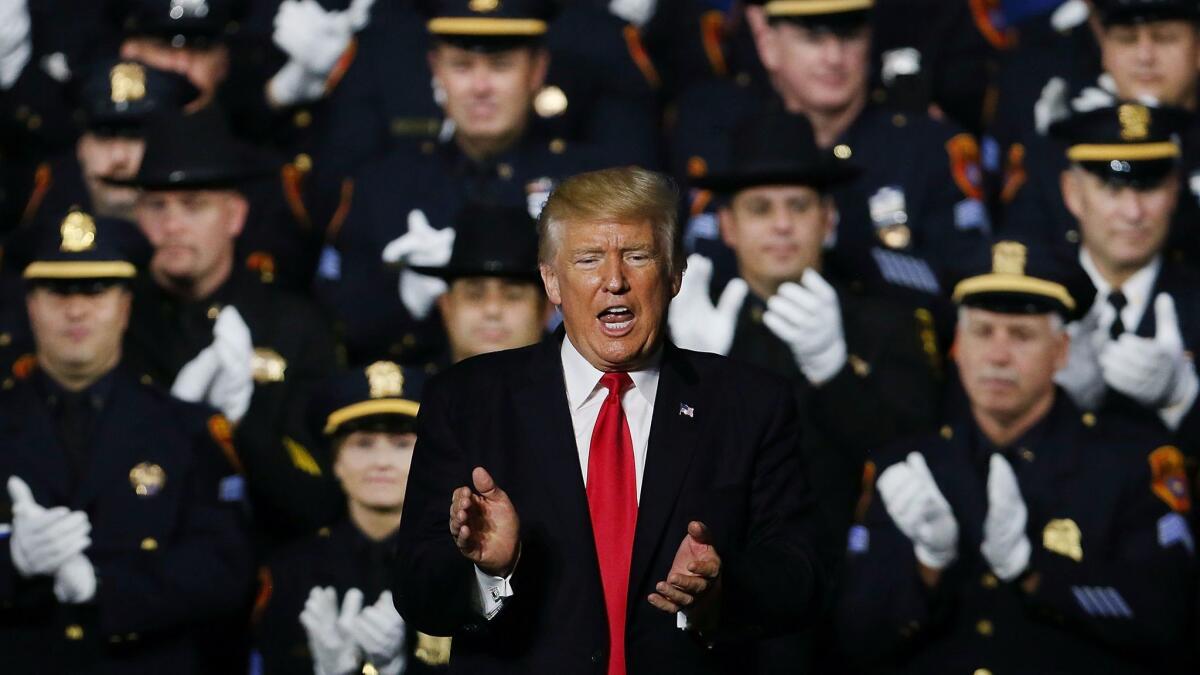 With a history marred by scandal, videotaped incidents and civil unrest, the Los Angeles Police Department made a top priority of shifting the culture of an agency once known for militaristic, cowboy policing into a model of a more modern, progressive law enforcement agency.
It's a process that continues today, though even some of the LAPD's harshest critics say the department has made progress.
So when President Trump on Friday encouraged law enforcement officers to be "rough" with people they arrest, Los Angeles officials quickly rejected his remarks, saying the comments stood in stark contrast to their expectations for police here.
"What the president recommended would be out of policy in the Los Angeles Police Department," said Steve Soboroff, one of five civilian police commissioners who oversee the LAPD.
"It's not what policing is about today."
Trump's comments came during a speech in New York that largely focused on Mara Salvatrucha, a primarily Salvadoran gang better known as MS-13.
But a clip of his statement about how to handle arrestees quickly reverberated across law enforcement circles and social media, drawing criticism during a time when interactions between police and the public have drawn intense scrutiny.
"Please don't be too nice," Trump told a room full of police recruits. "Like when you guys put somebody in the car and you're protecting their head, you know the way you put the hand … like, don't hit their head, and they've just killed somebody? … You can take the hand away."
Members of the Los Angeles Police Commission were quick to note that the president's comments contradicted two major policing concepts that the LAPD has woven through its policies and training: constitutional policing and de-escalation.
The latter has become a particular focus of this commission, which recently rewrote LAPD rules and training to formally require that officers attempt to defuse situations before using force.
"The evidence is clear that fair, respectful policing builds trust and confidence in law enforcement," said commissioner Shane Murphy Goldsmith. "That's what we need, and it's what we're going to stay focused on — these remarks don't change that."
Matt Johnson, the board's president, said the LAPD would continue its efforts to build trust among residents and hold itself to the "highest standards of effective, constitutional policing."
"Anything less is unacceptable and out of step with our values," he added.
While commissioners voiced displeasure with Trump's comments — one called the remarks "disappointing," another said they were "regrettable" — they also stressed that they did not believe police officers in Los Angeles would change their behavior as a result.
"I am confident that they will have no impact on the continuing resolve of this department, from its leadership to the men and women patrolling our streets, to conduct themselves at all times with integrity and in a way that respects the rights and dignity of others, regardless of their status or circumstances," said Commissioner Cynthia McClain-Hill.
The LAPD once had a reputation as a rogue force, with repeated allegations of police misconduct against the city's black and Latino residents that heightened tensions. The videotaped beating of Rodney King in 1991 by LAPD officers and the riots the next year brought the department to a breaking point, beginning two decades of reforms.
The LAPD has won praise for toughening rules on how police use force and are disciplined and improving relations with minority communities. But some tensions remain, as highlighted by protests by Black Lives Matter activists in recent years.
Both the LAPD and the union representing rank-and-file officers also appeared to distance themselves from the president's remarks.
In its statement, the Los Angeles Police Protective League said it appreciated Trump's commitment to combating gang violence but noted that its officers would "continue our efforts to hold gang members accountable in accordance with the law and the department's policies."
The LAPD also weighed in, noting the importance of "enforcing the law with the utmost integrity and the highest professional standards."
"If an officer acts outside the law, it serves only to undermine the hard work and sacrifice that officers make every day to keep the community safe," the department said in a statement. "Our officers understand and embody these important principles."
Sign up for Essential California for news, features and recommendations from the L.A. Times and beyond in your inbox six days a week.
You may occasionally receive promotional content from the Los Angeles Times.