No guns allowed? No national anthem from me, singer tells Reno baseball team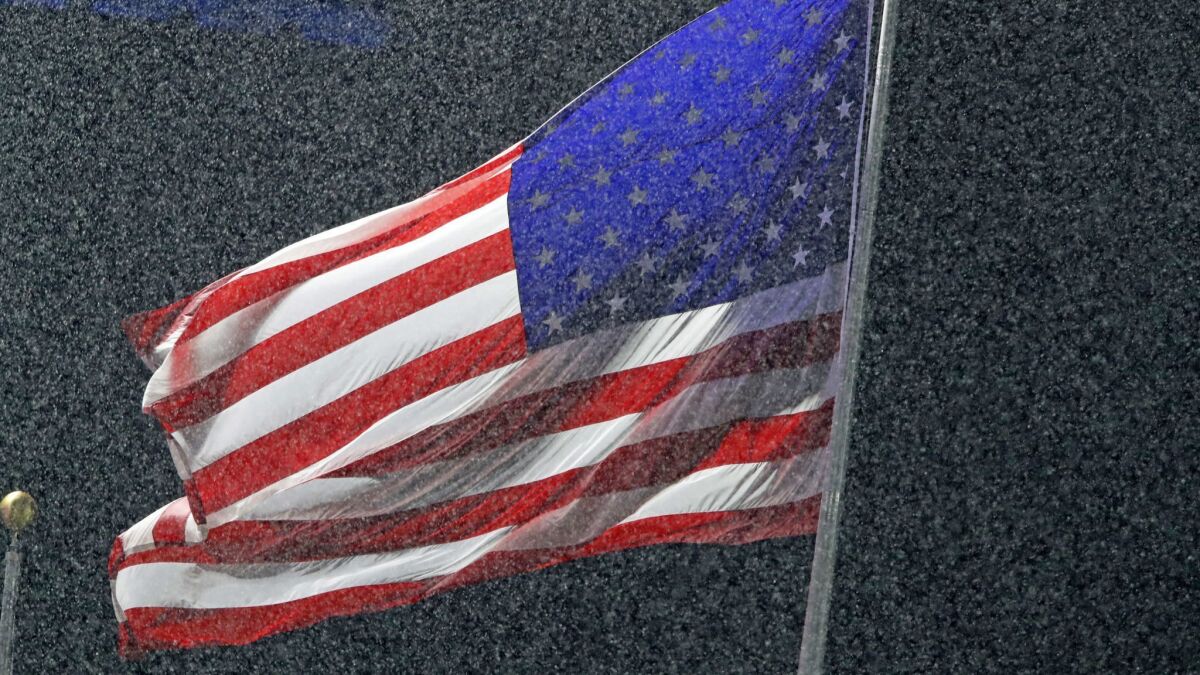 Reporting from Las Vegas —
Colin Kaepernick is the most famous University of Nevada, Reno, graduate to be embroiled in controversy over the national anthem.
Now enter Alishia Wolcott.
The 2016 graduate told the Reno Aces — a minor league baseball team — that she would not sing the "Star-Spangled Banner" because of the stadium's no firearms policy and new metal-detector screening process.
"I WILL NOT sing our National Anthem at a place that seeks to strip me of my second amendment rights!!!" she said on Twitter on Tuesday. Linked to her tweet was a lengthy message about her misgivings over the policy.
Wolcott, who described herself as a longtime Aces fan and an "avid baseball lover," said at first she welcomed the invitation to sing at Greater Nevada Field in Reno.
Then, as she and her husband were arriving on Saturday to see the Aces play the Grizzlies, they saw security checks at the entrances that included metal-detector hand wands.
The couple walked away "angry and disappointed," she wrote.
Addressing the stadium management, she continued: "The goal is to keep your guests safe, as it is very clear you are searching for weapons. But, by taking away their right self-protection, all you have done is made them more vulnerable to attack. You have fallen prey to the absurd idea that American citizens need only trust their government for protection. This is indeed a lie and a blatant disregard for our constitutional rights."
She wrote that she had thought about doing "a sort of Colin Kaepernick style" protest — referencing the NFL quarterback who sparked a chain of protests throughout the league when players followed his lead and refused to stand during the anthem.
Kaepernick, a 2010 Nevada-Reno graduate, was protesting racial injustice and the use of excessive force by police against unarmed African Americans .
He began the protest in 2016, and by 2017 had opted out of his contract with the San Francisco 49ers — though management with the team had said he probably would have been cut anyway. He remained unsigned through the 2017 season and drew rebukes from President Trump and other conservatives. Many Kaepernick supporters said he was being blackballed for taking a stance for civil rights.
Wolcott said she thought about taking the microphone before she was going to sing and telling fans why she ultimately would refuse to do so. But she said she had "too much respect for the national anthem and the time dedicated for it."
The stadium enacted the no-gun policy and screening procedures in March, before this year's season kicked off. Officials said it wasn't a reaction to the shootings in Las Vegas or Parkland, but had been in the works for the past two years. The policy makes no exception for people licensed to carry. Even squirt guns are banned.
The Reno-Gazette Journal reported that Wolcott received her concealed weapons permit this year and had planned to bring a 9-millimeter handgun to the game for safety. She told the paper she didn't feel safe walking around downtown Reno at night. "Men look you up and down," she said.
Eric Edelstein, president of the Reno Aces and the Reno 1868 Football Club, said in a statement Wednesday the changes at the stadium were about ensuring fan safety.
"We will always place fan safety as our top priority at our stadium," he said. "We have joined every other ticketed sports facility in Reno, as well as every Major League Baseball and Major League Soccer venue in the United States in the use of metal detection. The list of prohibited items at Greater Nevada Field has remained unchanged since our inception in 2009."
Stadium officials said the security standards would apply to all games and special events played at Greater Nevada Field.
Christiane Brown, co-president of the Northern Nevada chapter of the Brady Campaign to Prevent Gun Violence, said she supported the policy and that it's a myth that having more guns in a venue makes for a safer event. She said a shootout would be chaotic and that innocent people could get caught in the crossfire.
"The fewer bullets flying, the better," she said.
The move by the stadium came amid renewed national debate over guns after 17 people were killed in a mass shooting Feb. 14 at a high school in Florida. The massacre sparked marches across the country and a national walkout by students for stricter gun control.
Nevada is home to the largest mass shooting in modern American history, the killing of 58 people six months ago at a concert in Las Vegas. The state has seen a modest shift in support for gun control laws in recent years.
In 2016, voters passed an initiative that called for tougher background checks on firearms purchases. But it has not been enforced because Nevada Atty. Gen. Adam Laxalt has refused to do so, arguing that the ballot language requires involvement of the federal government.
The measure is currently tangled up in court, with Laxalt — who is running in the GOP primary for governor — and current Gov. Brian Sandoval, also a Republican, named as defendants.
Wolcott said in her letter she would not be attending any events at the ballpark while the policy is in place.
"The actions you have taken now placed you as a part of the fact that this song — this beautiful expression of our freedoms and our rights — is about a country that is slowly ceasing to exist," she wrote. "Little by little, every single day, more and more is being done to chip away at our freedoms. The ones so valiantly fought for as referenced in our anthem."
Twitter: @davemontero
Must-read stories from the L.A. Times
Get the day's top news with our Today's Headlines newsletter, sent every weekday morning.
You may occasionally receive promotional content from the Los Angeles Times.