Trump sends high-level delegation to Mexico in overture to new leader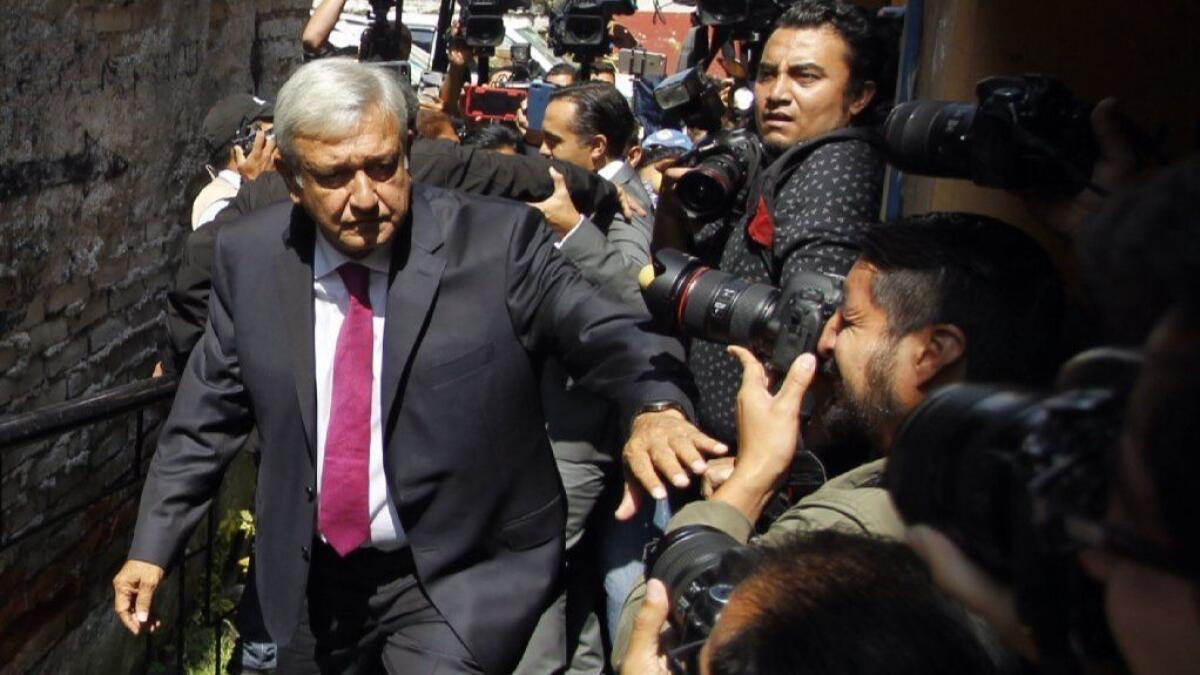 Reporting from Washington —
After a year and a half of turmoil, the Trump administration is attempting to repair its frazzled relations with close ally Mexico, dispatching a high-level delegation to meet the country's next president.
On Friday, Secretary of State Michael R. Pompeo will lead the team to Mexico City for meetings with President-elect Andres Manuel Lopez Obrador, a feisty leftist populist who won a landslide victory on July 1, as well as his outgoing predecessor Enrique Peña Nieto, and other senior government officials.
The U.S. delegation is expected to offer better ties and financial rewards while demanding that Mexico expand its efforts to reduce the flow of Central Americans who travel across Mexico toward the U.S. border.
Pompeo will be accompanied by President Trump's son-in-law and senior advisor, Jared Kushner, who is nominally in charge of the Mexico portfolio. Homeland Security Secretary Kirstjen Nielsen, a hard-liner on immigration, and Treasury Secretary Steven T. Mnuchin, whose office handles economic sanctions, also are on board.
That constellation suggests significant clout as well as an emphasis on immigration.
There are early signs that the troubled relationship between the longtime allies, which did not figure significantly in the recent Mexican electoral campaign, might improve, at least temporarily. Lopez Obrador was voted into office by a population fed up with official corruption and skyrocketing homicide rates.
So far, Mexican officials have been pleased — or relieved — that Trump's tone with Lopez Obrador has been cordial and even friendly. In a tweet, Trump congratulated Lopez Obrador on his victory.
"I look very much forward to working with him," Trump tweeted. "There is much to be done that will benefit both the United States and Mexico!"
The two also spoke by telephone through translators for half an hour shortly after the election. Both governments described the conversation as positive.
That was a far cry from Trump's description in his campaign of Mexicans as rapists and criminals who bring drugs and violence to the United States, and his drumbeat insistence that the United States would build a wall on its southern border and Mexico would pay for it.
Peña Nieto canceled a planned visit to the White House in February after he and Trump clashed in a phone call over Trump's demand that Mexico pay for the wall. So far, neither Congress nor Mexico has agreed to provide the money.
Trump is said to like Lopez Obrador, from a distance at least, apparently in the belief that the Mexican populist is like him. The two have cultivated images as political outsiders — actually Lopez Obrador ran unsuccessfully for president twice before and is the former mayor of Mexico City — who challenge the status quo.
Trump reportedly has dubbed Lopez Obrador "Juan Trump."
Pompeo and the other U.S. officials will seek to "advance" the opening between Trump and Lopez Obrador, a senior State Department official said Thursday.
The composition of the U.S. delegation reflects a "whole-of-government approach and underscores the importance of our relationship," the official said, briefing reporters on condition of anonymity in keeping with department rules.
The interests of Trump and Lopez Obrador may converge for a while. Both express concern over stagnation of workers' wages and seek to protect their domestic economies.
Both are populists, although while Trump comes from the right, Lopez Obrador comes from the left and has not adopted Trump's xenophobic and anti-immigrant tone.
But the honeymoon may be over quickly. Their policies and interests will likely diverge sharply once Lopez Obrador takes office — not until Dec. 1 — and lays down concrete plans.
"President Trump has been admirably restrained" with the new leader in Mexico, said Michael Shifter, a veteran observer of Latin American politics and president of the Washington-based Inter-American Dialogue.
"But restraint is not his strength," he added. "The goodwill that today should be celebrated might be short-lived."
Lopez Obrador's landslide win, taking the left to presidential power for the first time since democracy took hold in 2000, gives him a mandate much larger than Trump's, allowing him to bragging rights the U.S. president might respect.
Both Trump and Lopez Obrador give priority to security and immigration. But their strategies are far apart. Trump favors force, a semi-militarized border, arrests and deportation of immigrants who crossed the border illegally, and travel bans on certain countries.
Where the departing Peña Nieto largely cooperated with those tactics, Lopez Obrador wants to alleviate poverty, expand employment and take the military out of the fight against drug trafficking.
On Wednesday, he said he would cancel a scheduled $1.3-billion purchase of eight American helicopters for the Mexican navy. He also wants negotiations completed on the North American Free Trade Agreement, which seems to be a fast-fading priority at the White House.
What sustained the Washington-Mexico City relationship under Trump, despite the tensions, was a back channel that Kushner created with the powerful foreign minister of Mexico, Luis Videgaray. He is on the meeting schedule Friday.
The United States "will not have a more accommodating Mexican government to deal with than that of Peña Nieto," said Roberta Jacobson, the last U.S. ambassador to Mexico, who quit May 5 in protest over Trump administration policy.
For more on international affairs, follow @TracyKWilkinson on Twitter
Sign up for Essential California for news, features and recommendations from the L.A. Times and beyond in your inbox six days a week.
You may occasionally receive promotional content from the Los Angeles Times.