Portland braces for violence at pro-Trump rally this weekend after white supremacist is charged with murder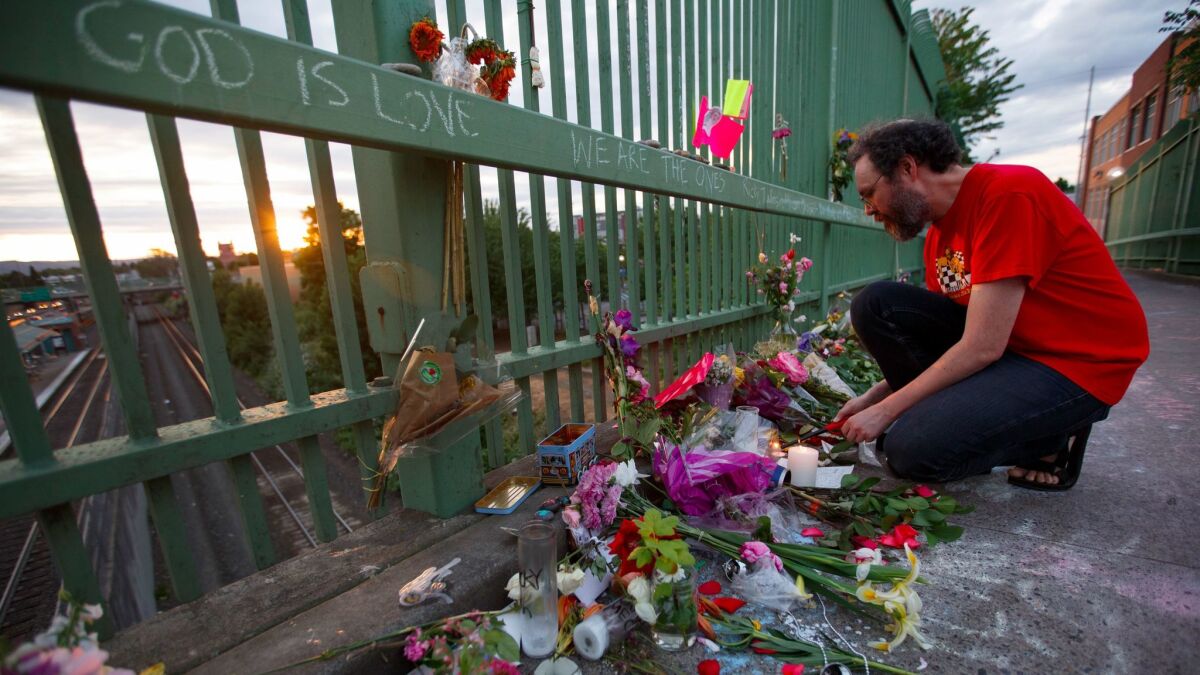 Reporting from PORTLAND, Ore. —
For decades, Portland has basked in its reputation for protest.
But few people here are looking forward to a pro-Trump rally Sunday that's expected to draw a wide swath of potentially armed white supremacists and allied antigovernment protesters from around the country.
The city has been on edge since a white supremacist who attended similar rallies was accused of killing two men who were defending teenagers from anti-Muslim taunts on a train last week. Police are anticipating violence if the demonstration goes forward as planned.
Even before the train killings, Portland was embroiled in conflicts over hate and racism »
The "Trump Rally for Free Speech" is expected to draw figures in the loose-knit movement founded by white nationalists that calls itself the alt-right, as well as left-leaning counter-protesters who oppose President Trump and call themselves anti-fascists.
"Both sides are looking for a fight," said Randy Blazak, a professor at the University of Oregon and chair of the Oregon Coalition Against Hate Crime.
"Hopefully it will be a whimper," he said, but added that he was doubtful.
The protest also pits the city against the federal government, which has issued a permit for the rally on a federal plaza downtown despite pleas from Mayor Ted Wheeler that outsiders are coming to provoke violence and "peddle a message of hatred."
Tensions in Portland have been building for months between those upset over the election of Trump, race and policing, and an increasingly agitated and alienated minority of Trump supporters who organize online.
The rally is being organized by Joey Gibson, a video blogger from nearby Vancouver, Wash., who describes himself as a "Libertarian and a Christian" and has gained a following among people who identify as alt-right. He said he has invited everybody to the rally, including "moderates" and the "extreme right."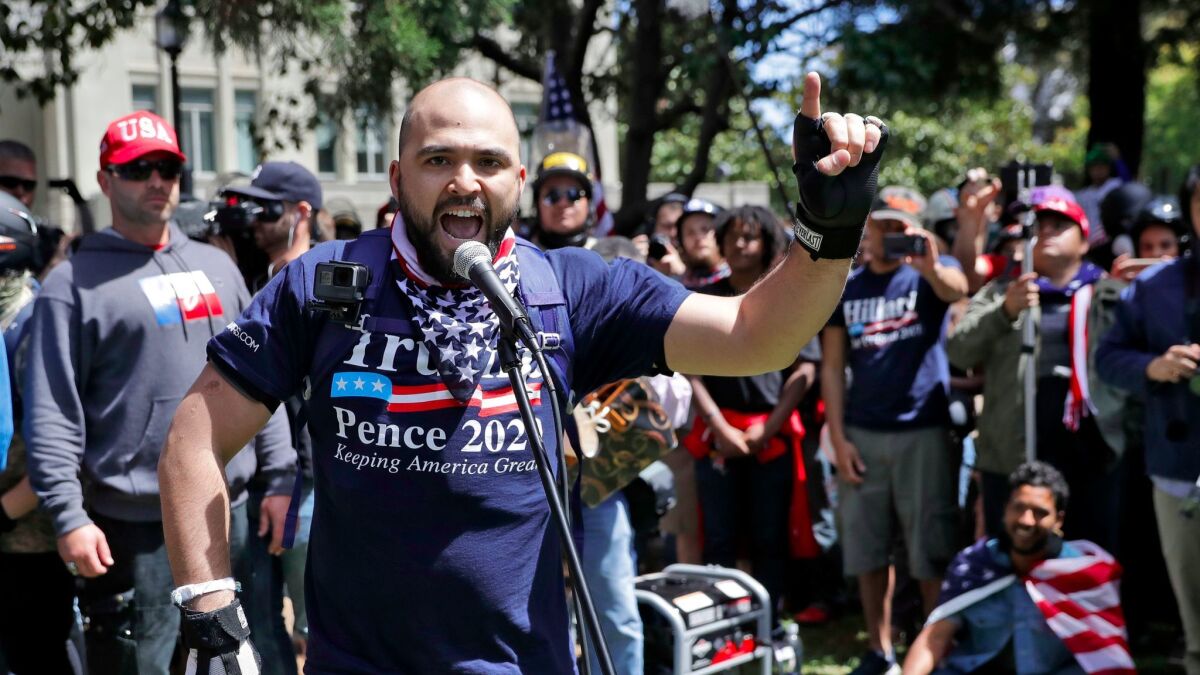 It was Gibson who organized another protest in Portland in April, which he called the March for Free Speech, where Jeremy Joseph Christian, the 35-year-old charged with murder this week in the train stabbings, was photographed giving a Nazi salute and making white supremacist statements.
Those images went viral after the killings on Friday. Gibson, who organizes his events through a Facebook group called Patriot Prayer, said he kicked Christian out of the event and didn't condone his views or racism of any kind.
"Do not connect me to this crazy man and his decision to murder two heroes," he told journalists this week after meeting the mayor, who tried but failed to persuade him to cancel the rally this weekend.
The rally is "about corrupt government," Gibson said. "We need small government, we need to promote freedom, we need to promote Christianity. It's not about Nazis."
On violence, he said he "can't control everybody."
Following its principles on free speech, the American Civil Liberties Union has defended the rights of the activists to protest even as it condemns them as bigots. The people who attend Gibson's events often wear clothing with racist and militia-related insignia.
The rally Sunday is expected to include several figures who have openly promoted violence. They include Kyle Chapman, a San Francisco Bay Area resident who has developed an online following under the moniker "Based Stickman." Images of Chapman, who carries a stick and shield during protests and wears a motorcycle helmet, went viral after he clashed with counter-protesters at dueling rallies in Berkeley this year.
On Thursday, he turned to Facebook to urge his followers to "smash on sight" in an "open season on antifa" — shorthand for anti-fascists.
Also scheduled to attend is Tim Gionet, who lives in Southern California and goes by "Baked Alaska." His online criticism of "anti-white racism," Jews and media coverage of Trump have garnered him 171,000 Twitter followers.
Alexander Ross, a lecturer at Portland State University who has studied the growth of alt-right and anti-fascist groups, said organizers of the Sunday rally were looking for a fight.
"Gibson and his ilk cultivate an atmosphere of hatred and terror," he said. "Their openly avowed strategy is to antagonize ordinary people and start fights in the name of 'free speech.' "
Adding to concern are laws regarding weapons.
Under federal law, guns are banned on the federal property where the rally is scheduled to take place. But under Oregon law, they are allowed on city sidewalks and streets outside the plaza, across the street from where Muslim, interfaith, LGBTQ, anti-fascist and other groups will be staging rallies in opposition.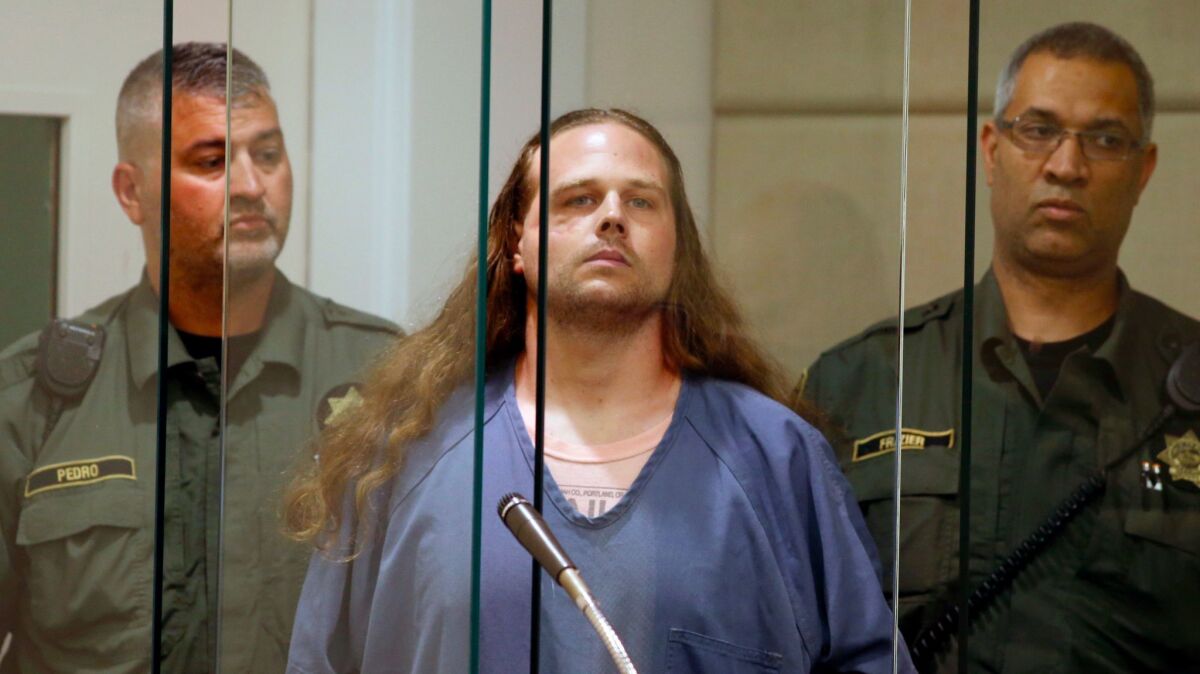 Some activists from the left are still deciding whether to join the protests.
Teressa Raiford, who runs Don't Shoot Portland, a group that focuses on police shootings and arrests of minorities and frequently takes part in protests, was planning a cookout in a park a few miles from the rallies where she would hand out Black Lives Matter signs.
She was not sure whether she would go any closer. "I'm meeting with the community to discuss safety, and if it's not feasible, I won't go," said Raiford.
Gregory McKelvey, an activist who founded Portland's Resistance, an anti-Trump group that protested the mayor over his handling of police shootings, said he planned to counter-protest on Sunday.
"We want people to go but to understand the very real risk," he said, and that the event is "an opportunity for allies to show how much they are willing to sacrifice but possibly too dangerous for marginalized groups."
Damon Hughes, a 34-year-old carpenter who grew up in the city, said he wanted to join the counter-rallies but also was hoping for peace in a city where demonstrations have increasingly gone the way of "rioting" and "blocking of traffic" that "destroys any clout that the message would bring."
"If the nationalists have applied for a permit to peaceably assemble for a rally, it is their right," he said. "Denying anyone their right to free speech isn't what this country is about. The city's dark underbelly is showing its face… Seeing the people here band together against hate shows me that the spirit of my city still lives, that the love for all its citizens is still alive."
Jaweed Kaleem is The Times' national race and justice correspondent. Follow him on Twitter, Facebook and Instagram.
ALSO
'Am I going to die?' Gay man testifies in church beating trial
A California-led alliance of cities and states vows to keep the Paris climate accord intact
As Bill Cosby trial begins, an O.J. Simpson-like constellation of race, celebrity, power and gender converges
---
Must-read stories from the L.A. Times
Get the day's top news with our Today's Headlines newsletter, sent every weekday morning.
You may occasionally receive promotional content from the Los Angeles Times.