Pot researcher abruptly fired by University of Arizona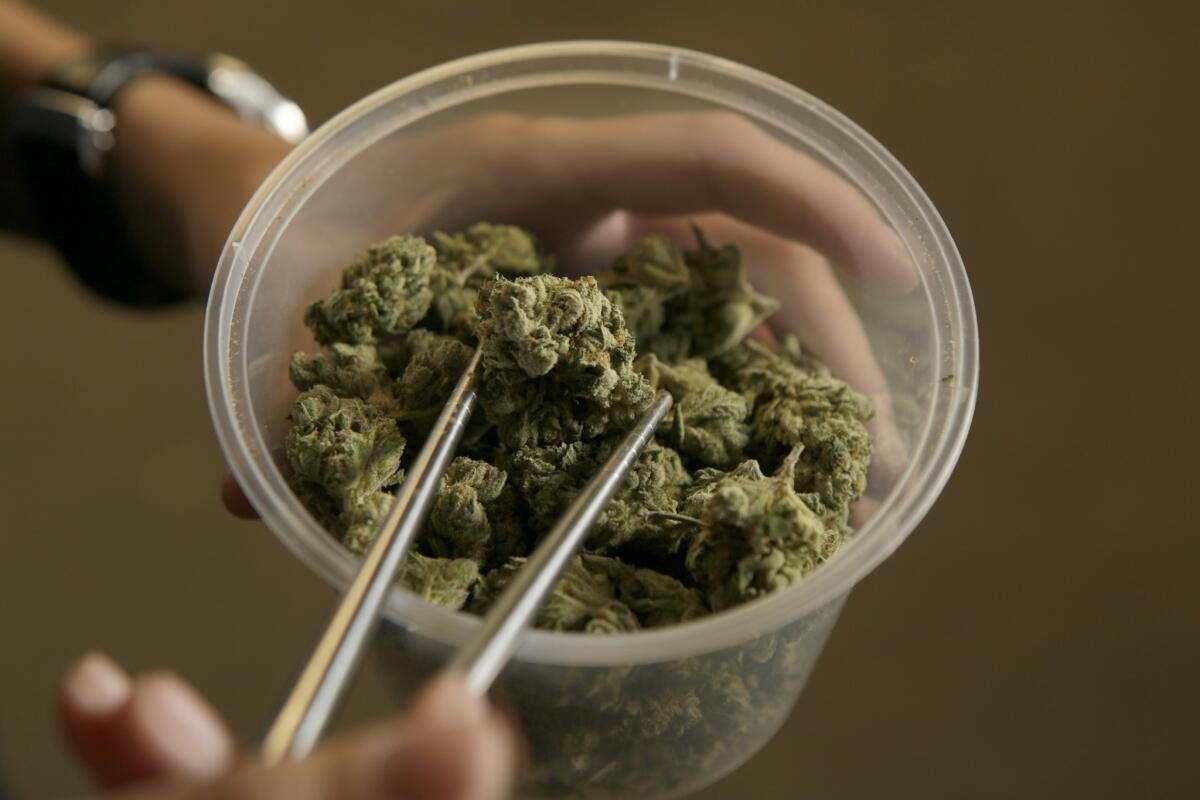 Reporting from Washington —
The University of Arizona has abruptly fired a prominent marijuana researcher who only months ago received rare approval from federal drug officials to study the effects of pot on patients suffering from post traumatic stress disorder.
The firing of Suzanne A. Sisley, a clinical assistant professor of psychiatry, puts her research in jeopardy and has sparked indignation from medical marijuana advocates.
------------
FOR THE RECORD
July 1, 1:16 p.m.: An earlier version of this post misidentified the department where Suzanne Sisley is a clinical assistant professor. It is the psychiatry department, not the psychology department.
------------
Sisley charges she was fired after her research – and her personal political crusading – created unwanted attention for the university from legislative Republicans who control its purse strings.
"This is a clear political retaliation for the advocacy and education I have been providing the public and lawmakers," Sisley said. "I pulled all my evaluations and this is not about my job performance."
University officials declined to explain why Sisley's contract was not renewed, but objected to her characterization.
"The university has received no political pressure to terminate any employee," said Chris Sigurdson, a university spokesman. He said the university embraces research of medical marijuana, noting that it supported a legislative measure in 2013 permitting such studies to be done on state campuses.
On Friday, Sisley received letters from the university informing her that her relationship with the school will be terminated as of Sept. 26. The letters offered no explanation beyond citing university guidelines which permit the administration to end its relationship with contract employees.
"In accordance with those policies, my decision is final and is not subject to further administrative review," said a memo emailed to Sisley from Stuart Flynn, dean of the university's College of Medicine.
In March, the National Institute on Drug Abuse moved to approve Sisley's research. The decision came as a surprise because some researchers have long accused the institute of hostility to proposals aimed at examining the possible health benefits of marijuana.
The approval authorized Sisley to obtain marijuana from a government-run farm in Mississippi for a study that was long ago given a green light by the Food and Drug Administration.
Activists said the decision reflected a shift in thinking by the Obama administration and gave hope to other scientists who have had difficulty getting authorization to study how the drug might be employed more effectively to treat patients.
But back in Arizona, the research plan disturbed some important figures.
Sisley's study was designed to involve veterans who would use marijuana in an observation facility on campus. She had lobbied state lawmakers for approval to use state funds collected at medical marijuana dispensaries to help pay for the work. When a powerful Republican senator maneuvered to block that money, some of Sisley's allies launched an unsuccessful recall effort.
Sisley said she did not get involved, but that university officials were irate when some activists she described as "overzealous" put the university logo on one of their political flyers. Sisley said a university vice president ordered her to draft a statement outlining all her political activism, which she did.
"I didn't even support the recall," Sisley said. "I thought it was a waste of energy."
Sisley still has the option of pursuing her research at another university, if she can get a faculty position -- a possibility she is pessimistic about.
"Any university president is going to worry about taking me on," she said. "Especially at a public university, where you have to rely on the good graces of the Legislature. These lawmakers hate me."
Even if she gets another position, the firing will set back her study. In addition to federal approvals, Sisley had to work for months to persuade the university's independent research board to sanction her investigation. That process would start anew if she takes her project elsewhere.
"This is just going to delay everything for a year or two," she said. "It is just another awful delay for this study."
Officials at the American Civil Liberties Union and the Multidisciplinary Assn. for Psychedelic Studies, a California-based organization which has sponsored Sisley's marijuana research, are exploring options for fighting the university's move.
"What happened here is the repression of science for political purposes," said Rick Doblin, president of the psychedelic studies association. "It is astonishing in this day and age."
For more news on marijuana, follow me on Twitter: @evanhalper
Sign up for Essential California for news, features and recommendations from the L.A. Times and beyond in your inbox six days a week.
You may occasionally receive promotional content from the Los Angeles Times.