Doug Jones certified as Alabama's first Democratic senator in 25 years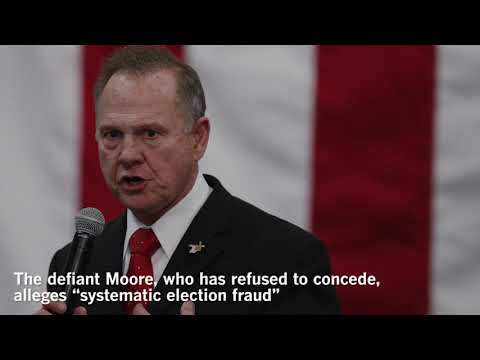 Doug Jones on Thursday became the first Democrat in 25 years to be confirmed as the winner of a U.S. Senate seat in Alabma.
Reporting from Atlanta —
Doug Jones on Thursday became the first Democrat in 25 years to be confirmed as the winner of a U.S. Senate seat in Alabama, just hours after his opponent, controversial Republican Roy Moore, filed a lawsuit urging officials to delay certification because of "systematic election fraud."
The three Republicans who make up Alabama's canvassing board — Gov. Kay Ivey, Atty. Gen. Steve Marshall and Secretary of State John Merrill — certified Jones as the victor of the closely watched Dec. 12 special election.
"I am looking forward to going to work for the people of Alabama in the new year," Jones said in a statement. "As I said on election night, our victory marks a new chapter for our state and the nation. I will be an independent voice and work to find common ground with my colleagues on both sides of the aisle to get Washington back on track and fight to make our country a better place for all."
Official totals indicated Jones won by 21,924 votes, his margin of victory up to 1.6 percentage points from the previous unofficial total of 1.5 points.
Late Wednesday night, attorneys for Moore and his campaign filed an election complaint in the Circuit Court of Montgomery, Ala., to postpone Jones' certification until officials had conducted a "thorough investigation of potential election fraud" that "improperly altered the outcome of this election."
But an Alabama circuit judge on Thursday rejected Moore's request to halt the certification, arguing the court did not have jurisdiction. Meanwhile, officials from the secretary of state's office dismissed accounts of voter fraud provided by Moore's attorneys.
"There have not been any issues at this time that have been reported and determined to be verified as fraud," said John Bennett, Merrill's deputy chief of staff.
Still, Moore, 70, the defiant former chief justice of the Alabama Supreme Court, refused to concede.
"I've had to fight not only the Democrats but also the Republican Senate Leadership Fund and over $50 million in opposition spending from the Washington establishment," he said in a statement after Republican state leaders certified Jones' win. "I have stood for the truth about God and the Constitution for the people of Alabama"
"I have no regrets," he added. "To God be the glory."
In the 80-page complaint filed in state court, Moore's attorneys asked that state officials be ordered to preserve election-related documents and data, block the certification, and direct state officials to set a new special election.
On Thursday, an attorney for Jones filed a motion to dismiss Moore's complaint on the grounds that "there is a lack of subject matter jurisdiction; [the complaint] fails to state a claim upon which relief can be granted; and/or [it] has no basis in the law."
In a statement, a spokesman for the Jones transition team urged Moore to bow out of the race.
"This desperate attempt by Roy Moore to subvert the will of the people will not succeed," Sam Coleman said. "The election is over, it's time to move on."
In the complaint, Moore's attorneys maintain that he will "suffer irreparable harm" if the election results are certified "without preserving and investigating all the evidence of potential fraud." He would be denied "his full right as a candidate to a fair election," they argue.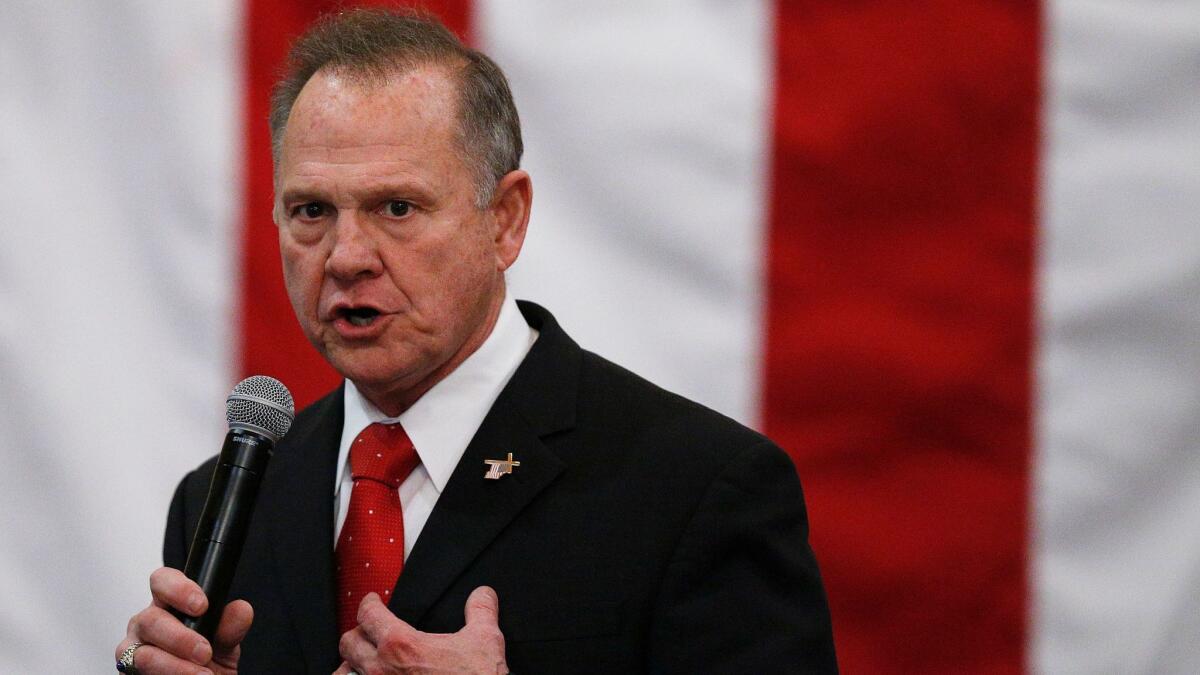 Merrill, a Republican, maintains his office has found no evidence of voter fraud. Last week, he issued a statement noting that his office had discounted one widely publicized report of potential voter fraud — a viral video in which a male voter claimed in a local news broadcast that he and others had come "all the way from different parts of the country" to vote and canvass for Jones.
"The Alabama Secretary of State's Office was able to identify the young man who was anonymously featured on the news broadcast," Merrill said in a statement. "After additional research was conducted, it was determined that this young man has lived and worked in Alabama for more than one year and is currently a registered voter in this state."
Yet Moore's campaign states in the complaint that Merrill never conducted a "meaningful, in-depth investigation of voter fraud."
They also list a series of election "anomalies," claiming there were an unusual number of out-of-state drivers' licenses and suggesting that Democrats attempted to intimidate voters, with a Democratic super PAC running "fraudulent, false and misleading advertisements" against Moore.
The complaint cites statistical analyses by election fraud "experts" that "clearly indicate voter fraud." One expert, Richard Charnin, who argues in an affidavit that the election result is a "statistical improbability," has previously claimed to have "mathematically proved" a plot to assassinate John F. Kennedy.
Another, James Condit Jr., has railed against Zionist control of world politics, media and the Catholic Church, and alleged that Israeli agents played a role in the Sept. 11, 2001, terrorist attacks.
They also state that high Democratic turnout in some precincts of Jefferson County — Alabama's most populated county and a Democratic stronghold — resulted in an "implausible, unexplained 35 percent drop" in votes for Moore "relative to the vote share of Republican Party straight-line votes."
Though Alabama has long been a solid Republican state, many moderate Republicans are wary of Moore, who has said homosexuality should be outlawed and Muslims should be barred from Congress. He was twice ousted from his position as chief justice for violating court orders — in 2003, for insisting on placing a biblically inspired monument in the state judicial building, and in 2016, for refusing to recognize same-sex marriage after a U.S. Supreme Court ruling.
After defeating Republican incumbent Sen. Luther Strange in the primary, Moore's campaign faltered after multiple women stepped forward to accuse him of pursuing them when he was in his 30s and they were in their teens.
Rick Hasen, a law and political science professor at UC Irvine who specializes in election law, said Moore's complaint had little legal merit. Under Alabama law, he said, a candidate for a federal office is entitled to contest an election only if the results are close enough to fall under the provisions of an automatic recount — less than a 0.5% difference between the candidates.
While Moore could file a complaint with the U.S. Senate or file a federal lawsuit, Hasen said, this too seemed quite a stretch without any serious claims of irregularities that would come close to a 0.5% margin of victory.
"I don't think there's anything to it," Hasen said, noting the few specific cases of alleged fraud Moore pointed to had been investigated and found to be lacking in substance. "It really seems to be a lot of smoke and no fire."
Just a few days after the election, Moore wrote an email to supporters, declaring "this battle is NOT OVER!" and urging them to donate to an "election integrity fund."
In a post-election video statement posted two weeks ago, Moore claimed "immorality sweeps our land," and he railed against abortion and same-sex marriage.
"We are indeed in a struggle to preserve our republic, our civilization, and our religion and to set free a suffering humanity," he said. "Today, we no longer recognize the universal truth that God is the author of our life and liberty. Abortion, sodomy and materialism have taken the place of life, liberty and the pursuit of happiness."
Jarvie is a special correspondent.
---
UPDATES:
3:15 p.m.: This article was updated with comments from Roy Moore and other details.
11:43 a.m.: This article was updated with comments from Doug Jones and other details.
11:15 a.m.: This article was updated with the certification of the election.
9:30 a.m.: This article was updated throughout with staff reporting.
This article was originally published at 4:35 a.m.
Sign up for Essential California for news, features and recommendations from the L.A. Times and beyond in your inbox six days a week.
You may occasionally receive promotional content from the Los Angeles Times.