No guns but plenty of protesters expected when Trump addresses NRA convention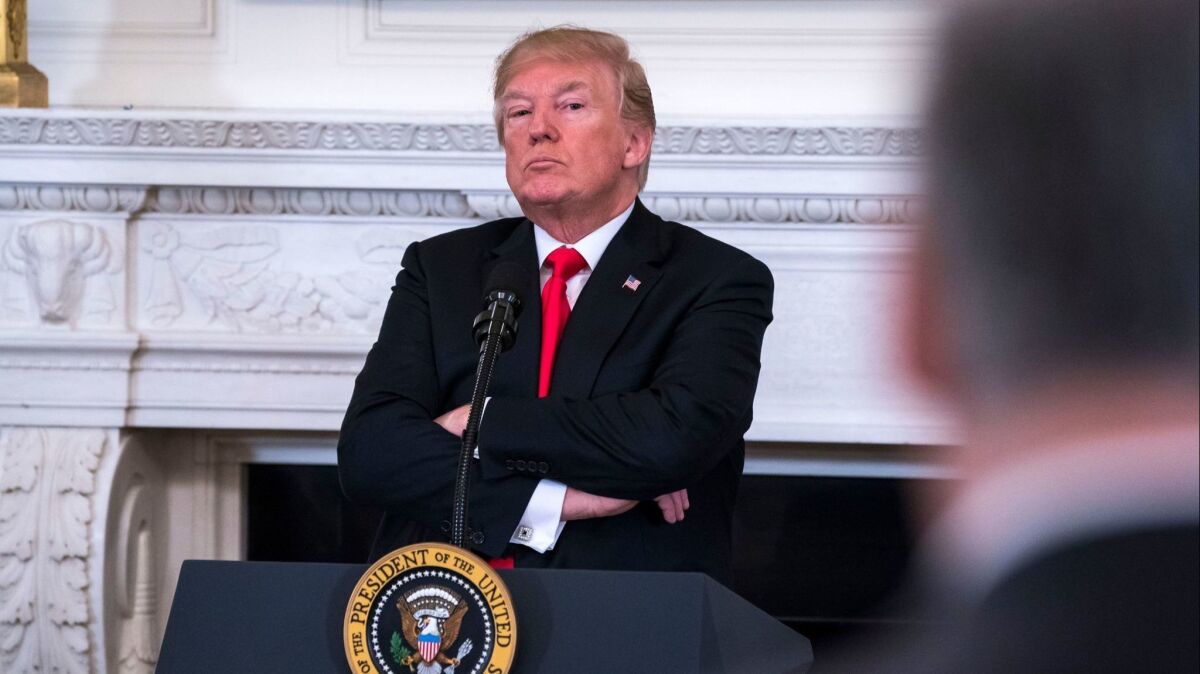 Reporting from Houston —
President Trump will address gun rights supporters on the first day of the National Rifle Assn. convention in Dallas on Friday, a White House official confirmed — a move likely to increase tension and protests at the annual gathering.
The convention, which rotates cities, drew more than 80,000 NRA members and other supporters last year in Atlanta. Attendees are permitted to carry firearms, except during the forum where Trump and Vice President Mike Pence are expected to speak.
It's standard for the Secret Service to bar firearms in places visited by those they protect, regardless of state law. And guns were also banned during Trump's appearance at last year's convention. But some student victims of the mass shooting in Parkland, Fla., where 17 people were killed Feb. 14, criticized the policy as hypocritical.
"It's ironic that they feel they need to ban guns to protect themselves especially after their main philosophy has been more guns = more protection yet they don't think they need to protect our kids in the same way," David Hogg, 17, a Parkland senior who became an outspoken gun control advocate after surviving the shooting, said in a text to The Times.
Texas had the most guns registered of any state last year, more than 580,000, and the state's Republican-dominated Legislature is particularly gun-friendly. The state has adopted laws in recent years allowing not only more people to carry concealed handguns, but also the "open carry" of handguns in plain sight and "campus carry" of handguns at colleges. After the Parkland shooting, Trump spoke in favor of arming teachers, a controversial stance nationwide but already a common practice at some schools outside Dallas.
But the urban core of Dallas, like other major cities in Texas, is largely Democratic, and some City Council members discouraged the NRA from even coming. County Judge Clay Jenkins is hosting a forum Thursday for local students to "voice their concerns" about the convention. And a "die-in" is planned Friday outside the downtown convention center with some Parkland survivors and relatives expected to participate, organizers said.
Manuel Oliver, who lost his 17-year-old son Joaquin in the Parkland shooting, plans to erect a mural in his honor in Dallas during the NRA convention and join protesters outside the convention center. He said Trump's decision to attend was a mistake.
"He decided to be in the wrong room with the wrong audience, especially if he's looking for votes and support," Oliver said.
Pence had been slated to deliver the convention's keynote speech Friday, which some family and friends of Parkland victims said upset them because he has yet to meet with them, something Trump did shortly after the shooting.
Javier Marin, a friend of Oliver's from Florida who plans to accompany him to Dallas, said Trump's appearance "is making our actions more important. This will be a real battleground."
"He needs to go because he's seeing the other side gaining territory," Marin said. "This is really a reflection of the division in this country."
Much has changed in the American debate about guns since the last NRA convention in Texas in 2013, the largest in recent memory, which drew more than 81,000 people. Almost two-thirds of those under 30 who plan to vote in the upcoming midterm elections believe gun-control laws should be stricter, according to a recent poll by Harvard University's Institute of Politics. The poll also found support for a ban on assault weapons among those voters had increased significantly in the last five years, climbing from 41% to 58%.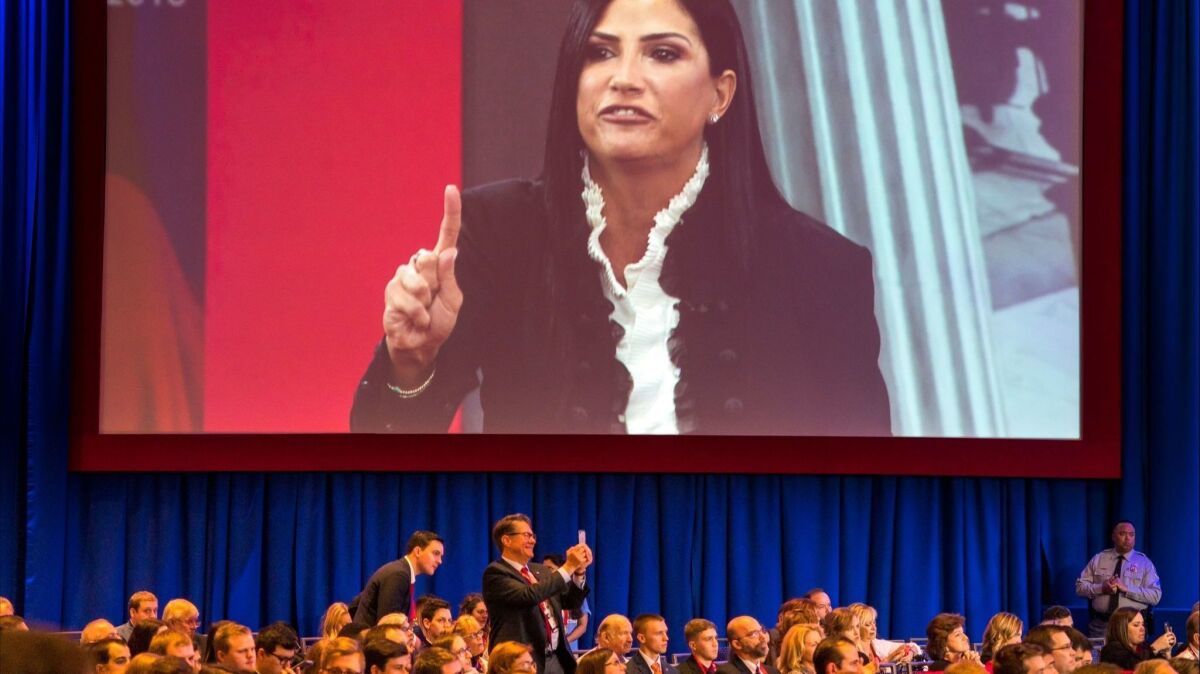 Trump was elected on a platform of staunch support for the 2nd Amendment, even as mass shootings increased in frequency and lethality. The largest to date, in Las Vegas last year, killed 58 people. There have also been more high-profile shootings involving police: The shooting of Michael Brown in Ferguson, Mo., in 2014; the shooting of Alton Sterling and three Baton Rouge, La., officers in 2015 and the shooting of five Dallas police officers at a Black Lives Matter protest in 2016.
The Rev. Dominique Alexander, who helped organize that Black Lives Matter protest, is also organizing against the NRA convention.
"We continue to see our president whenever the NRA comes, he stands with them and that's problematic to us," Alexander said, calling the NRA's decision to come to Dallas "a slap in the face."
"We're expecting in the thousands and we're expecting our numbers to go up with him coming to town," Alexander said of Trump.
C.J. Grisham, executive director of the Temple, Texas-based gun rights group Open Carry Texas, followed reports of gun control protests and organized at least 1,600 people for a pro-gun rally outside Dallas City Hall on Saturday.
"There's going to be a lot on both sides of the aisle," Grisham said. "The anti-gun crowd has felt more emboldened to push their agenda and the pro-gun crowd has pushed back even harder."
He said Trump's decision to attend was not a sign that he's afraid gun control advocates are gaining support.
"This president is doing what he's always done: supporting gun rights," Grisham said.
molly.hennessy-fiske@latimes.com
---
Must-read stories from the L.A. Times
Get the day's top news with our Today's Headlines newsletter, sent every weekday morning.
You may occasionally receive promotional content from the Los Angeles Times.