From the Archives: Victim Thrived on Life in Fast Lane, His Friends Recall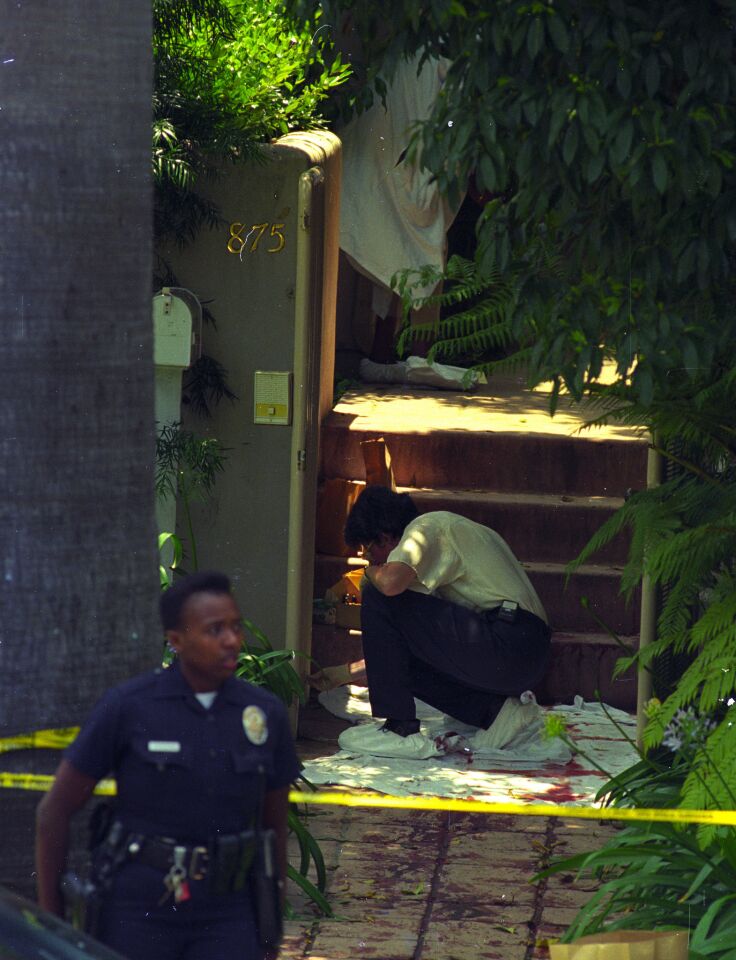 Nicole Brown Simpson's body was found outside her home at 875 S. Bundy Drive in Brentwood. Police examine the area where her body was found.
(Francine Orr / Los Angeles Times)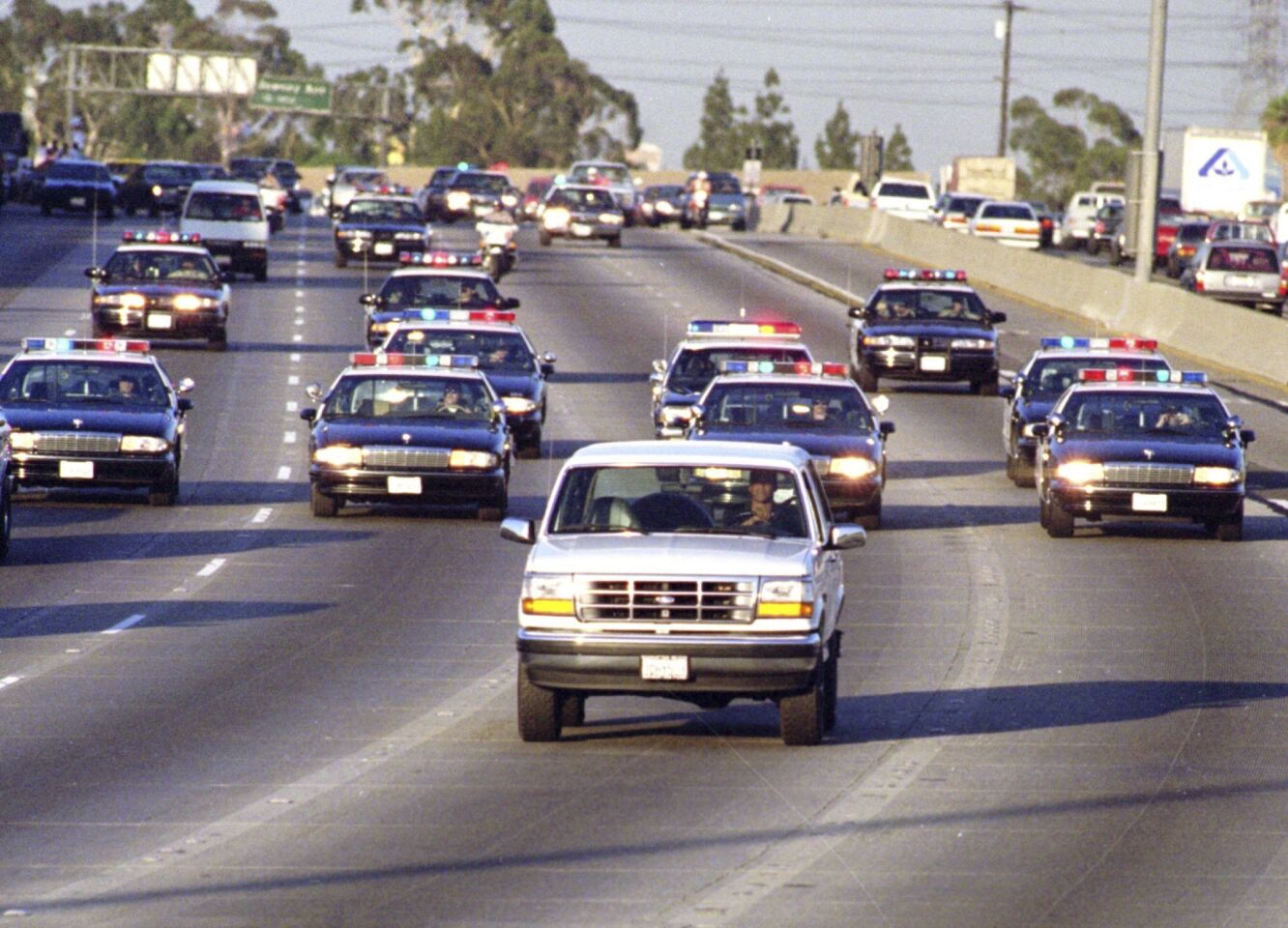 California Highway Patrol units chase Al Cowlings, who is driving the white Bronco, and O.J. Simpson, hiding in the rear, on the 91 Freeway shortly after Simpson was charged in slayings.
(Al Schaben / Los Angeles Times)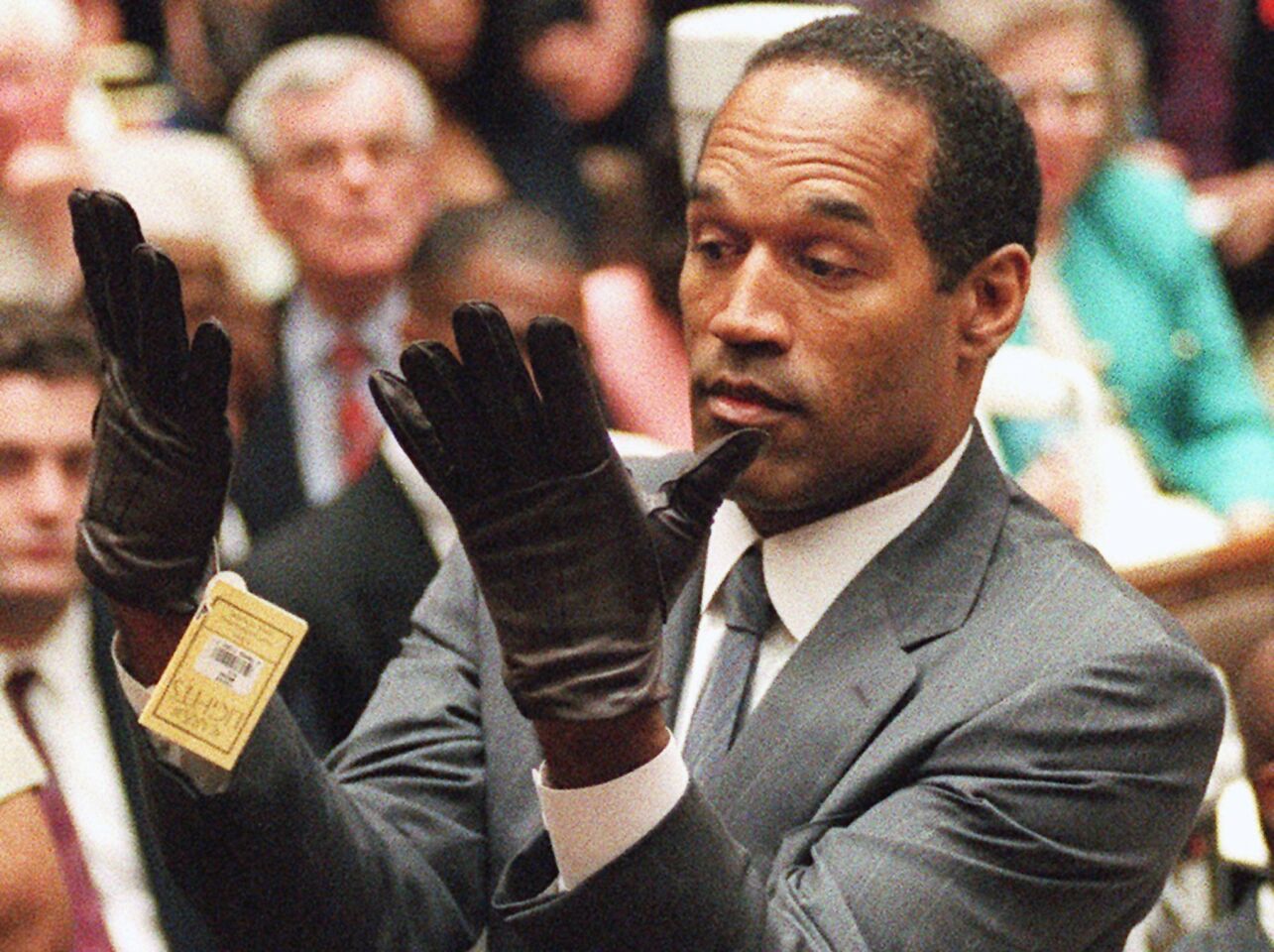 Simpson holds up his hands before the jury after putting on a new pair of gloves similar to the infamous bloody gloves during his double murder trial in Los Angeles.
(Vince Bucci / Associated Press)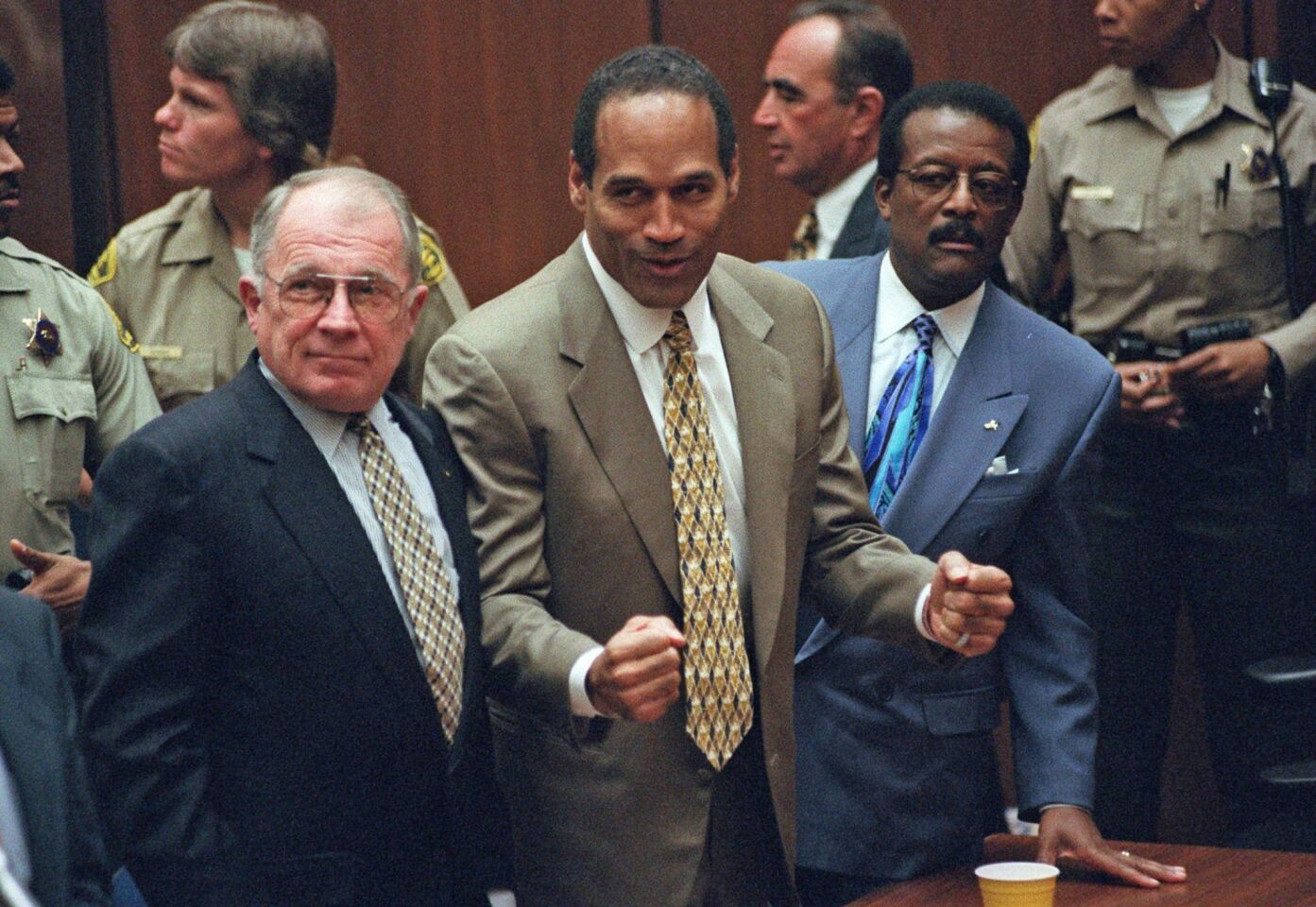 O.J. Simpson reacts in 1995 as he is found not guilty of murdering his ex-wife, Nicole Brown Simpson, and her friend Ronald Goldman. With him are members of his defense team, F. Lee Bailey, left, and Johnnie Cochran Jr.
(Myung J. Chun / Los Angeles Times)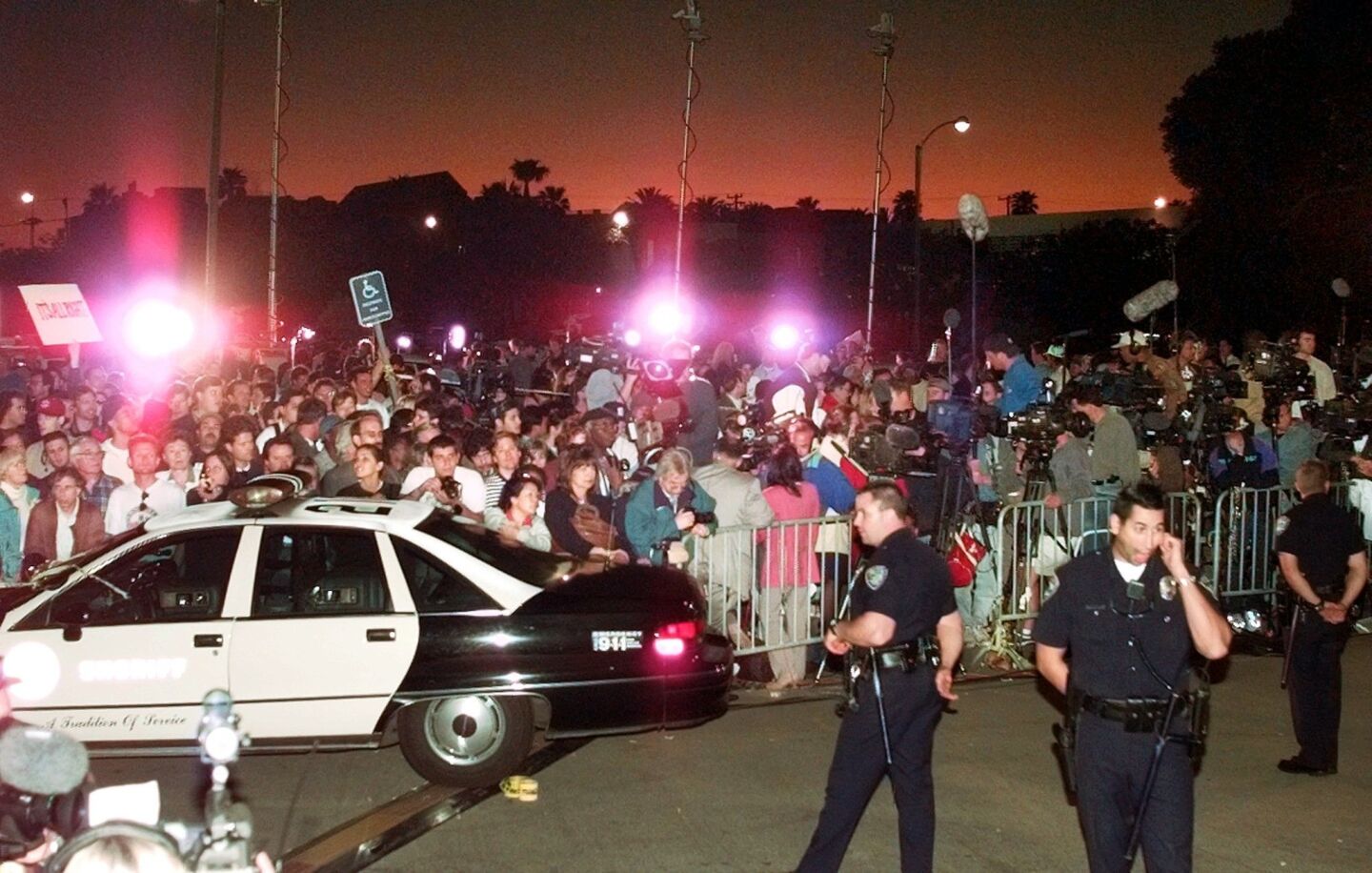 A large crowd gathers outside Los Angeles County Superior Court in Santa Monica to hear the verdict in the wrongful death civil trial against Simpson. He was found liable in the deaths of Nicole Brown Simpson and Ronald Goldman.
(Mark J. Terrill / Associated Press)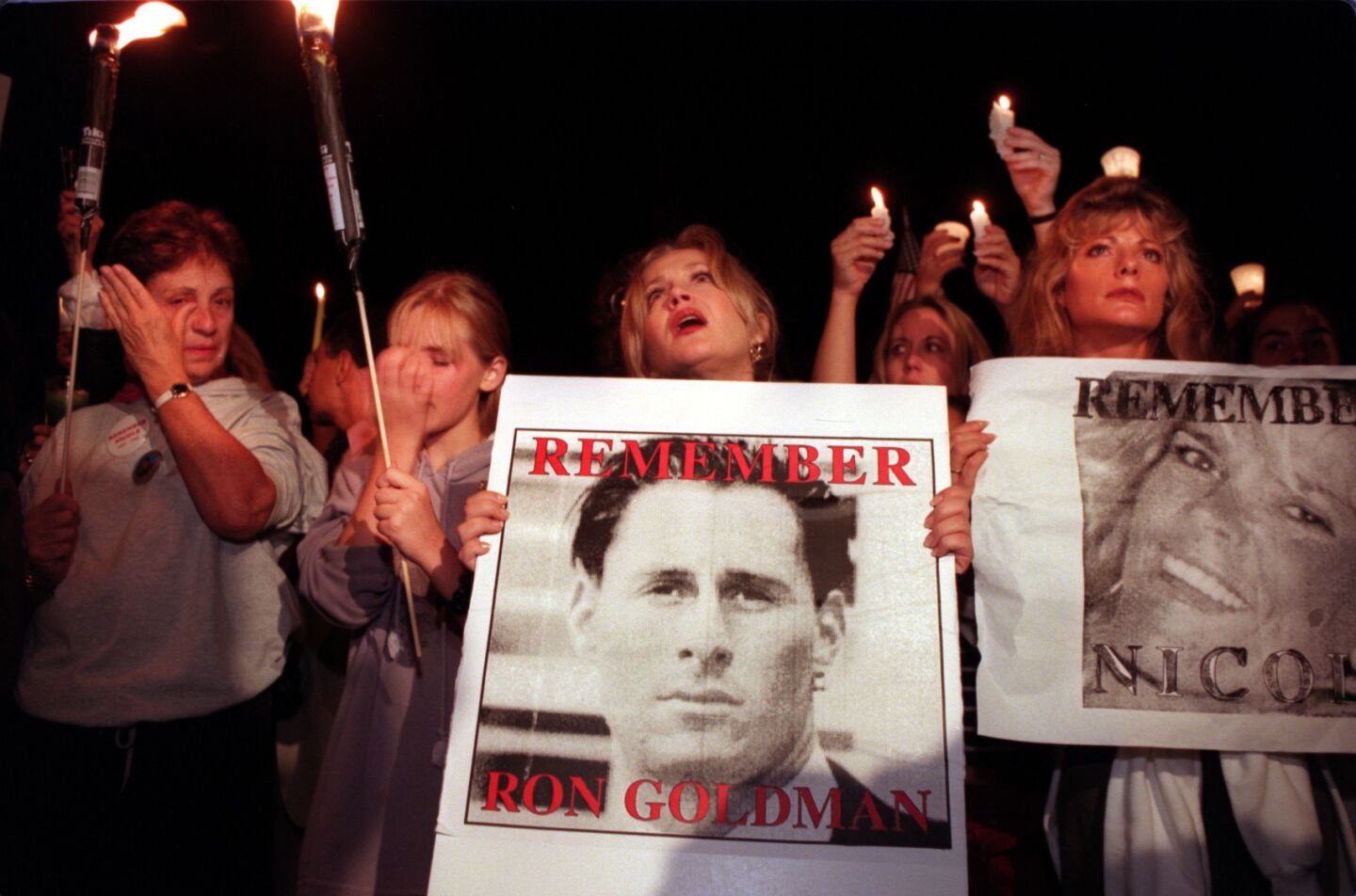 A candlelight vigil is held for Nicole Simpson Brown and Ron Goldman near the murder scene on Oct. 7, 1995.
(Francine Orr / Los Angeles Times)
Special to The Times
Life for Ronald Lyle Goldman was a nonstop merry-go-round of working out at a trendy gym, serving dinner at a trendy restaurant and dancing at trendy nightclubs, those who knew him said Tuesday.
He had model good looks, a body sculpted by daily weightlifting sessions and tennis, and a magnetic personality that friends said made them want to hang around him, just to see what he would be up to next.
Goldman, 25, also had an increasingly close relationship with 35-year-old Nicole Brown Simpson, whom he had exercised with, accompanied to dance clubs and often met for coffee and dinner during the past month and a half.
He told others that he was just friends with Simpson. But he boasted of her stunning good looks and talked about the special kick it gave him to see heads turn when the two of them pulled up in her white Ferrari in front of The Gate, a fashionable West Hollywood dance club, with him behind the wheel.
The bodies of Goldman and Simpson were found outside her Brentwood townhouse early Monday morning. Police sources have said they do not believe that he was romantically involved with Simpson or that their friendship contributed to their deaths. Some of Goldman's friends said he was merely returning a pair of sunglasses Nicole Simpson had left at the nearby restaurant where he worked as a waiter.
"He definitely would have told me if he was seeing O.J. Simpson's ex-wife," said Mike Pincus, 25, of Agoura Hills, who had known Goldman since they were in kindergarten together in Chicago. "That's just the kind of guy Ron was. Whenever he was dating someone, we all knew about it."
Pincus and others said Goldman, an aspiring model, often dated beautiful women who were drawn to his dark good looks. He had moved from Chicago in 1987 and quickly became enamored of the California lifestyle, becoming an avid surfer, volleyball player and nightclub hopper.
At one point, Goldman appeared on the Fox television dating show "Studs." Asked by the host how he would rate himself on a scale of one to 10, Goldman held his hand up at eye level and joked: "I'm way up here. There really isn't a scale for me."
Craig Clark and Goldman met five years ago when both were waiters at the Pier View restaurant in Malibu. After work on weekends, the two would hit one club after another, from the Sagebrush Cantina in Calabasas to the Westside or even Orange County, winding up early Monday morning with breakfast. "Anywhere that was hot," Clark said.
Even so, Goldman did not drink or take drugs and stuck religiously to a low-fat diet, friends said.
Clark said that when Goldman moved to Brentwood 18 months ago he cut back on socializing but still spent weekend nights on the town, often getting in for free because he knew the clubs' owners. Goldman recently promoted a nightclub party himself, inviting the guests to a hot Century City club called Tripp's.
"From the minute I came out here, life with Ron was a big roller coaster ride," said Pincus. "You never knew what you would be doing the next day, but you always knew it would be fun."
Six weeks ago Goldman was driving the Ferrari, with its highly recognizable L84AD8 license plate, when he joined Clark for lunch at Cafe Montana in Santa Monica. Clark said that Goldman told him it was Nicole Simpson's car, but that he did not say she was his girlfriend. "He said they were friends," Clark recalled.
Goldman's relationship with Simpson was platonic, said Jodi Kahn, a friend of his who also was acquainted with Nicole Simpson. "It was very innocent," she said.
Although Goldman seemed to thrive socially, he also was struggling to find himself, family members said. He had lots of dreams, according to friends, but few of them panned out. He had completed a year of college in Chicago before moving to California and took some classes here, but he did not get a degree.
---
A neighbor who lived nearby on Gorham Avenue in Brentwood said Goldman was struggling to make the rent until he got a new job this year as a waiter at Mezzaluna, an upscale restaurant.
He had been working as a waiter at the Cheesecake Factory when he was sought out to pose for an advertisement, according to Kim Goldman, his sister, a 22-year-old student at San Francisco State University. That inspired him to pursue a career in the fashion business, and he put together a modeling video.
"He's a good-looking guy and people approached him," she said. "He thought he could use some extra money and he figured there was nothing wrong with taking advantage of his looks."
Before becoming a waiter, he had worked as a tennis coach and employment headhunter. When he was younger, he had been a camp counselor and had volunteered to help disabled children. Goldman had become licensed recently as an emergency medical technician but decided not to pursue that and he had told friends that he eventually wanted to own a bar or restaurant in the Brentwood area.
"He tended to get into something and then say, 'Oh, well, maybe not.' " his sister said. "He was in the process of trying to pinpoint where his niche was."
Although "he did a lot of different things . . . the one thing you could say about him is . . . he's really good with people," she said. "People are just drawn to him."
Friends and family members said that despite his apparent affection for the fast lane there was another, more down-to-earth side to Goldman. They said that his true love was tennis and that his great talent was working with children--teaching them to play the game he loved or helping out at a center for kids with cerebral palsy.
Kim Goldman said that what her brother wanted most was to marry and have a family.
"Because we grew up with a lot of upheaval, he wanted some stability," she said. "But he took it one day at a time. He rolled with the punches and he did the best he could with what he had."
She said her brother was "very loving. He didn't have a mean bone in his body."
---
Hall is a Times staff writer and Mosk is a special correspondent. Times staff writers Richard Lee Colvin and John Hurst contributed to this story.
---
Must-read stories from the L.A. Times
Get the day's top news with our Today's Headlines newsletter, sent every weekday morning.
You may occasionally receive promotional content from the Los Angeles Times.