Maine land donated by Burt's Bees founder is new national monument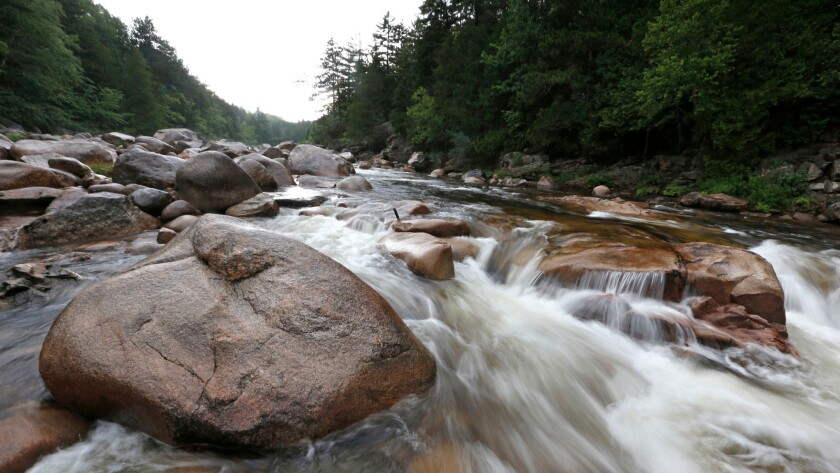 Reporting from Washington —
President Barack Obama on Wednesday declared a new national monument in Maine on 87,000 acres donated by the founder of Burt's Bees, fulfilling conservationist Roxanne Quimby's goal of gifting the land during the 100th anniversary of the National Park Service.
The announcement of the Katahdin Woods and Waters monument came a day after media reports that the foundation created by Quimby had transferred the land to federal ownership.
Supporters say the move will create hundreds of jobs in a region that needs it after the closing of paper mills in Millinocket and East Millinocket.
NEWSLETTER: Get the day's top headlines from Times Editor Davan Maharaj »
But many in the Katahdin region have opposed the move, mostly over concerns of federal government intrusion. Critics fear a National Park Service-maintained property adjacent to Baxter State Park would hinder efforts to rebuild a forest-based economy.
Independent U.S. Sen. Angus King, Republican U.S. Sen. Susan Collins and Republican U.S. Rep. Bruce Poliquin last fall wrote a letter to Obama outlining "serious reservations" about the proposal. King's position evolved, however, and he said he was open to exploring the idea.
This spring, Maine's Legislature passed a symbolic bill saying the legislature doesn't consent to the federal government acquiring land for a monument.
Republican Gov. Paul LePage actively opposed the proposal, calling it an "ego play," and characterized key supporters as out-of-state conservationists and environmental groups.
"It's sad that rich, out-of-state liberals can team up with President Obama to force a national monument on rural Mainers who do not want it," he said in a statement.
Quimby's son, Lucas St. Clair, who has marshaled the effort, brushed aside the criticism.
"Many parks over the history of the park system have been criticized upon creation. Gov. LePage is not the first governor to oppose the creation of a new park. But when we look to the future, we see huge amounts of success," St. Clair told the Associated Press.
Quimby began buying land in the 1990s with earnings from the Burt's Bees line of natural care products and went public with her bold plan in 2011. She wanted to see it become a reality this year during the centennial anniversary of the National Park Service.
On Wednesday, workers were poised to install National Park Service signs on the property, and the monument already was touted on the National Park Service website. A park superintendent was ready to assume his duties, brochures were printed and office space was acquired in Millinocket and Patten.
Quimby initially aimed for a national park designation, but that would have required an act of Congress. The national monument designation required only an act by the president. Many national parks like Maine's Acadia National Park and the Grand Canyon National Park started with monument status.
Quimby's proposal called for donating the land valued at $60 million along with $20 million to get it started. Another $20 million would be raised within three years.
Obama has used his power under the 1906 Antiquities Act to protect more land and water using national monument designations than any other president. He has created two dozen national monuments during his presidency.
MORE NATIONAL NEWS
'Healing hikes' hope to give black Americans a chance to talk and meditate over a summer of violence
Trump staff posts racist comments on social media, AP review finds
Residents ride home through alligator-infested waters in a flooded Louisiana neighborhood
---
Must-read stories from the L.A. Times
Get the day's top news with our Today's Headlines newsletter, sent every weekday morning.
You may occasionally receive promotional content from the Los Angeles Times.