Residents ride home through alligator-infested waters in a flooded Louisiana neighborhood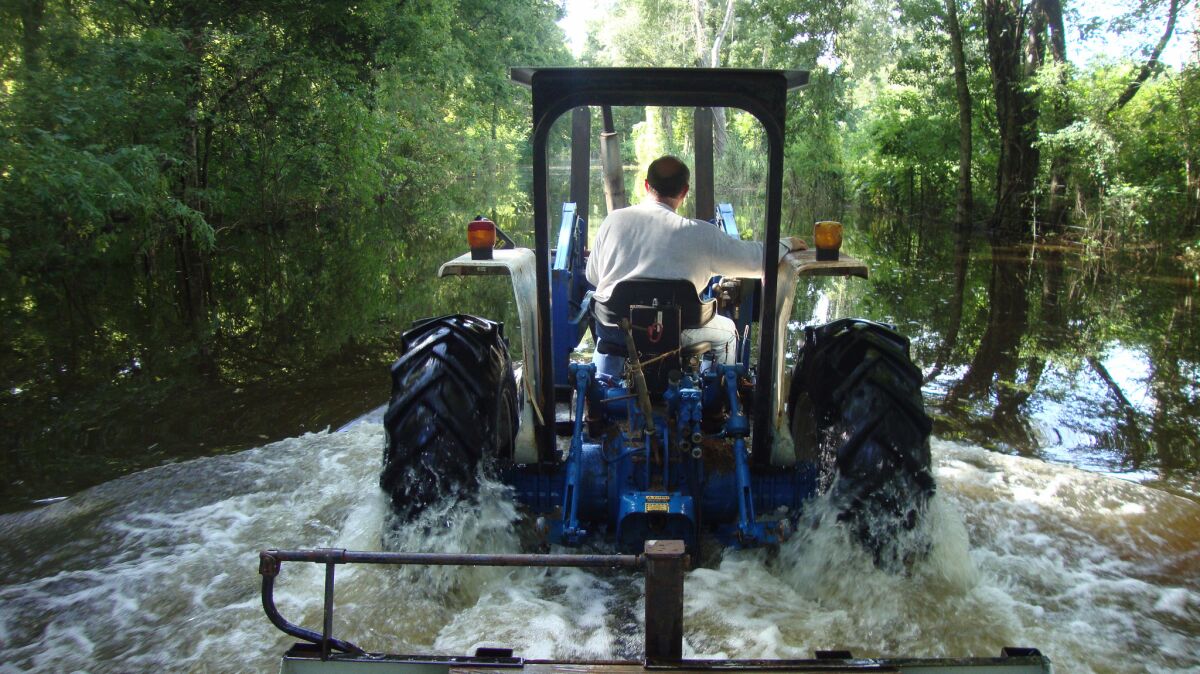 Reporting from Breaux Bridge, La. —
Anita Leblanc was riding home on a tractor through several feet of floodwater Sunday, the same tractor that moments before had towed her car away from the overflowing Vermilion River to safety.
More than a week after a storm flooded much of central Louisiana, killing 13, more than 86,000 have applied for assistance from the Federal Emergency Management Agency. About 4,000 were still in shelters.
Residents returning to their homes — or those who never left, choosing to ride out the storm — were struggling to survive. Leblanc and about two dozen others in what Cajuns call "Pont Breaux," about 50 miles west of Baton Rouge, must still be ferried home through rank, alligator-infested floodwaters by tractors, off-road vehicles and boats.
"I need to get back to some kind of normalcy here," Leblanc told a neighbor. "We ran into Katie on her kayak on the way in holding onto the street sign."
Leblanc's boyfriend, Cody Benoit, 47, pointed to submerged street signs on Bergeron Road.
"We're getting everybody's water from up north," he said, and as other inundated areas drain, water levels here remain high.
Residents of Breaux Bridge, La., check on their homes after deadly flooding hit central Louisiana. 
More rain was forecast Sunday afternoon. Benoit expects water won't disappear from the road for another month.
Neighbor David Lester, 54, dropped the couple off, traded his tractor for an ATV and headed up the flooded road to check on others. He plowed through the storm water's oily sheen, the sun hot on the back of his denim work shirt.
Lester's wife, Carla, keeps a list of residents who are sticking it out. She's dubbed them "Bergeronville Diehards."
As the roar of Lester's ATV approached, neighbors emerged to wave from their porches, still surrounded by water.
Easton Hayes greeted Lester in his yard by a flooded truck. He wanted to know how high the water level was on the main road in.
"Did the bayou go down?" he asked.
"It's not going down fast," Lester said.
Hayes requested five gallons of gas. Another ATV passed with a couple carrying a large white trash bag. They haven't had trash collection for 12 days.
"I'm going to have to call a dump truck," Lester said. "Then we can use the tractor to haul the trash."
Hayes has been looking after a neighbor's pig, which was grazing nearby. He said another neighbor's place had been burglarized — the thieves took electronics, an ice box.
Lester said he would check on other homes nearby and return later with the gas.
On the way, he ran into Katie Nero. Nero, 34, was in the water in her new waders, preparing to set off in her green kayak. She hugged her husband, Sasha Urban, goodbye. He hadn't left the house since the storm, staying to care for their geese, chickens and other animals.
"Every time there's a torrential downpour, I'm grinding my teeth," said Urban, 48. "It's not supposed to rise anymore, is it?"
Lester couldn't say. They went their separate ways.
"Don't let the alligators get you!" he called to Nero, who laughed.
Lester has a photo at home of a 12-foot alligator he hauled out of this swamp. He's caught other big ones since. And then there are the snakes: king snakes, copperheads, banded water snakes and cottonmouths, which also swim.
Lester returned home to swap the ATV for a metal motor boat he likes to use in his shallow crawfish pond, then set out for one last friend's place.
Farther into the swamp he motored, down to what was once Bergeron Willow Lane. A sign painted on a tin shack warned, "Travel at your own risk substandard roadway."
He remembers when the Bergeron family built this road, how they later paved it only to see ancient tree roots tear it up. The emerald canopy of cypress and oak was so thick, he seemed to be steering down a green tunnel. At the end, below a towering oak dripping Spanish moss, was a cemetery.
Miraculously, it was high and dry, an island of stone crosses and mausoleums.
Lester stopped to snap a photo.
'What am I going to do?' Louisiana flooding leaves thousands looking for housing as losses hit $20.7 billion »
"I know some people buried out here and their kids have been calling me," he said. They were worried about the graves. In other parishes, the flood unearthed caskets. Not here.
Lester restarted the motor, and a flock of white herons that had settled in a nearby yard took flight. It was still sunny. He pulled up next to a tractor and several cars, all destroyed by the flood. He pointed to a house, also flooded. There he and deputies rescued a man during the worst of the storm.
He walked back along the banks of the swiftly flowing Vermilion, still awash with debris from the storm, to his friend's place.
"She's all flooded up," he said, taking another photo.
Some neighbors have offered to pay Lester for his help. He declines.
"You got a lot more problems than me," he tells them.
As he set off toward home, a woman wearing pink camouflage rain boots at the end of a driveway hailed him. It was his sister-in-law, Ruby Lester. She needed a ride back to what has become the launching place for boats and tractors braving the flood waters.
After a quick lunch of crawfish jambalaya, Lester readied the boat again. It was starting to rain again.
"I always said I wanted to live on an island," his wife said, ruefully. "I guess I should have been more specific."
molly.hennessy-fiske@latimes.com
Twitter: @mollyhf
ALSO
Latest pastime in an Arizona hippie enclave: Speculating about why Warren Buffett's son is in town
Donald Trump 'wrestling' with how — and whether — to deport 11 million people from U.S.
Suspect in the killing of five people in an Alabama home surrenders, police say
Must-read stories from the L.A. Times
Get the day's top news with our Today's Headlines newsletter, sent every weekday morning.
You may occasionally receive promotional content from the Los Angeles Times.