With Hawaii vote, same-sex marriage wave continues to grow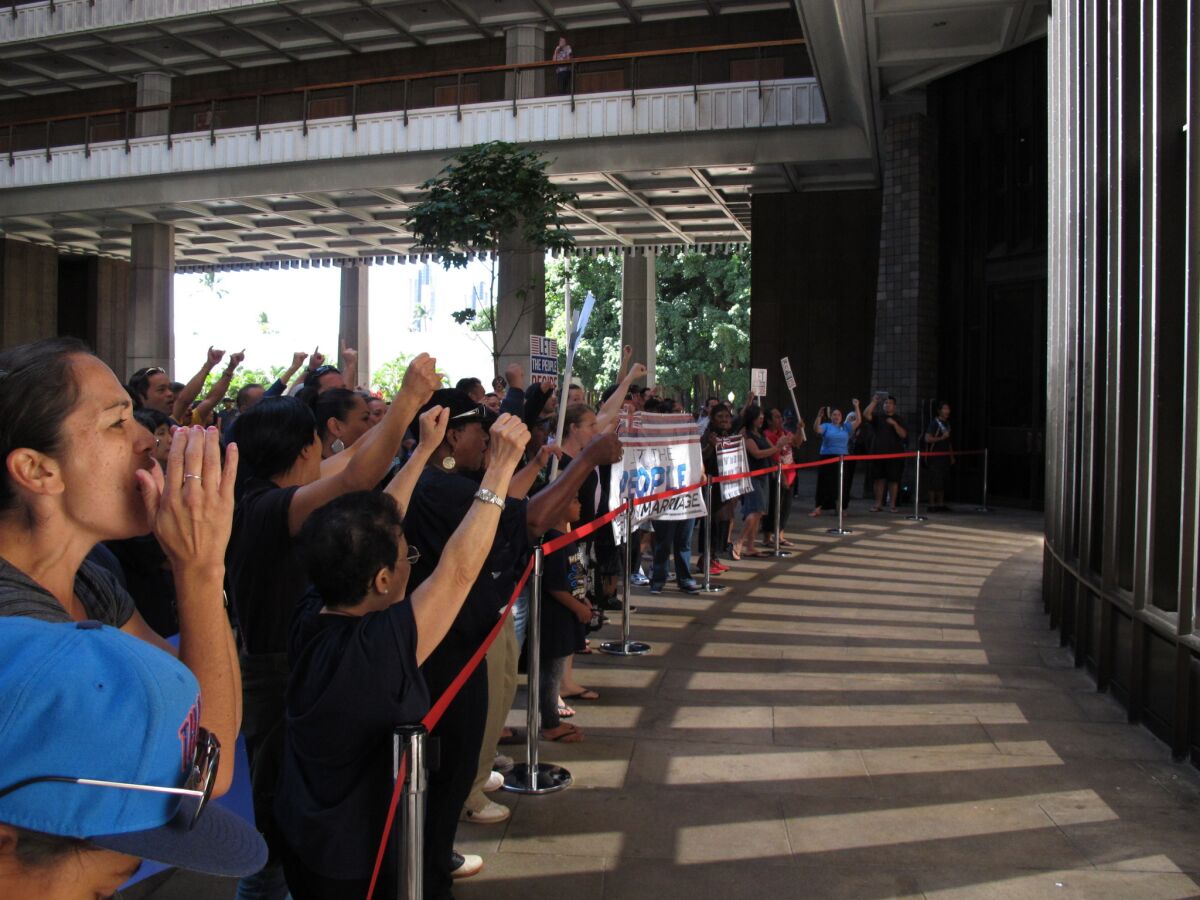 When Hawaii's House of Representatives passed a same-sex marriage bill late Friday, the state joined a wave of activity -- mainly of lawsuits and legislation -- that has been rapidly growing since the U.S. Supreme Court struck down parts of the Defense of Marriage Act in June.
After a 12-hour marathon session, the Hawaii House passed SB1 with a 30-19 vote just after 10 p.m. on Friday. The action came just three days after lawmakers approved same-sex marriage legislation in Illinois.
When the vote was tallied at the capitol in Honolulu, hundreds of people crammed into the capitol rotunda, many wearing rainbow-colored leis, and cheered, danced and waved giant rainbow flags. A chant of "Love is love," broke out.
Opponents of the bill were on hand as well, and they asked that the state consider a 1998 state constitutional amendment that prohibits the Legislature from allowing same-sex marriage.
The Hawaii Senate, which passed a similar marriage bill 20 to 4 late last month, will likely pick up the measure again Tuesday and then send it to Gov. Neil Abercrombie's desk.
Abercrombie has said multiple times that he will sign the bill.
"After more than 50 hours of public testimony from thousands of testifiers on both sides of the issue, evaluating dozens of amendments, and deliberating procedures through hours of floor debates, the House passed this significant bill, which directly creates a balance between marriage equity for same-sex couples and protects our First Amendment freedoms for religious organizations," Abercrombie said in a statement Friday.
On Oct. 28, Abercrombie required by proclamation that both houses of the Legislature meet to consider same-sex marriage legislation. The House debated nearly 30 amendments, most of which concerned broadening religious exemptions in the law. Hawaii already allows civil unions for same-sex couples.
Twenty years ago, Hawaii's Supreme Court ruled that not allowing gay and lesbian couples to marry was discriminatory and illegal -- a ruling generally regarded as the official start of the movement to legalize same-sex marriage.
If Hawaii legalizes gay marriage, couples will be able to marry as soon as Dec. 2.
With the addition of Hawaii and Illinois, gay marriage would become legal in 16 states, plus the District of Columbia. Illinois Gov. Pat Quinn has said he would sign the measure passed there Tuesday.
The spread of gay marriage has been rapid. In 2013 alone, Delaware, Minnesota and Rhode Island began allowing such nuptials. New Jersey courts, citing the Supreme Court decision from June, said same-sex marriage could proceed in New Jersey and such weddings began there in October.
The Supreme Court voided a key section of the 1996 Defense of Marriage Act that denied federal benefits to gay and lesbian couples who were married under state law. The court's decision means that same-sex couples who are legally married can take advantage of tax breaks, pension rights and other benefits available to married couples.
In Idaho on Friday, four couples filed a lawsuit in U.S. District Court seeking the right to same-sex marriage. The lawsuit covers those who were married elsewhere and want their nuptials to be legally recognized, as well as those seeking to wed.
"Like many other couples with a lifelong commitment, the unmarried plaintiffs are spouses in every sense, except that Idaho law will not allow them to marry," according to the complaint, emailed to reporters. "In fact, under Idaho law, solemnization of their commitment without a marriage license is a crime."
ALSO:
Hawaii House passes same-sex marriage bill
Four couples sue to overturn Idaho ban on same-sex marriage
Train carrying crude oil explodes, spills oil into Alabama wetlands
Twitter: @skarlamangla
---
Must-read stories from the L.A. Times
Get the day's top news with our Today's Headlines newsletter, sent every weekday morning.
You may occasionally receive promotional content from the Los Angeles Times.