'Aggressive' sharks could be killed in North Carolina after Sunday's attacks. Bad idea, experts say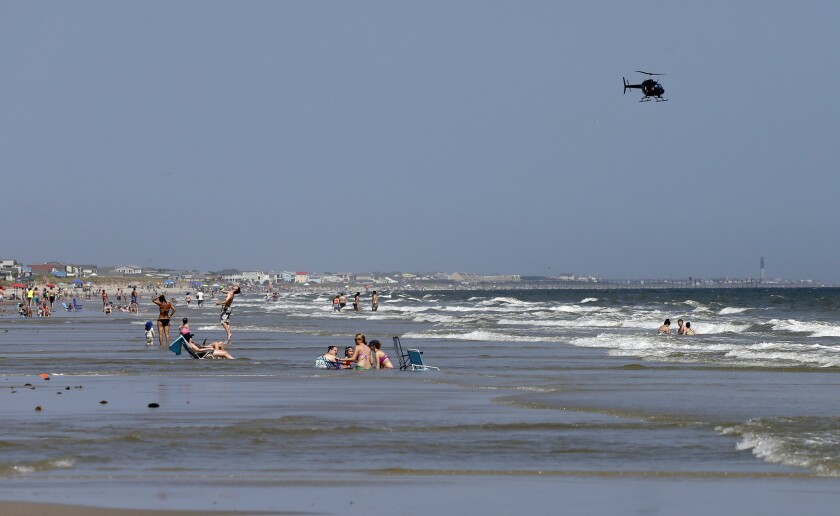 After a pair of shark attacks over the weekend that left two young people missing limbs, officials in a North Carolina beach town say they are prepared to euthanize any sharks they see exhibiting "aggressive behavior" near the coastline, a move shark experts say would be "foolhardy" and "just plain stupid."
The attacks occurred early Sunday evening within about an hour of each other in Oak Island, N.C. The first victim, a girl who was visiting family in the area, lost part of her arm and suffered a leg injury. Just over an hour later, a 16-year-old boy from Colorado Springs, Colo., was attacked and lost an arm.
The beach remained open Monday, and sheriff's deputies patrolled the waters with a helicopter and two boats, looking for shark sightings near land, Oak Island Town Manager Tim Holloman said.
Although there were still people crowding the beach, Holloman said, few were seen venturing into the water. Town officials placed extra ATV patrols on the beaches and advised people to stay out of the ocean.
No signs have been posted warning beachgoers of the attacks, Holloman said, but city officials are distributing pamphlets that include information on how to avoid shark encounters.
If officials see aggressive behavior from any sharks near shore, such as darting in and out of the surf line or coming within about 100 feet of the beach, Holloman said, the officials are prepared to euthanize the animal.
"If they look like they're posing a danger, we will authorize that action," Holloman told the Los Angeles Times.
Two shark experts criticized the strategy.
"That's just plain stupid," said George Burgess, who heads the Florida Program for Shark Research and tracks shark attacks worldwide for the International Shark Attack File database. Burgess said that the shark or sharks involved in Sunday's attacks could be 40 miles away by now, and that it would be nearly impossible to distinguish that shark from the many others that swim near the coast every day.
Bryan Frazier, a marine biologist with the South Carolina Department of Natural Resources, has a similar perspective.
"It's a kind of foolhardy approach to just go killing sharks because there was an incident," Frazier said, adding that culling programs in Australia, which has grappled with more aggressive shark attacks, haven't been shown to make beaches there any safer.
Plus, because sharks are "highly migratory" animals, it's likely that the offending shark is long gone, and that whatever food source or other conditions attracted the shark over the weekend are different now.
A better strategy to prevent another attack in the short term, Burgess said, would be to temporarily close the beaches, a move the town has not taken.
"To keep it open without even lifeguards in the area" seems like a bad idea, Burgess said, adding that closing a beach for one or two days could ensure the shark has moved on. "Why tempt fate?"
Still, Burgess said, there's not much officials can do to prevent such encounters between sharks and humans. "We're not going to get rid of shark attacks unless we take all the people out of their environments," he said. "When we enter the water, whether it's in North Carolina or Monterey, there's animals out there that can do us harm, and we accept that risk for the environmental experience we engage in."
Shark attacks are rare, especially in North Carolina. According to the International Shark Attack File, there were 52 confirmed unprovoked shark attacks in the state from 1935 to 2014, three of which were fatal. Brunswick County, which includes Oak Island, had seen nine attacks during that period, none of which were fatal.
In contrast, Florida saw 323 unprovoked shark attacks from 2001 to 2014 alone.
The last shark attack death in North Carolina occurred in 2001. Based on the area where the Sunday's attacks occurred and the severity of the injuries, Frazier and Burgess said, the attacker was likely a bull shark or tiger shark. Great white sharks, which account for nearly all of California's shark attacks, are uncommon in the Carolinas.
Also uncommon, Frazier said, are the kinds of severe injuries the victims sustained in Sunday's incidents. "In the Carolinas, typically it's grab and release, and the patient may need a few stitches" for minor injuries, Frazier said.
Burgess said he knows of only two other instances in his 40 years of studying sharks in which a single animal was thought to be responsible for multiple attacks at the same beach.
Oak Island Mayor Betty Wallace said Monday that there was too little information after the first attack to justify immediately clearing the water, but that after the second attack, officials did warn swimmers.
To close the beaches, Holloman told The Times, the city would have to hold a meeting and adopt an official ordinance, and there wasn't enough time after the attacks to do that.
"It is a tragedy what happened to those kids yesterday and they did nothing wrong," said Chris Anselmo, Oak Island's fire chief. But, he said, "we can't prevent everything that happens in the waters. We can't make any guarantees."
Anselmo said it is "just not possible" for local authorities to close all nine miles of the town's beaches.
Sheriff's deputies reported spotting a 7-foot shark near the attack sites Sunday evening, Sheriff John Ingram said, and another shark was spotted Monday morning.
As of Monday evening, Hollman said, town officials had decided to extend air and boat patrols by sheriff's deputies, who are armed with regular service weapons, through Tuesday.
The Associated Press was used in compiling this report.
For more breaking news, follow me @cmaiduc.
ALSO:
Sixth person dies in Berkeley balcony collapse
Rachel Dolezal says she knows what it's like to 'live black'
---
Must-read stories from the L.A. Times
Get the day's top news with our Today's Headlines newsletter, sent every weekday morning.
You may occasionally receive promotional content from the Los Angeles Times.