Tribe members are threatened after Washington high school shootings
A woman grieves at a vigil at Grove Church in Marysville, Wash., held for victims of the shooting at Marysville-Pilchuck High School.
(Ted S. Warren / Associated Press )
Grove Church in Marysville is filled for a vigil held for victims of the school shooting.
(Ted S. Warren / Associated Press )
Cassandra LaBrake, a Marysville-Pilchuck High School senior, embraces her mother, Shellie LaBrake, at a reunification center near the scene of the school shooting.
(Jordan Stead / Associated Press )
Mourners gather at a vigil for school shooting victims at Grove Church in Marysville, Wash.
(Ted S. Warren / Associated Press )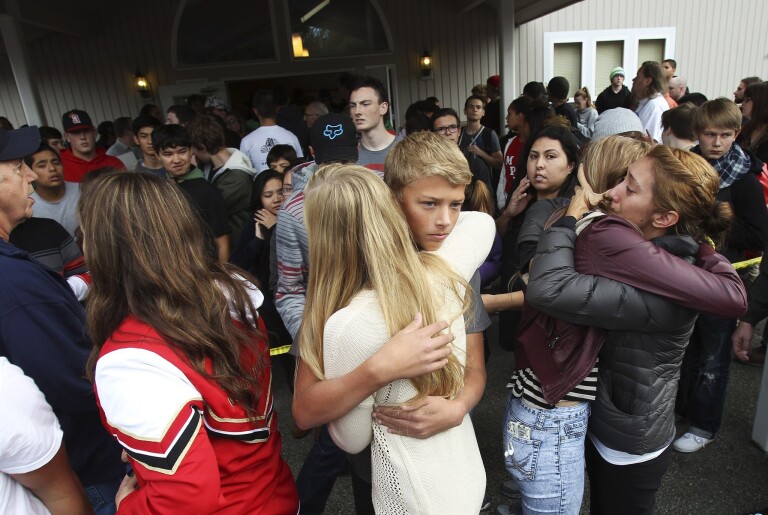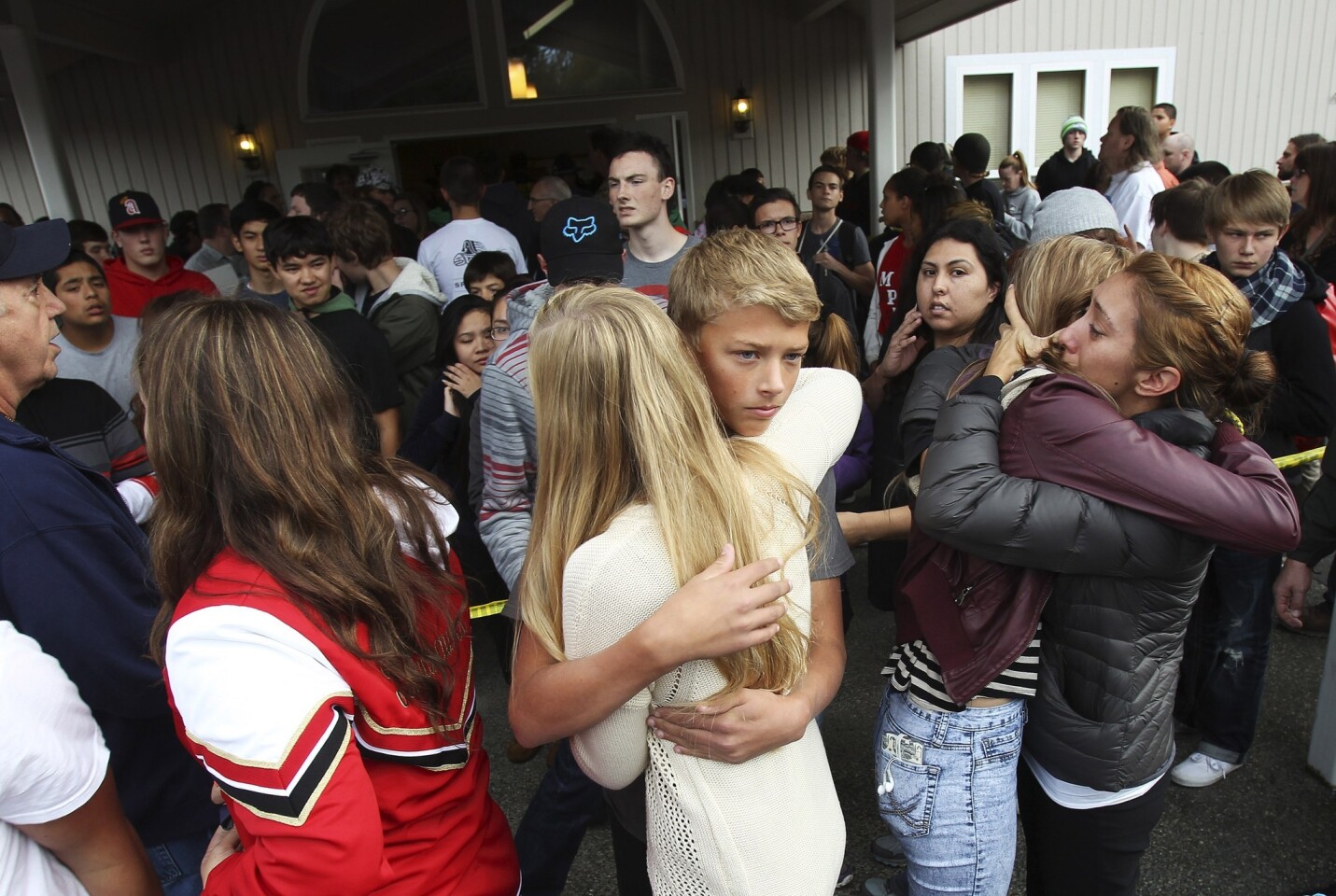 Students reunite with friends and family near Marysville-Pilchuck High School, where a student opened fire on classmates.
(Dan Bates / Associated Press )
Emergency personnel transport one of the Marysville school shooting victims to Providence Regional Medical Center in nearby Everett.
(Dan Bates / Associated Press )
Parents crowd around buses that brought students to a nearby church after the shooting at Marysville Pilchuck High School.
(Ted S. Warren / Associated Press)
Students and family members embrace after leaving Marysville-Pilchuck High School in the aftermath of a shooting on the high school's campus on Friday.
(David Ryder / Getty Images)
A student wearing a Marysville Pilchuck football jersey is comforted at a church where students were taken to reunite with parents after the shooting at Marysville Pilchuck High School.
(Ted S. Warren / Associated Press)
Threats have been made against several students who belong to the same Native American tribe as the 15-year-old who gunned down several classmates before shooting himself inside a Washington high school last week, tribe and school officials said Wednesday.
Jaylen Fryberg, a member of a prominent family within the Tulalip Tribe, opened fire on five classmates inside the cafeteria of Marysville-Pilchuck High School on Oct. 24, killing two and seriously wounding three others.
The tribe denounced Fryberg's actions on Wednesday and expressed concern about threats lobbed at Native American students in the school district.
"While some have been directed at Native children, we are concerned for the safety of all of the children. Many of our kids are fearful to return to school, and some parents are reluctant to send them," the statement read. "The Tulalip Tribes denounce the horrific actions of Jaylen Fryberg. ... All of the young people he attacked were his friends, and two were his cousins. Parents and children alike are struggling to understand what caused him to act in such a manner."
Police have not discussed a motive in the shooting, but postings on social media suggest Fryberg was bitter over a recent breakup.
Aaron Toso, a spokesman for the Marysville School District, told the Los Angeles Times that school officials had become aware of several unsubstantiated threats made in the wake of the shootings, including one posted on Facebook on Tuesday.
"There have been threats made, and any threat is taken seriously and looked into, and we've found that there have not been any substantiated threats," Toso said.
Asked if the district was concerned about increased violence or bullying aimed at tribe members after the shootings, Toso said: "We're always vigilant and we are working hard to make sure that we come together as a community."
Toso referred further questions to the Marysville Police Department, which did not return calls seeking comment.
Fryberg, a football player who was recently named freshman homecoming prince, died of a self-inflicted gunshot wound. On Tuesday, the Snohomish County medical examiner's office ruled his death a suicide.
Zoe Galasso and Gia Soriano, both 14, died of gunshot wounds to the head during the melee. Nate Hatch and Shaylee Chuckulnaskit, both 14, and Andrew Fryberg, 15, were seriously wounded but survived.
Officials have said Hatch and Andrew Fryberg were both cousins of the shooter.
In their statement, the tribe warned that Jaylen Fryberg's actions were his alone.
"Even though we may never know why, there can be no justification for taking the lives of others," the statement read. "These were the acts of an individual, not a family, not a tribe."
Follow @JamesQueallyLAT on Twitter for breaking news.
---
Must-read stories from the L.A. Times
Get the day's top news with our Today's Headlines newsletter, sent every weekday morning.
You may occasionally receive promotional content from the Los Angeles Times.