VA fails to acknowledge 'severity of problems,' new report says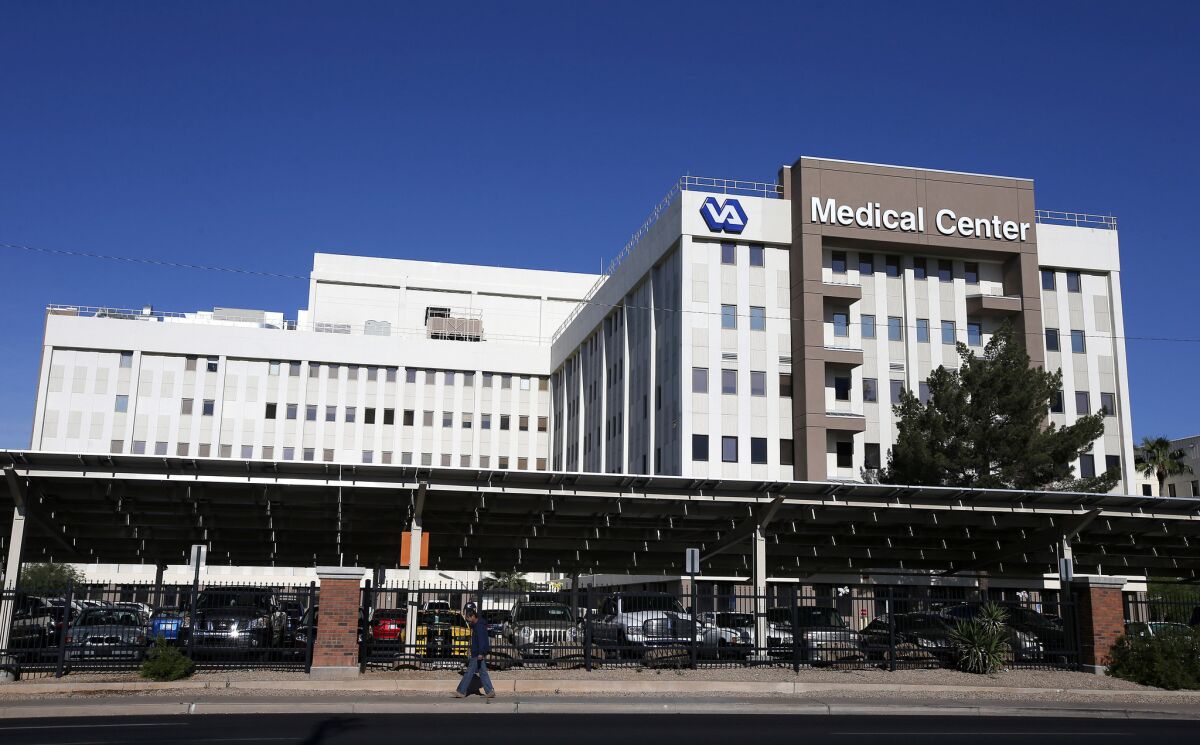 Reporting from Washington —
In another damning report on the Department of Veterans Affairs, the Office of Special Counsel on Monday assailed the VA for failing to acknowledge the "severity of systemic problems" that have put patients at risk.
Special Counsel Carolyn Lerner said in a letter to President Obama that her office found a "troubling pattern of deficient patient care" and expressed concern about what she termed the department's unwillingness to acknowledge the impact of its problems on the health and safety of veterans. Her office is investigating more than 50 cases brought by whistle-blowers.
"The VA, and particularly the VA's Office of the Medical Inspector has consistently used a 'harmless error' defense, where the department acknowledges problems but claims patient care is unaffected," she wrote. "This approach has prevented the VA from acknowledging the severity of systemic problems and from taking the necessary steps to provide quality care to veterans.
"As a result, veterans' health and safety has been unnecessarily put at risk," she said.
In her report, Lerner said her office had found the use of a "bad boy" list at the VA facility in Fort Collins, Colo., for staff who scheduled appointments for longer than 14 days from a veteran's desired date for an appointment. Staff members had been instructed to alter wait times to make the waiting periods look shorter, she said.
Her office, which looks into whistle-blower complaints, also is investigating allegations that two schedulers were reassigned from Fort Collins to Cheyenne, Wyo., for not complying with instructions to "zero out" wait times, she said. After the employees were transferred, officially recorded wait times dramatically improved, "even though the wait times were actually much longer."
At the Jackson, Miss., VA medical center, problems have included "improper credentialing of providers, inadequate review of radiology images, unlawful prescriptions for narcotics, noncompliant pharmacy equipment used to compound chemotherapy drugs and unsterile medical equipment," Lerner said.
The facility also operated "ghost clinics" where veterans were scheduled for appointments, even though there were no doctors assigned to the clinics, "resulting in excessive wait time and veterans leaving the facility without receiving treatment," she said.
In Brockton, Mass., a veteran who was in a mental health facility from 2005 through 2013 had only one psychiatric note written in his medical chart. The note, written in 2012, addressed treatment recommendations, according to Lerner, while another veteran, admitted to the facility in 2003, did not receive his first comprehensive psychiatric evaluation until 2011.
Yet the VA Office of the Medical Inspector "failed to acknowledge that the confirmed neglect of residents at the facility had any impact on patient care," she said.
Rep. Jeff Miller (R-Fla.), chairman of the House Veterans Affairs Committee, said the letter highlights the VA's attempts to "downplay the impact serious deficiencies in VA healthcare have had on patients."
"In the fantasy land inhabited by VA's Office of the Medical Inspector, serious patient safety issues apparently have no impact on patient safety," he said in a statement. "It's impossible to solve problems by whitewashing them or denying they exist."
Acting Secretary of Veterans Affairs Sloan Gibson said in a statement that he was disappointed in the "failures within VA to take whistle-blower complaints seriously" and has directed a review of the operation of the Office of the Medical Inspector to be completed within 14 days.
But Sen. Jerry Moran (R-Kan.), a member of the Senate Veterans Affairs Committee, called for the VA Office of the Medical Inspector to release reports on their investigations, saying it would allow Congress and the public to "see what the VA knew, when they knew it and what they did about it." Currently, he said, the reports are not made public or released to Congress.
The special counsel's letter comes after the VA's own reports have found systemic problems in the scheduling of patients in a timely manner, including instances of staff falsifying records to cover up long waits.
It also comes as Sen. Tom Coburn (R-Okla.) plans to issue a report Tuesday that describes the VA's problems as "far deeper than just scheduling" and as House-Senate negotiators hold their first meeting to reconcile differences on legislation that would, among other things, allow veterans facing long waits at VA facilities to see private doctors and expand the VA secretary's authority to fire staff for poor performance.
Follow @RichardSimon11 for news on the VA scandal
---
Must-read stories from the L.A. Times
Get the day's top news with our Today's Headlines newsletter, sent every weekday morning.
You may occasionally receive promotional content from the Los Angeles Times.