Arizona politician, protesters mistake YMCA campers for immigrants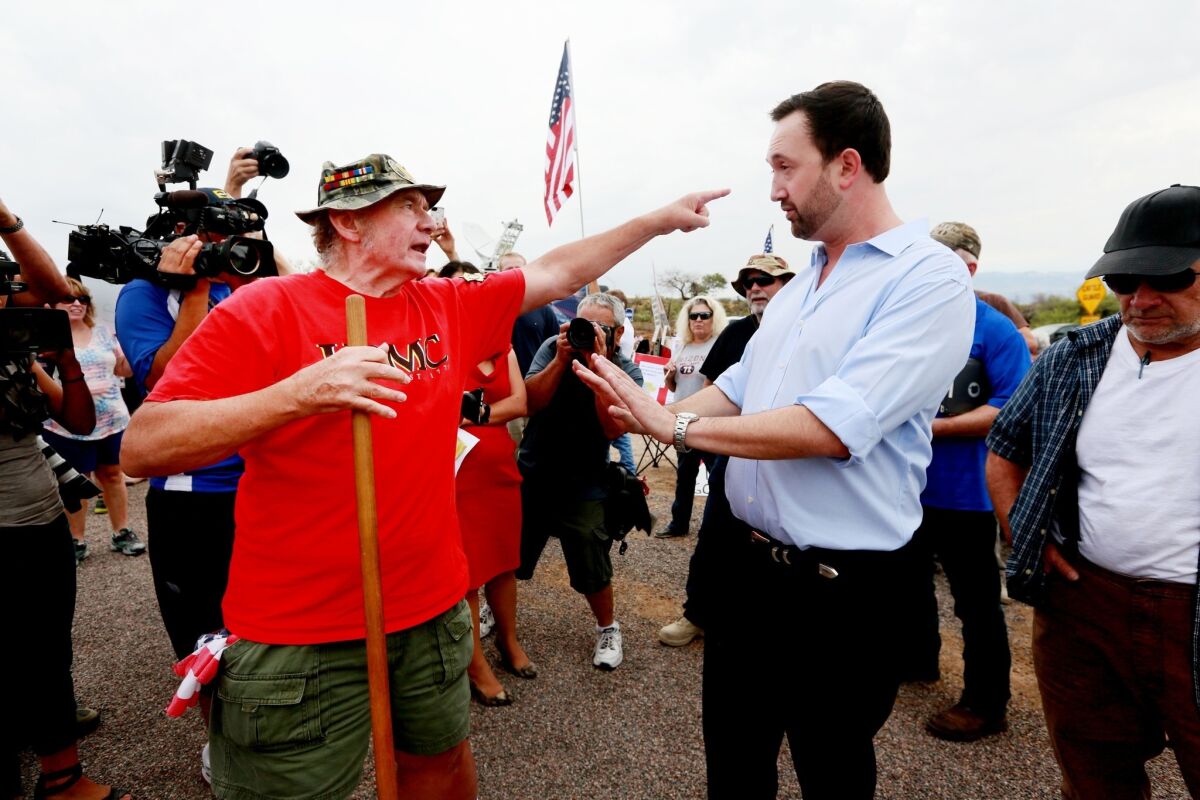 A would-be congressman joined protesters in Oracle, Ariz., to object to housing some Central American immigrant children at a local academy. But when all was said and done, he might have been better off staying home.
Protesters on both sides of the issue came to this town about 40 miles northeast of Tucson on Tuesday after Pinal County Sheriff Paul Babeu warned that Sycamore Canyon Academy would be sheltering some unaccompanied minors who have crossed the Southwestern border illegally.
About 57,000 such children have been apprehended at the border since October. The young immigrants typically are held for a short time at the border, then transferred to the Department of Heath and Human Services, and often released to relatives with notices to appear in court later. Under a 2008 law, children from all nations but Mexico and Canada have the right to an immigration hearing.
Oracle's Sycamore Canyon Academy confirmed that it had a contract to house a "small number" of the children, the Associated Press reported. Protesters gathered early and waited for buses to arrive -- inspired at least in part by a July 1 demonstration in Murrieta, Calif., that forced three buses of immigrants to turn back.
Then Adam Kwasman, a state representative and tea party member who is seeking the Republican nomination for Arizona's 1st Congressional District, tweeted from the scene:
"Bus coming in. This is not compassion. This is the abrogation of the rule of law."
Kwasman, demonstrators and camera crews converged on a yellow school bus filled with children, according to video.
Later, Kwasman told KPNX-TV Channel 12 in Phoenix, "I was able to actually see some of the children on the buses, and the fear on their faces. This is not compassion."
Reporter Brahm Resnik responded, "You know that was a bus with YMCA kids?"
"They were sad too," Kwasman retorted.
Resnik said the children actually were smiling and taking cellphone photos. They were YMCA campers from the Marana Unified School District, he said.
Kwasman backed off, apologized and removed his earlier tweets. But they can be found at Politwoops, which bills itself as "an archive of the public statements deleted by U.S. politicians. Explore the tweets they would prefer you couldn't see."
On Tuesday night, Kwasman's campaign website and Twitter account included these tweets:
"Last tweet not the bus of illegal immigrant children. Thank God."
"I apologize for the confusion. That was my error."
At last report, no buses with migrant children had arrived in Oracle.
Must-read stories from the L.A. Times
Get the day's top news with our Today's Headlines newsletter, sent every weekday morning.
You may occasionally receive promotional content from the Los Angeles Times.