How one big promise Jeb Bush made to Florida's economy has yet to deliver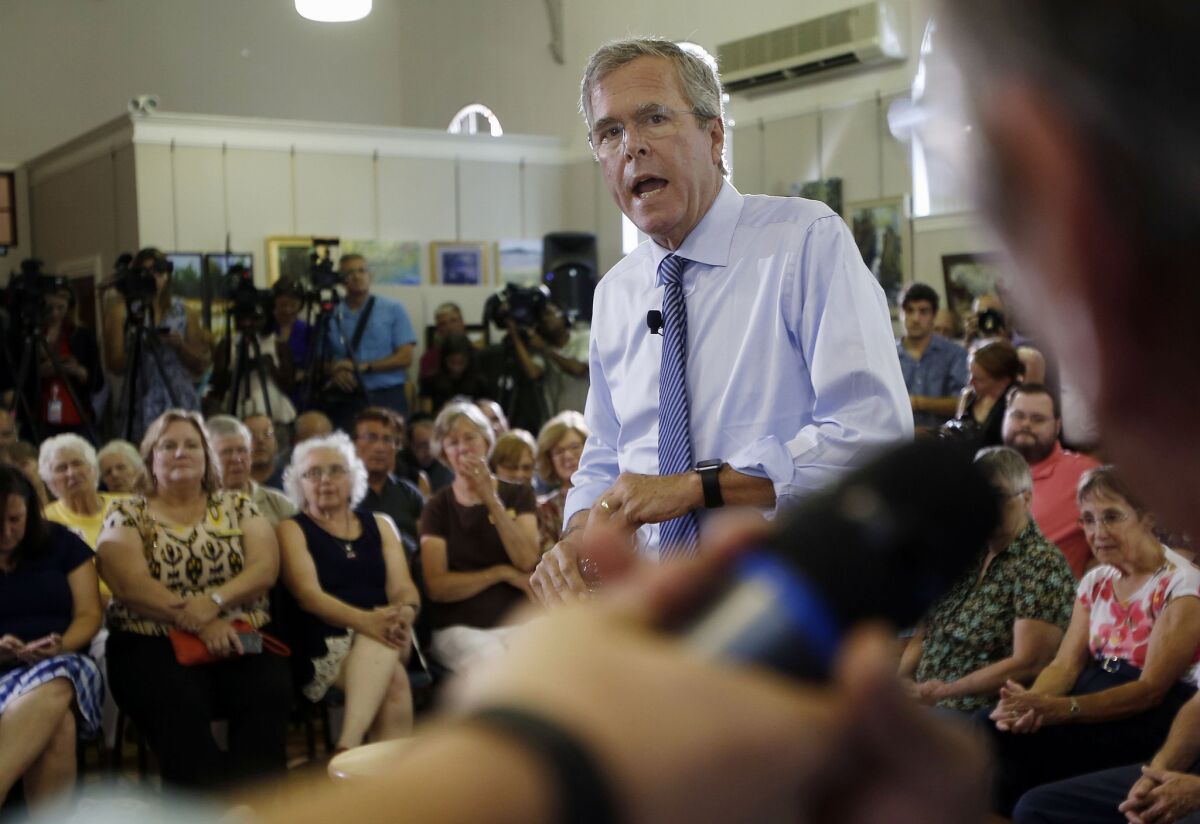 Reporting from Washington —
Gov. Jeb Bush pitched a bold plan about a decade ago to remake Florida's economy: re-create Southern California.
Not the palm trees, tourists and plastic surgery centers. Florida has plenty of those.
He wanted something more coveted, the intellectual capital that lured the booming biotech business and its highly paid researchers to San Diego.
He put together an unprecedented package using more than $500 million in state and local money to urge Scripps Research Institute to expand from its La Jolla base into Florida's Palm Beach County, where the nonprofit would get land, new facilities, equipment and enough operating money to pay staff salaries for years. It was an incredibly generous package, even by the standards of economic development deals. All Scripps had to do was set up shop in one of the country's most affluent counties and employ at least 545 people.
NEWSLETTER: Get the day's top headlines from Times Editor Davan Maharaj >>
Now, as Bush runs for president, the dozen-year-old plan is drawing scrutiny anew. Bush has put his economic stewardship at the center of his campaign, pledging that he would create 4% annual economic growth for the nation "and the 19 million new jobs that come with it."
He has spoken out against energy subsidies because, he says, "I don't think we should pick winners and losers." And he has played up his image as "Veto Corleone" for his propensity to kill spending projects during his eight years as governor, ending in 2007.
The Scripps initiative suggests a different Bush. Not only did it depend on the type of generous government subsidy that many conservatives now frown upon, but it also failed to deliver the blockbuster biotech cluster Bush promised, even after the state handed out hundreds of millions dollars more to lure other biotech institutes and opened three medical schools at state universities.
In 2003, the project took life with Bush's promise, in unusually flamboyant language, that the arrival of Scripps would herald a new era: as important to Florida as the arrival of the railroad and the opening of Disney World. His team nicknamed it "Project Air Conditioning" after another innovation that forever changed the state's economy.
"The people of Scripps have a vision for Florida that is just as ambitious and will have just as much impact on our state," Bush said then.
"The next few years, the dreamers will come," he said a year later when he initiated a $1-billion venture fund for related projects.
He called a rare special session of the Legislature to approve the state's share of the Scripps package — $310 million plus interest over 10 years — and won easy approval from the county government to spend more than $200 million. To make his case, he circulated a five-page economic impact study that said Florida could build a biotech economy every bit as impressive as the one that took decades to germinate in San Diego, only faster and bigger, with potential to add more than 40,000 jobs within 15 years of operation.
Twelve years later, those dreams have not come true.
Florida employed 27,611 people in biotech last year, according to the state's Department of Economic Opportunity, or just 952 more people than it did in 2007, the last year for which the state has comparable data. Scripps accounts for many of those jobs, with a head count of 646 people in Florida.
The data do show a doubling in the number of biotech establishments. And Scripps says it has attracted $425 million in federal grants and donations.
But the promise of Florida's investment was about a jobs bonanza from spinoff companies.
Bush was captivated by the Scripps headquarters in La Jolla, a tony San Diego suburb where 2012 GOP presidential nominee Mitt Romney owns a home.
The institute and its satellite offices are located along Torrey Pines Road, a verdant stretch connecting it to the famed golf course of the same name as well as sandstone coastal bluffs and the ocean.
The biotech boom around Scripps is hard to miss. Science and medical companies dot the area.
Florida, meanwhile, remains an afterthought in the biotech world. No Florida city has cracked the annual list of top 10 biopharma clusters compiled by Genetic Engineering and Biotech News, an industry publication. Traditional powers including San Diego, Los Angeles and the Bay Area dominate the list.
Bush's economic consultant on the project, J. Antonio Villamil, now says his report was never intended to guarantee a biotech cluster. He was merely pointing out what could happen, he said in an interview recently. He said an environmental dispute that delayed the construction of Scripps' permanent home by several years, and the recession that killed Florida's housing market, have also set back the project. But Villamil, who worked in the George H.W. Bush administration and prepared the Scripps report for free, said he remained convinced that the investment has begun to pay off in other ways, including its promotion of research and life science education in the state.
"It's going to take time," said Villamil. "That's the bottom line. The seeds have been planted and there has been a lot of good too."
Bush also stands by the investment as crucial to diversifying the state's service-based economy and creating high-wage jobs. Spokeswoman Kristy Campbell said in an email that Scripps and the hundreds of millions of dollars more spent to lure other research institutes were "strategic one-time investments" made in "a fiscally conservative way that have yielded tremendous results for the state." She noted that Bush was still able to cut taxes and increase the state's reserve funds.
"The state did not pick winners and losers, but instead made investments to recruit the most advanced biotech institutes in the world to the state to yield private sector growth and investment," she said.
Yet even among incentive plans, this one was unusual. Typically, states build a new highway ramp or offer tax abatement or some other break to lure a company. Bush offered cash, mostly post-Sept. 11 federal stimulus money approved by his brother, then-President George W. Bush.
Though economists raised questions about Bush's projections, he had little trouble winning approval for the package, despite leaving scant time for lawmakers to evaluate it.
"Bush insisted that the Legislature adopt it immediately," Edward Montanaro, the former director of economic and demographic research for the Florida Legislature, said in an email.
Montanaro performed a separate analysis of the project, with far more modest expectations, under a contract for a Democratic legislator.
Legislators' easy embrace of the project is a reminder of how much the Republican Party has changed since Bush left the governor's mansion in January 2007. The rise of the tea party, partly in reaction to the increase in government spending under his brother's presidency, has created a sizable swath of the GOP electorate that opposes such large-scale subsidies.
TRAIL GUIDE: All the latest news on the 2016 presidential campaign >>
"There is more skepticism about these types of deals today," said Stephen Slivinski, senior research fellow at the Center for the Study of Economic Liberty at Arizona State University, which advocates for less government interference in the economy.
Slivinski said that even as economists of all ideological stripes say stimulus money is better spent on infrastructure projects, governors enjoy luring individual employers.
"There's a certain unavoidable political charm," he said. "You can go to the ribbon-cutting ceremony at the opening of the headquarters."
Scripps – which trains scientists, conducts basic research and seeks to help discover new drugs – says the institute has fulfilled its part of the bargain. The company cites advances toward a blood test to diagnose Alzheimer's disease, a compound that might protect brain cells from Parkinson's, and the identification of a pathway in the brain related to nicotine addiction.
"Seeding a biotech center from scratch takes many players," said Patrick Griffin, a professor of molecular therapeutics who came to Scripps Florida when it opened in temporary facilities in 2004.
"Scripps is, in my understanding, the catalyst for that and we've exceeded our expectations quite dramatically," Griffin said.
But a spokeswoman for the institute, Mika Ono, noted in an email that "we were not involved with the initial economic impact study."
Staff writer Seema Mehta in La Jolla contributed to this report.
Twitter: @noahbierman
MORE ON THE 2016 PRESIDENTIAL CAMPAIGN:
Will the GOP's next debate include a noogie for Donald Trump?
Jeb Bush, seemingly perfect on paper, just hasn't caught on with GOP voters
Jeb Bush says Hillary Clinton played crucial role in Iraq's decline
Life is stressful. Our weekly mental wellness newsletter can help.
You may occasionally receive promotional content from the Los Angeles Times.