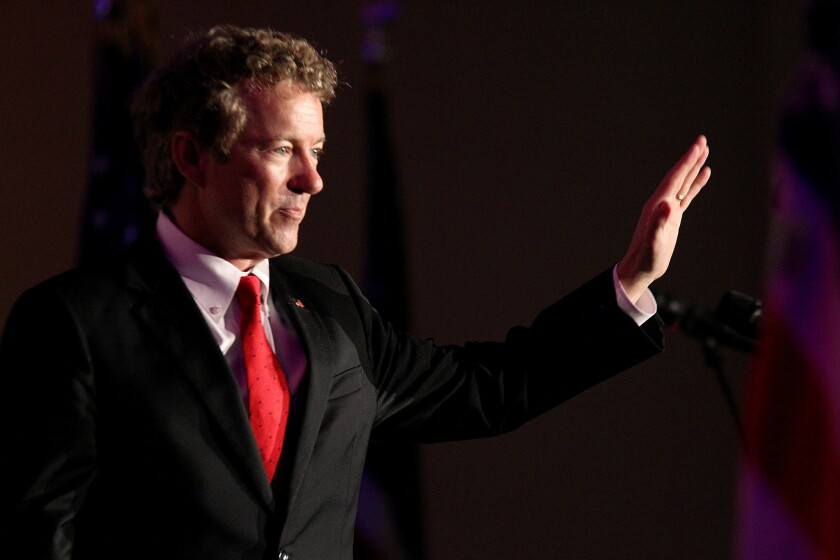 As he traveled through Southern California on a two-day trip, Republican Sen. Rand Paul called on his party Friday to widen its outreach to minority voters, whom he said will help propel the party to victories nationwide.
And while he put forward a positive message to a party that has struggled in California, the Kentucky senator simultaneously castigated Hillary Rodham Clinton, the frontrunner for the Democratic nomination.
Paul, who is among nearly a dozen candidates vying for the GOP nomination, delivered the keynote address in a packed Irvine hotel ballroom at an annual Flag Day Salute of Orange County Republicans.
"People want know how we're going to win?" he said. "We're going to have to be different. We're going to have to be the new GOP."
Paul hit on key themes he's hammered on in stump speeches in early voting states: attacking National Security Agency surveillance programs, calling for sentencing reforms and emphasizing the need for his party to broaden its appeal through clearer messaging.
"We were the party of emancipation, we were the party of civil rights, we can still be that party again," he said to cheers.
In recent days, as he's called for sentencing reform, Paul has invoked the high-profile death of Kalief Browder, a young black man who committed suicide after having spent three years in New York's Rikers Island prison without being formally charged with a crime. He did so again Friday night.
"No American should spend three years in jail without a trial," he said.

In a brief interview with The Times before his speech, Paul, who has labeled himself a "different kind of Republican," said his message of party outreach to minorities has resonated.
"I don't care if it's in an all-white evangelical church or all-Republican gathering, people need to hear it," he said. "I'm a believer that for the Republican Party to grow, we need to be a broader, more diverse party."
Speaking to the GOP audience, Paul's criticism of Clinton centered on her time as secretary of State.
"Hillary's war in Libya made us less safe," said Paul, adding that the attack on a diplomatic compound in Benghazi that killed Ambassador J. Christopher Stevens and four other Americans should "preclude" Clinton from being president.
Often presidential candidates venture to California for a single purpose: to raise campaign cash. Paul's visit is no exception. His weekend trip is dotted with fundraisers, along with another keynote address Saturday at the Republican Party of San Diego's Lincoln Day dinner.
While he remained in a conservative pocket of the state Friday, Paul has traveled to California's Democratic strongholds more than any of the other GOP hopefuls.
In the last year, he's delivered a speech at UC Berkeley and held discussions in Silicon Valley with Facebook and eBay executives. Last month he opened an office in San Francisco in an effort to tap into the tech field and court donors who might find his libertarian leanings appealing.
Paul, regularly assailed by more hawkish members of his party for being an isolationist on foreign policy issues, said Friday that President Obama's recent announcement that he will send 450 American troops to Iraq needs a congressional vote.
"ISIS is a threat to American interests, and I think it's important enough for us to vote on it," he said in the interview, using an acronym for Islamic State. "The first thing the president should do is come to the American people and say why he wants to do this and then ask for a vote by Congress."
Another candidate, Sen. Lindsey Graham (R-S.C.), recently called for sending 10,000 troops to Iraq.
In the interview, Paul said that "boots are needed on the ground" to defeat ISIS, but that they should be "Arab boots," not American.
Among the wide field of Republicans, Paul is polling toward the middle of the pack. Former Florida Gov. Jeb Bush, who is expected to announce his candidacy on Monday, has topped the field in many surveys.
Paul offered criticism of him on Friday when asked about Bush's potential weaknesses.
"If you're looking to broaden the party on the fact that he's still for putting people in jail for using medical marijuana, that's not smart," said Paul, who supports medicinal marijuana but is opposed to its recreational use. "It's out of step with where the country is moving."
Follow @kurtisalee for political news
---