Rand Paul irritated by vaccine questions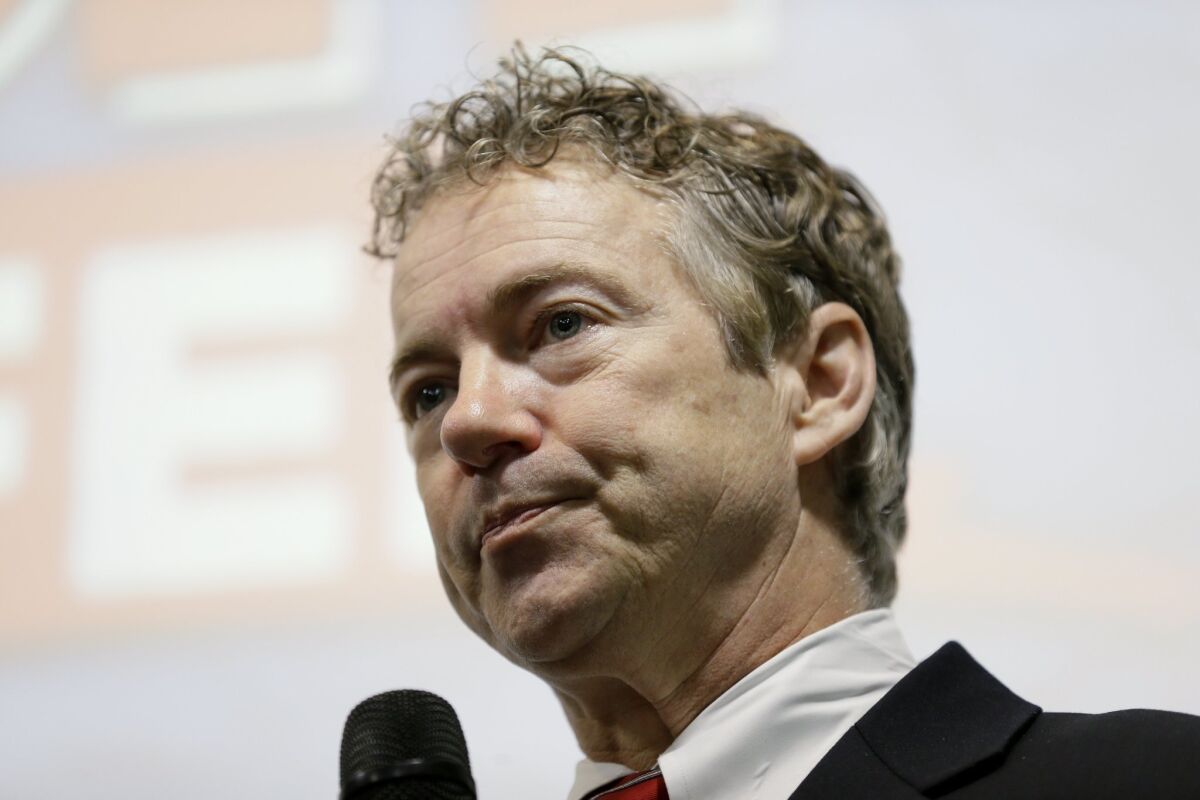 Reporting from Washington —
Sen. Rand Paul (R-Ky.) appeared peeved Thursday when an interviewer at a technology conference asked him to weigh in – again – on the national debate he helped fuel over vaccines last month.
"Thanks for not getting into vaccines," Paul said at the end of a two-minute exchange, eliciting some awkward laughter from a largely conservative crowd at the U.S. Chamber of Commerce headquarters. "I'm glad we agreed beforehand not to get into that."
The interviewer was self-described libertarian Michael Arrington, who founded the blog TechCrunch.
Arrington said later that he had no agreement with Paul, and that the two were joking. But the exchange at a technology conference underscored how Paul may face a lingering problem on a sensitive issue as he contemplates a presidential run.
"You seem convinced that there's a link between autism and vaccines. You didn't actually say that--," Arrington said.
"Well I didn't actually say that," Paul interrupted.
Then Arrington read Paul his own controversial quote from an interview he gave last month to CNBC: "I've heard many tragic cases of walking, talking normal children who wound up with profound mental disorders after vaccines."
Paul tried to clarify that quote again, insisting he was misunderstood.
"The point is that I have heard of – I mean who hasn't ever met a child who has a profound disability and in the parents' mind they see a connection," Paul said. "But I didn't allege there is a connection. I said I heard of people who believe there is a connection. I do think that vaccines are a good idea. I've been vaccinated. My kids have been vaccinated."
Paul, an eye doctor, then began a discourse into the history of vaccines and their value in fighting infections. Then Arrington asked if parents should have the right to refuse to vaccinate their children.
"I'm not promoting any change to vaccine law," Paul said. "The current vaccine law has religious exemptions and philosophic exemptions, so those who jumped all over me on this need to stand up and say what they're for."
"Ask the president: 'Are you for a new federal law holding people down and vaccinating them?'" Paul continued. "He's not. Neither is anybody else who gave me a lot of grief over this."
Get our Essential Politics newsletter
The latest news, analysis and insights from our politics team.
You may occasionally receive promotional content from the Los Angeles Times.