Bernie Sanders nets his first endorsement from a member of Congress
Welcome to Trail Guide, your daily host through the wilds of the 2016 presidential campaign. It's Wednesday, Oct. 7, and this is what we're watching:
Rupert Murdoch tweets Obama isn't 'real black president'
The founder of the global News Corp. media empire, Rupert Murdoch, is suggesting that President Obama isn't a "real black president."
Murdoch was praising Republican presidential candidate Ben Carson and his wife on Twitter on Wednesday evening when he wrote: "Ben and Candy Carson terrific. What about a real black President who can properly address the racial divide?"
Later, Murdoch recommended a New York magazine article asking whether Obama has done enough for the African American community.
Murdoch is the founder of Fox News Channel, and News Corp.'s publications include the New York Post and the Wall Street Journal.
The 84-year-old Murdoch has praised Carson on Twitter before, calling him "irreproachable on background, achievements, character, vision."
In California, Clinton's popularity falls and Sanders' rises
Hillary Rodham Clinton remains the top choice for president among registered Democratic voters in solidly blue California, but her support is spiraling downward, according to a new poll .
The former secretary of State is favored by 47% of the California Democrats who are likely to vote in the primary, down from the 73% who supported her in February. At the same time, support for Vermont Sen. Bernie Sanders has risen sharply to 35% from 10% in February.
Clinton's strongest support, according to the poll, comes from Latinos and voters who are 65 or older. Sanders is supported most by voters identifying themselves as "strongly liberal" and among voters ages 18 through 39, basically matching Clinton's popularity among those groups.
Of the California Democratic voters polled, 63% thought it would be good for the party if Vice President Joe Biden entered the presidential race, but only 15% said they would back him.
Clinton won California in the 2008 presidential primary, with 51.5% of the vote; then-Sen. Barack Obama got 43.2%.
The Field Poll surveyed 1,002 registered voters in California from Sept. 17 through Sunday. The survey's maximum margin of potential sampling error was 5 percentage points in either direction.
Pressured by labor groups and progressives, Hillary Rodham Clinton came out Wednesday against the sweeping Pacific trade deal announced this week by the U.S. and 11 other nations.
Along with her opposition to the Keystone pipeline and a key provision of Obamacare, and her call for a no-fly zone in Syria, Clinton's stance on the trade pact is the latest in a series that puts her at odds with President Obama, The Times' Evan Halper writes.
We need your muscle, we need to move. If I don't move, I'll be demoted to secretary of State or something. That's a joke!
Vice President Joe Biden calling on supporters to mobilize and back President Obama's agenda
Hillary Clinton opposes trade deal: 'I don't believe it is going to meet the high bar I have set'
Hillary Rodham Clinton said Wednesday that she will likely oppose the sweeping Pacific trade deal negotiated by the Obama administration and announced this week, a notable departure from the White House on one of the president's signature achievements.
Clinton, the front-runner for the Democratic nomination for president, staked out her position against the deal under increasing pressure from organized labor to join unions in their opposition. Battling the Trans Pacific Partnership, as the pending agreement is known, has been a top priority for progressives.
In an interview with "PBS NewsHour" to air Wednesday evening, Clinton said, "I don't believe it is going to meet the high bar I have set." She also said: "I am not in favor of what I have learned about it."
While Clinton hedged her opposition to the deal, her comments are probably unwelcome at the White House amid its aggressive push to finalize the pact.
Clinton's team notified the White House of her plans to oppose the deal, an official there said, declining to comment further on what was labeled a private conversation.
"I have been trying to learn as much as I can about the agreement, but I am worried," Clinton said in the "NewsHour" interview. She warned that the agreement does not deal with the issue of currency manipulation, and that "pharmaceutical companies may have gotten more benefits and patients and consumers fewer" in it.
"There are still a lot of unanswered questions," she said.
Clinton, who has been a champion of other such trade deals, reflected on how they have not always had the intended effect.
"We've learned a lot about trade agreements in the past years," she said. "Sometimes they look great on paper. I know when President Obama came into office, he inherited a trade agreement with South Korea. I, along with other members of the Cabinet, pushed hard to get a better agreement. We made improvements. Now, looking back on it, it doesn't have the results we thought it would."
Other presidential candidates have had harsh words about the agreement. Clinton rival Bernie Sanders, the Vermont senator, has used his early opposition to the agreement in building a formidable coalition of support for his candidacy.
Hillary Clinton comes out against major Pacific trade deal
Clinton's opposition to the White House on the Trans-Pacific-Partnership puts her in line with labor groups and other Democrats; her rival for the Democratic nomination, Sen. Bernie Sanders, denounced it within minutes of the proposed deal being revealed.
Trump jumps to Carson's defense on shooting comments
Republican presidential race front-runner Donald Trump jumped to the defense of rival Ben Carson on Wednesday after Carson was criticized for suggesting that shooting victims should confront a gunman.
"Ben Carson was speaking in general terms as to what he would do if confronted with a gunman, and was not criticizing the victims. Not fair!" Trump tweeted.
Carson has come under fire for comments he made on "Fox and Friends" on Tuesday, after he was asked how he would respond in a situation like last week's shooting at Umpqua Community College in Oregon that killed 10, including the gunman. Carson said he would not cooperate with a gunman or "just stand there and let him shoot me."
"I would say, 'Hey guys, everybody attack him. He may shoot me, but he can't get us all.'" Carson said.
Wednesday morning, Carson insisted that he was not judging shooting victims.
"I want to plant in people's minds what to do in a situation like this because unfortunately this is probably not going to be the last time this happens," he said in an interview on "CBS This Morning."
Another GOP candidate, Sen. Lindsey Graham of South Carolina, slammed Carson's comments, arguing that the former neurosurgeon "has no idea of what he would do" if confronted by a gunman.
"That's not what we need to be saying as leaders of the country," Graham said on CNN's "New Day." "I'm glad President Obama went to see these people. I just don't think that is the road to go down in terms of questioning people who have lost their lives, because you have no idea what you would do."
In a Facebook post on Monday, Carson wrote that he saw "plenty of gun violence" growing up in Detroit. His cousins were killed on the streets, he said, and he spent many nights during his time as a doctor pulling bullets out of bodies.
"There is no doubt that this senseless violence is breathtaking -- but I never saw a body with bullet holes that was more devastating than taking the right to arm ourselves away," Carson said.
Bill Clinton, the original Big Dog of presidential late night television, is back chattering. This time, he's not playing the sax. The Times' Meredith Blake has the highlights from last night's appearance on Stephen Colbert's"Late Show."
Hillary Clinton will have to choose a side on the Pacific trade deal. Eventually.
The White House would love to have Hillary Rodham Clinton's public support for the just-finalized Trans-Pacific Partnership trade pact. But it will have to wait.
During a campaign swing through Iowa on Tuesday, Clinton said she hadn't yet begun to digest the terms of the agreement between the United States and 11 other Pacific Rim nations.
"I'm going to be diving into that tonight," she told a reporter tailing her as she visited a farmers market in Davenport. "I'm going to be talking to people about it. They're giving me all the information they can gather so that I can make a timely decision."
The trade issue is particularly dicey for Clinton, given the revulsion many Democrats -- particularly in the labor community -- feel toward the North American Free Trade Agreement that was passed during her husband's administration.
As secretary of State in President Obama's first term, Clinton had a role in earlier stages of the negotiations over the TPP. But in June, Clinton said she would have voted against legislation that the administration said was key to securing a final deal.
White House Press Secretary Josh Earnest told reporters that the administration "would welcome her support," as it would any presidential candidate's.
"She'll have ample time to make a decision about whether or not she supports the agreement," he said. "The full text of the agreement has not been released yet, so I certainly would be sympathetic to her desire to want to review the agreement in detail before offering up a position on it."
A Democratic strategist not affiliated with any campaign predicted that Clinton would ultimately have to oppose the deal -- not only because of primary politics but also how the issue plays in key presidential election states such as Ohio.
"It's like the Keystone pipeline. It's hard to nuance it. You're either for it or against it," said the strategist, who requested anonymity to speak candidly about the issue. "Unfortunately, an issue like TPP is a lot more nuanced than it's allowed to be. People have spent so many years in Ohio now bashing NAFTA that anything you say about [TPP] is going to be like a dog whistle for large segments of the voting population."
Sen. Bernie Sanders of Vermont, Clinton's main rival in the Democratic primary race, swiftly expressed his opposition to the deal after the final agreement was announced Monday.
Bernie Sanders scores his first congressional endorsement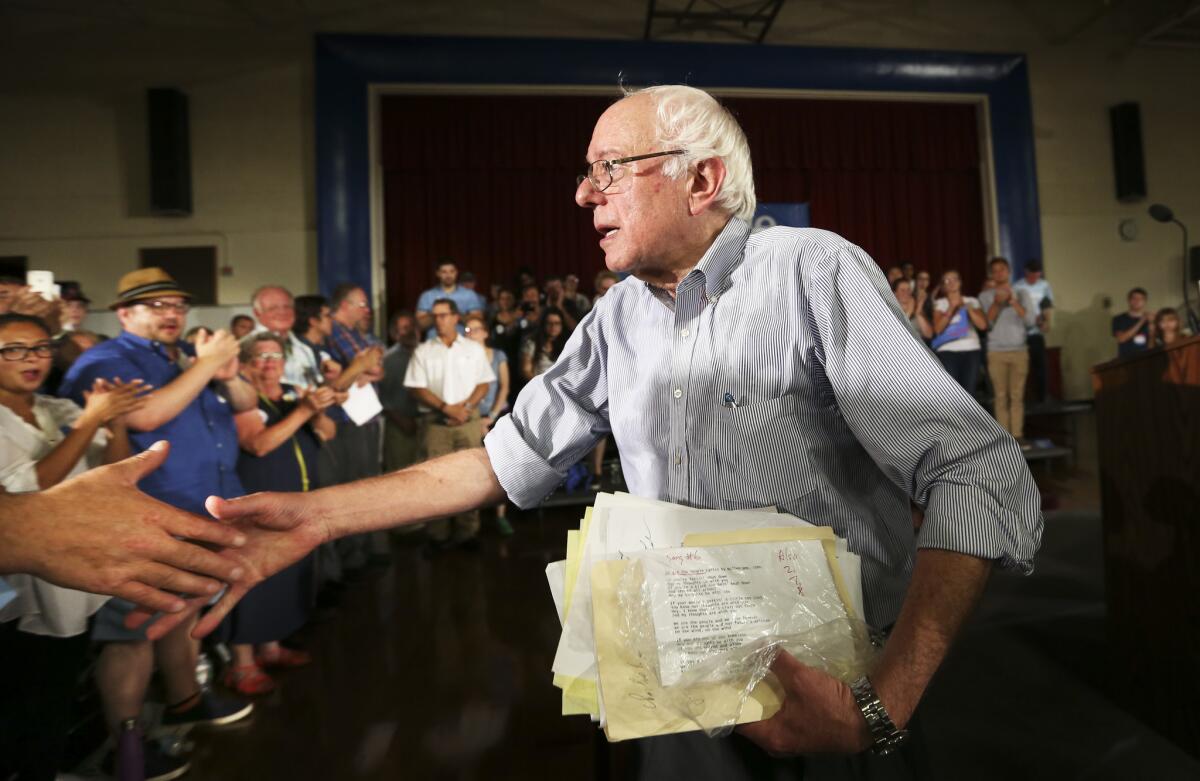 Slowly, relentlessly, Hillary Rodham Clinton has piled up one congressional endorsement after another. In all, more than 100 members of the House and Senate have announced their support for the former New York senator and Democratic presidential front-runner -- enough, laid end to end, to circle the Capitol dome many times over.
By contrast, independent Vermont Sen. Bernie Sanders has drawn massive crowds from Phoenix to Seattle to Boston but has won the public support of precisely zero of his colleagues on Capitol Hill.
That, however, is about to change, as Arizona Rep. Raul Grijalva prepares to declare his support for Sanders' presidential bid. The announcement is expected Friday night when the two appear together at a Tucson rally, part of a Sanders swing through the West ahead of next week's first Democratic debate, in Las Vegas.
Grijalva, a liberal Democrat serving his seventh term representing a southern Arizona district including Tucson, is co-chairman of the Congressional Progressive Caucus, which Sanders -- a self-described Democratic socialist -- helped cofound as a House member in 1991.
Grijalva is also a member of the Congressional Hispanic Caucus and is expected to help Sanders' outreach to Latino voters.
Along with his appearance in Tucson, Sanders plans a stop Saturday in Boulder, Colo., before heading to Las Vegas. The debate Tuesday night will be held at the Wynn hotel-casino on the Las Vegas Strip.
With her recent proposals to protect consumers from rising drug prices and runaway medical bills, Hillary Rodham Clinton signaled her presidential campaign would focus on bread-and-butter healthcare issues.
The approach is a marked contrast to her GOP rivals, who continue to make taking on the Affordable Care Act the central pillar of their healthcare campaigns.
Clinton's approach may be more in step with what consumers want, polls suggest. Americans' top healthcare concerns are high-cost pharmaceuticals, out-of-network charges and adequate physician networks, not the health law that President Obama signed more than five years ago,
The Times' Noam N. Levey reports.
Get our Essential Politics newsletter
The latest news, analysis and insights from our politics team.
You may occasionally receive promotional content from the Los Angeles Times.