Editorial: Yes, we need a fee on developers to help pay for affordable housing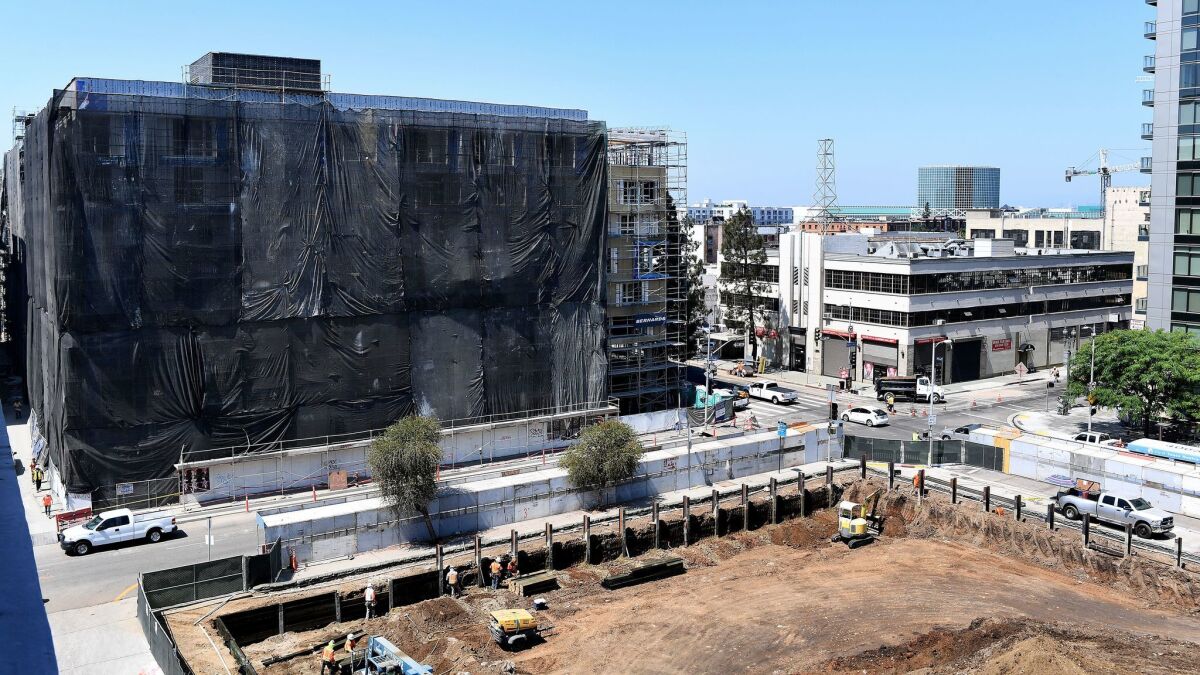 When the latest count showed that the number of homeless people in Los Angeles jumped another 20% from 2016 to 2017, it was both astonishing and completely predictable.
Astonishing (and demoralizing) because over the last year, L.A. has dramatically increased focus and funding on housing the homeless. And yet predictable because during roughly the same period, the vacancy rate for apartments was among the lowest in the nation, and average rents increased 5%, continuing a longer trend in which housing costs are rising much faster than incomes. So even as L.A. is working harder and harder to house the homeless, more Angelenos are falling into homelessness because of unaffordable rents.
This is the moment for Los Angeles to finally address the underlying problems in the housing market that have made Los Angeles such an expensive city to live in and allowed the homelessness crisis to grow. One piece of the solution is Mayor Eric Garcetti's proposed linkage fee — to be paid by developers of new market-rate residential and commercial buildings to help fund more low-income housing. The City Council should approve the fee as part of a more comprehensive effort to encourage the creation of housing throughout the city.
Developers don't find it profitable enough to build the kind of buildings that poor and working-class families can afford.
While L.A. is in crisis mode now, the fact is that the city has been growing increasingly unaffordable for years. That's why families crowd into tiny apartments or converted garages. That's why people live in far flung suburbs and commute hours each day to get to work. That's why some major employers have relocated to other states where their middle-class workers can buy homes.
The simplest — and largely accurate — explanation for the high cost of housing is that Los Angeles has a supply-and-demand problem. Housing construction in the city (and coastal California, in general) has failed to keep up with population growth. Between 1980 and 2010, Los Angeles County needed about 55,000 units of new housing, according to the state Legislative Analyst's Office. Fewer than 20,000 units were built. There is a particular shortage of housing for low-income and middle-income Angelenos.
So what Los Angeles needs above all is more housing — much more of it. But the free market alone will not solve the problem because developers don't find it profitable enough to build the kind of buildings that poor and working-class families can afford. That's why government has long provided money to build subsidized housing for families who might otherwise become homeless or live in dangerous, substandard housing conditions.
Since 2010, however, there has been a dramatic 70% drop in funding for affordable housing. When Gov. Jerry Brown eliminated the redevelopment agencies that had helped pay for low-income housing, Los Angeles lost about $50 million a year. What's more, Congress has slashed money for several critical affordable housing programs and President Trump has proposed eliminating the funding altogether. The burden, then, falls to the city to fill in the gap.
To their credit, voters passed Measure HHH in March, authorizing a $1.2 billion bond to build 10,000 units of homeless housing. But even that is not enough to address the larger need. Under the most recent population projections, the city needs to add roughly 82,000 more housing units between 2013 and 2021. Some 40% of those units — 32,000 — should be affordable to low-income families.
Garcetti's linkage fee would raise about $100 million a year. Supporters say that money, combined with existing tax credits and grant programs, could pay for 700 to 1,000 units a year of new affordable housing. The program would levy a $5 per square foot fee on new commercial development and $12 per square foot fee on new market-rate residential development. Residential projects with five or fewer units would be charged $1 per square foot. Certain kinds of development, such as grocery stores, smaller homes and affordable housing projects, would be exempt from the fee.
Los Angeles has been debating the idea of such a fee — or, conversely, of requiring developers are required to build affordable units in their market-rate projects — for more than 25 years. But the proposals were always shelved after objections from developers and business groups that the additional cost would make homes more expensive for the people left paying market rates or would slow the production of much-needed housing.
While L.A. dawdled, other cities acted, and now affordable housing fees and mandates have become commonplace. Some 170 cities in California have so-called inclusionary housing programs, including San Francisco, Santa Monica, West Hollywood, San Diego and Sacramento. Boston, Chicago and Seattle also have such programs. Los Angeles needs to act as well and adopt the linkage fee.
Will another development fee make market rate housing more expensive in L.A.? It's possible. There are conflicting studies on whether inclusionary housing policies do or do not affect the cost and supply of new market-rate housing.
For that reason, Los Angeles leaders would be foolish to pass the linkage fee and declare the problem solved. It has to be part of a larger plan for development and housing reform. To their credit (although it took them far too long), Garcetti and the City Council have committed to updating the city's General Plan and 35 community plans to spell out where new housing should be built. They've tightened the city's Rent Stabilization Ordinance to reduce the loss of rent-regulated units. The city has also adopted incentives to encourage developers to build affordable units in market-rate developments near transit lines. But there's more that can be done to reduce the cost of building housing in L.A. — including expediting approvals and reducing parking requirements in denser neighborhoods near transit.
The mayor's proposal is vague on how the linkage fee money would be spent. As the discussion continues, the mayor and the council must create a plan to ensure that the money is spent intelligently and effectively to build the kind of housing the city needs most. How much of the money, for instance, should go to low income housing and how much to middle income? Who will decide where the projects should be located? How can the city avoid the kind of politicized decision-making that has driven so much of the city's development in the past?
Clear rules are needed so that the dollars are spent to serve the greatest good and alleviate the crushing need created by housing and homelessness crisis.
Follow the Opinion section on Twitter @latimesopinion and Facebook
---
Life is stressful. Our weekly mental wellness newsletter can help.
You may occasionally receive promotional content from the Los Angeles Times.