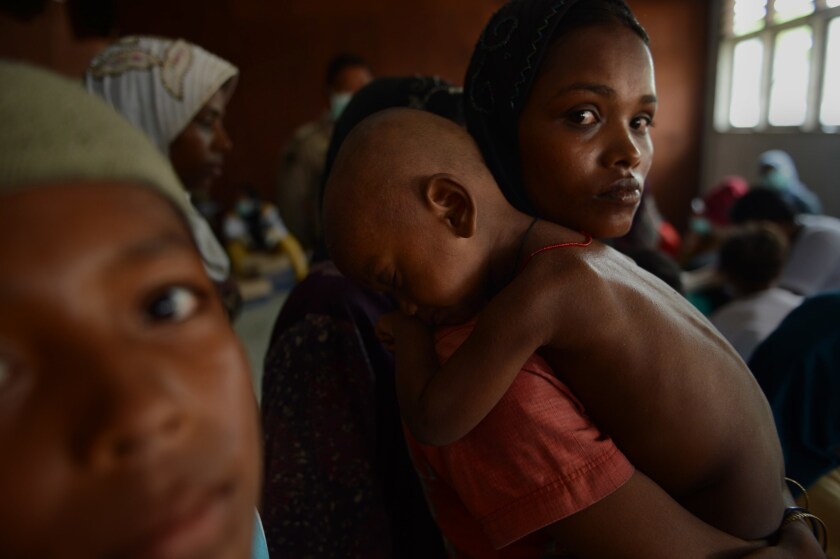 After watching for several weeks as refugees from Myanmar and Bangladesh drifted in crowded boats in the seas off Southeast Asia, begging for food and water, some dying along the way, the world is, finally, responding. Although they initially pushed away some of the boats, Malaysia and Indonesia are, at least temporarily, taking in some of the 7,000 to 8,000 migrants estimated to be at sea. Thailand, which has agreed to help but won't take in more survivors, will host a May 29 summit of Southeast Asian leaders to address the crisis. The U.S. government is offering maritime search and rescue assistance and has agreed to participate in a multinational resettlement effort.
Resettling refugees is a global humanitarian obligation. Many of these countries, including the United States, have taken in refugees from that part of the world over the last several years. Now, unfortunately, some are balking. Australian Prime Minister Tony Abbott — whose country is considered generous in receiving refugees — has refused to take in those who come by boat, telling reporters: "Nope, nope, nope."
While Bangladeshis are fleeing poverty, the refugees from Myanmar are Rohingya Muslims trying to escape their country's shameful, long-standing persecution. A minority in a Buddhist-majority country, they have been subject to sectarian violence and denied rightful citizenship for decades. Most of the 1 million Rohingya live in Myanmar's western Rakhine state, and as many as 140,000 currently are in squalid displaced persons camps. The government, wrongfully, considers them illegal immigrants and won't even call them Rohingya, referring to them as Bengalis.
Recent pressure from world leaders, as well as a meeting between U.S. Deputy Secretary of State Antony Blinken and President Thein Sein, has resulted in Myanmar's government agreeing to send representatives to the May 29 summit. Officials reportedly agreed only after they were assured that refugees from Myanmar will not be referred to as Rohingya. That's ridiculous, but at least Myanmar will show up at the table.
The Obama administration restored diplomatic relations with Myanmar in recognition of its move away from military rule. But the administration has yet to budge the government on its treatment of the Rohingya. The U.S. must intensify its calls to reform laws governing them. It's also past time for Aung San Suu Kyi, Myanmar's icon of peace, now a member of the parliament, to use her moral authority to speak out on the current crisis and denounce her country's treatment of the Rohingya.
Follow the Opinion section on Twitter @latimesopinion and Facebook
---