Editorial: Is Trump pulling his punches on Russia?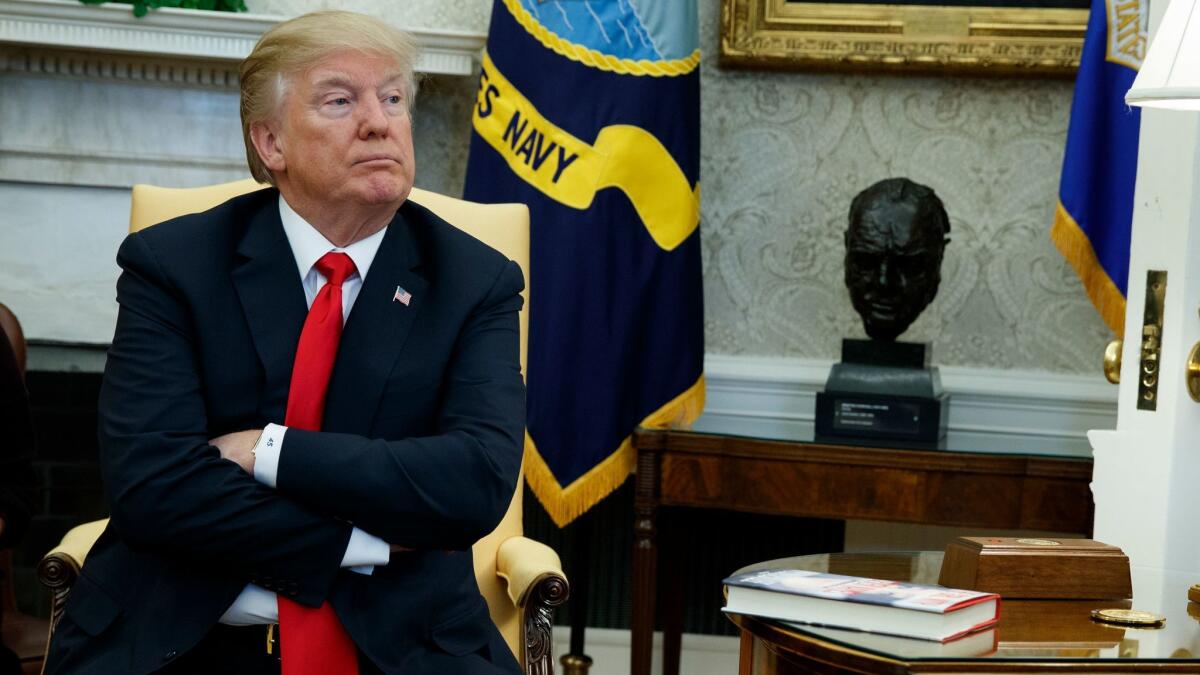 President Trump has an enormous blind spot about Russian efforts to interfere in the 2016 election on his behalf. He clearly believes that to make more than a grudging acknowledgment that it even occurred would undermine the legitimacy of his election and validate the investigation into possible collusion between his campaign and Russia that he has denounced as a "witch hunt." As with so many other matters, it's all about him.
A harder question is whether Trump's maddening myopia about Russian interference has led his administration to let its guard down in dealing with efforts by Russia to meddle in future U.S. elections — or with other actions by Moscow that threaten U.S. interests. In most respects the answer to that question is no, but there are areas of real concern.
As with so many other matters, it's all about Trump.
Those who take a dark view of the administration's intentions felt vindicated on Tuesday by an exchange at a hearing of the Senate Intelligence Committee between Sen. Jack Reed (D-R.I.) and FBI Director Christopher A. Wray. After Wray testified that the FBI was making "a lot of specific efforts" to counter Russian efforts to interfere in this year's midterm elections, Reed asked: "As directed by the president?" Wray answered: "Not as specifically directed by the president."
That startling revelation came in the same week that a group of Democratic senators introduced a resolution calling on Trump to impose additional sanctions on Russia, including penalties authorized in a bill the president signed in August. "The lack of seriousness shown by the administration in the face of a clear national security threat and even clearer congressional intent is alarming and cannot continue," said Sen. Benjamin L. Cardin (D-Md.).
That indictment falls short of Hillary Clinton's claim during one of last year's campaign debates that Trump would be Vladimir Putin's "puppet." But it's still a serious charge.
Under Putin's increasingly autocratic rule, Russia has built up its armed forces, annexed Crimea, supported rebels in eastern Ukraine and intervened to protect its ally President Bashar Assad of Syria. Last year, Russian armed forces engaged in a massive military exercise in Belarus that increased anxieties in former Soviet republics that are now NATO member states.
Finally, there is what U.S. intelligence says is Russia's continuing effort to interfere in U.S. elections. At Tuesday's Senate hearing, leaders of the intelligence community were united in insisting that they were taking measures against Russian efforts, even if the call to action hasn't come from the president himself.
On several fronts, the administration has shown itself willing to challenge Russia. The administration's National Security Strategy released in December declares that Russia and China "challenge American power, influence and interests, attempting to erode American security and prosperity."
The administration has acted on that assumption. Under the leadership of Secretary of Defense James N. Mattis, the Defense Department has moved to reassure NATO allies of the U.S. commitment to the alliance in the face of a Russian buildup. Trump himself — however belatedly — has reaffirmed this country's commitment to the alliance's core principle of collective self-defense.
The administration has also decided to keep U.S. forces in Syria, ostensibly to mop up operations against Islamic State, but also to prevent Assad, Russia's ally, from fully reestablishing his control over the country. Whatever one thinks of the wisdom of that policy, it's hardly a capitulation to Russia.
And late last year, the administration approved a plan to provide anti-tank missiles and other lethal weapons to the government of Ukraine so that it could defend itself against Russian-backed separatists.
Yet on other fronts, the administration's actions — or failures to act — do raise questions about pulled punches. The sanctions bill Trump signed last summer called on the executive branch both to impose sanctions on those who do business with the Russian defense and intelligence sectors and to publish a list of senior political figures and oligarchs in Russia who could be subject to sanctions in the future.
Last month, the Treasury Department did publish the list, but the State Department declined to impose sanctions on entities doing business with the Russian defense industry, claiming that the mere existence of the law provided a deterrent to such deals. Perhaps so, and it's also possible, as some commentators suggest, that other factors influenced the decision not to impose sanctions — such as the fact that U.S. allies such as Turkey and Eastern European members of NATO buy military equipment from Russia.
But the State Department's failure to provide details about the supposed deterrent effects of the law inevitably will encourage speculation that it is going easy on Russia because of Trump's lack of enthusiasm for sanctions.
That's part of the continuing price Trump and his administration will pay for his refusal to recognize reality.
Follow the Opinion section on Twitter @latimesopinionand Facebook
A cure for the common opinion
Get thought-provoking perspectives with our weekly newsletter.
You may occasionally receive promotional content from the Los Angeles Times.