Op-Ed: El Pueblo plaza doesn't need another tropical fig tree. Plant a native coast live oak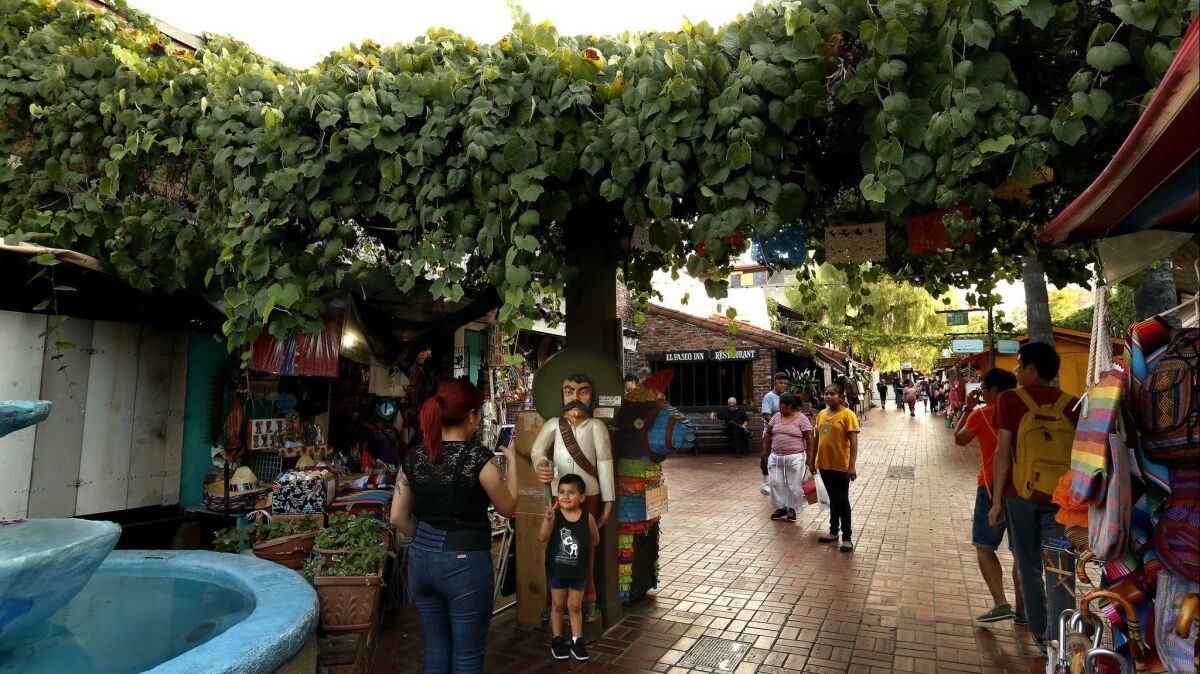 A venerable Moreton Bay fig tree cracked open and fell at El Pueblo de Los Angeles Historical Monument earlier this month. Replacing such a landmark tree — one that had, for 144 years, enthralled and shaded countless Angelenos — offers the city the chance to consider what our urban forest should feature in the next century.
When that tropical fig tree was planted, Los Angeles was looking for horticultural inspiration that would attract newcomers, especially those from the eastern United States. Boosters used imported flora to give the growing town a familiar postcard-ready landscape. The evergreen and fast-growing fig fit the bill. A shipment of them arrived in San Pedro in 1875 to be handed out to anyone who came down to the dock. The fallen fig was one of four planted that year by Missouri native Elijah Hook Workman as part of a city beautification drive.
Plants from all over the world began to take root in yards and parks, a trend that accelerated after the Los Angeles Aqueduct brought more water for irrigation. As a result, many of L.A.'s most familiar and dramatic tree species are from other continents. Like the Moreton Bay fig, the eucalyptus comes from Australia. Our iconic palms and jacarandas arrived from tropical South America. Stone pines and olive trees hail from the Mediterranean.
A coast live oak in El Pueblo plaza would make a statement about the communal life we continue to create in this state.
Today, as we look to nurture more sustainable landscapes, the local trees that were relegated to bit parts for a century need to get some starring roles, like at El Pueblo de Los Angeles. Replacing the lost tropical fig with a native tree, specifically a coast live oak, would be a powerful statement that Los Angeles is now embracing the unique nature of California.
California native plants like coast live oaks can see us through our hotter summers and unpredictably wet winters. They are resilient in the face of the changeable climate, as our weather has always been variable, while many imported trees are adapted to more consistent conditions. Once established, many natives are the epitome of water-wise landscaping, requiring infrequent irrigation.
Oaks are beautiful icons of the Golden State. With their small, water-saving leaves and ample acorns, oaks speak to both conservation and abundance. Their architectural branches exude strength and character. The majestic size of a coast live oak — up to 60 feet tall and 100 feet wide — will create a compelling centerpiece in the plaza, drawing people to its shade and beauty and connecting us to our past and future.
Coast live oaks were common companions to the original inhabitants of California, sustaining people and other animals for thousands of years. Historically, they grew throughout much of Los Angeles County. Although development felled many thousands of local oaks, particularly during the postwar building boom, their dominant presence is reflected in countless place names. The words "encino" and "roble" — as in Encino and Paso Robles — are both Spanish words for oak. Now is the time to bring oaks back into our city to inspire and support us once more.
Enter the Fray: First takes on the news of the minute from L.A. Times Opinion »
There are some who argue that California native trees have few natural defenses against invasive insects and therefore should be barred from our urban forest. It is important that the city not use this justification to turn its back on our native trees. UC Riverside research shows that the coast live oak can withstand attack from some of our new tree pests, especially fungus-carrying beetles such as the polyphagous and Kuroshio shot hole borers. Evidence also indicates that well-watered, coddled trees are the easiest prey for the borers, so a tree in a public plaza, surrounded by paving and generally pretty hard-grown, is relatively safe.
The city of Los Angeles already defends all native oaks by requiring a permit for their removal. Planting an oak in the plaza would take that protection further by educating visitors about the vital role of native trees: supporting pollinators, thriving in our climate, and providing incomparable beauty.
A coast live oak in El Pueblo plaza would also make a statement about the communal life we continue to create in this state. The plaza has long served as a gathering place to celebrate all that diverse cultures add to Los Angeles. In fact, the Moreton Bay fig fell during a Chinese lantern festival on March 2. A replacement native tree expresses what everyone who lives here shares: the amazing environment that is California. Plant a California tree, surrounded by California shrubs, and bring every Angeleno closer to a sustainable California.
Kitty Connolly is executive director of the Theodore Payne Foundation for Wild Flowers and Native Plants, a nonprofit founded in 1960 that promotes California native plants.
Follow the Opinion section on Twitter @latimesopinionand Facebook
Our six-week newsletter will help you make the right decision for you and your property.
You may occasionally receive promotional content from the Los Angeles Times.