Op-Ed: John Bolton might be a more dangerous choice for national security advisor than Michael Flynn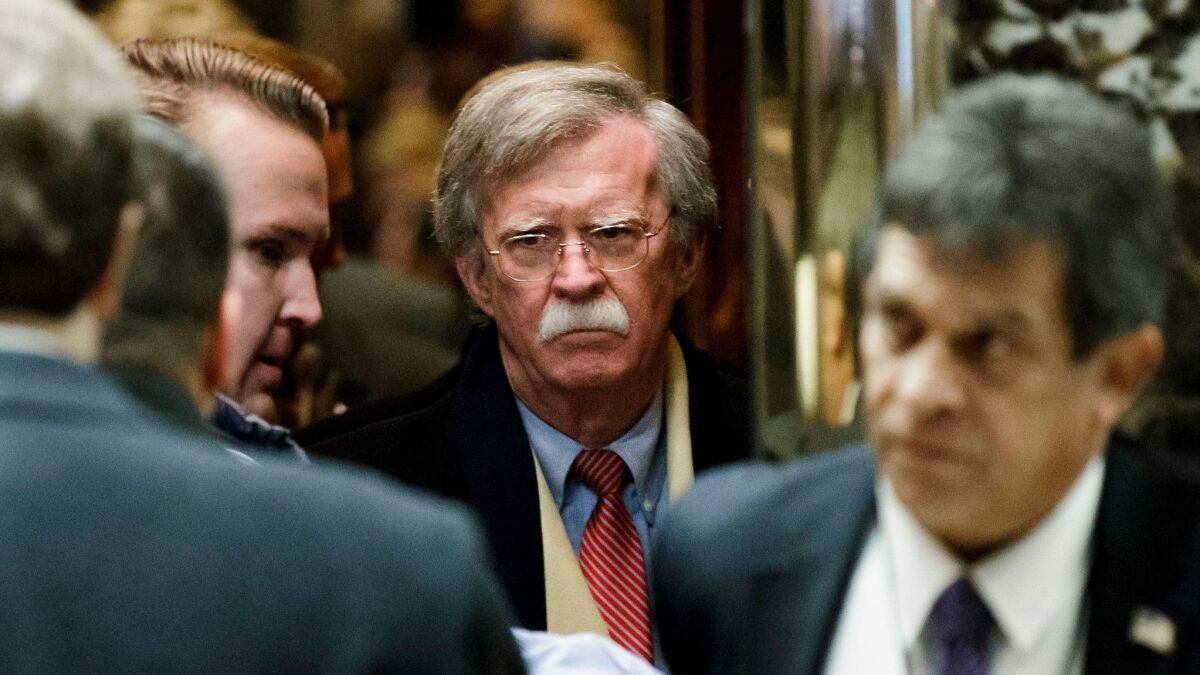 The appointment of John Bolton as President Trump's national security advisor is a symptom of the most profound and dangerous shift in American foreign policy since the end of World War II.
Bolton is an extremist hawk whose inflammatory views kept him from being confirmed by a Republican-controlled Senate as our ambassador to the United Nations in 2005 (he served in the role through a back-door recess nomination). He will, conveniently, need no confirmation as head of the National Security Council, but with his predisposition for pre-emptive military action, his contempt for diplomacy, and his on-the-record coziness with the Putin regime, he has no business in the role of being the president's principle advisor on security issues.
As bad a choice as Bolton is — and in my view he may be a more dangerous choice than Michael Flynn, who lasted 21 days in the job and has already pleaded guilty to lying to the FBI — he is a symptom of a much more dangerous trend in Trump foreign policy. The Bolton announcement came on the same day that Trump added $50 billion worth of tariffs against China and promised more such tariffs on more countries worldwide would be coming soon.
We are witnessing the most extreme form of American nationalism in modern times, and it is primarily in service to craven politics.
It follows the firing of the "adult" (if often ineffective ) Rex Tillerson as secretary of State and the departure of another adult, Gary Cohn, as economic advisor. It is of a piece with isolationist decisions to pull the U.S. out of the Paris climate accords and the Trans-Pacific Partnership, and the administration's attempts to scuttle NAFTA. Coming soon: unilateral withdrawal from the Iran nuclear accords.
The administration is running away, fast, from commitments to the principles of international cooperation, dialogue and respect for the rule of law that have been central to U.S. foreign policy since the 1940s. In the days after the bloodiest conflict the world had ever known, the Truman administration led a period of unprecedented transformation in the way the world worked. It was the high point of U.S. international leadership and creativity. In just a few years, the U.N., the World Bank, the International Monetary Fund, NATO and the trading system that became the World Trade Organization came into being. The European Union got its start then as well.
The U.S. has sometimes chafed against the constraints of the system we helped to create. But even at moments of peak unilateralism here — for instance, during the first years of the administration of George W. Bush, when Bolton and fellow neocons were last in their ascendancy — America did not abandon its alliances, or desert international institutions and international law. Vice President Dick Cheney and Secretary of Defense Donald Rumsfeld got their way — disastrously — on invading Iraq without U.N. support, but an effort was made to get the U.N. Security Council's agreement. Elsewhere, the Bush team actively supported and liberalized the international system. TPP was born on Bush's watch, and his administration had a better record on encouraging immigration than President Obama's. Bush's AIDS program in Africa and his active outreach to the emerging world marked him as a leader of compassion committed to strengthening U.S. ties with rising powers and helping those in need.
Trump's hard turn away from such policies is unmistakable. We are witnessing the most extreme form of American nationalism in modern times, and it is primarily in service to craven politics. Trump appears to know little and to care less about a coherent, forward-looking international design of any kind, let alone one that truly protects U.S. interests. He is merely shoring up his angry, fearful base, whose isolationism he has cultivated with the help of Stephen K. Bannon, Stephen Miller, Breitbart News and Fox News. He employs dog whistles with abandon — embracing a border wall and refugee bans, and calling Mexicans rapists and using code words like "globalists" (which Nazis and white supremacists use to mean "Jews"). He cannot say a bad word against a clear enemy of Western democracies, Vladimir Putin's Russia.
Trump's actions are a repudiation of what has made America great for almost three-quarters of a century. They come perilously close to the disastrous nationalism of fascists in Europe and America-firsters in the U.S. that arose between World War I and World War II.
Hyper-nationalism back then led to catastrophe. Trump's version will at the very least make dangerous situations like North Korea and Iran much more dangerous. It will weaken the international system we helped create and that, though flawed, has served the world well. What is more, it will accelerate the precipitous decline of America's standing in the world, which is already a defining hallmark of the Trump presidency. Slogans aside, America was great when Trump took office. It will most assuredly be less so when he departs.
David Rothkopf is a senior fellow at the School for Advanced International Studies at Johns Hopkins University and a visiting scholar at the Carnegie Endowment for International Peace.
Follow the Opinion section on Twitter @latimesopinionand Facebook
Life is stressful. Our weekly mental wellness newsletter can help.
You may occasionally receive promotional content from the Los Angeles Times.