Op-Ed: Why haven't all the families been reunited? Cruelty, pure and simple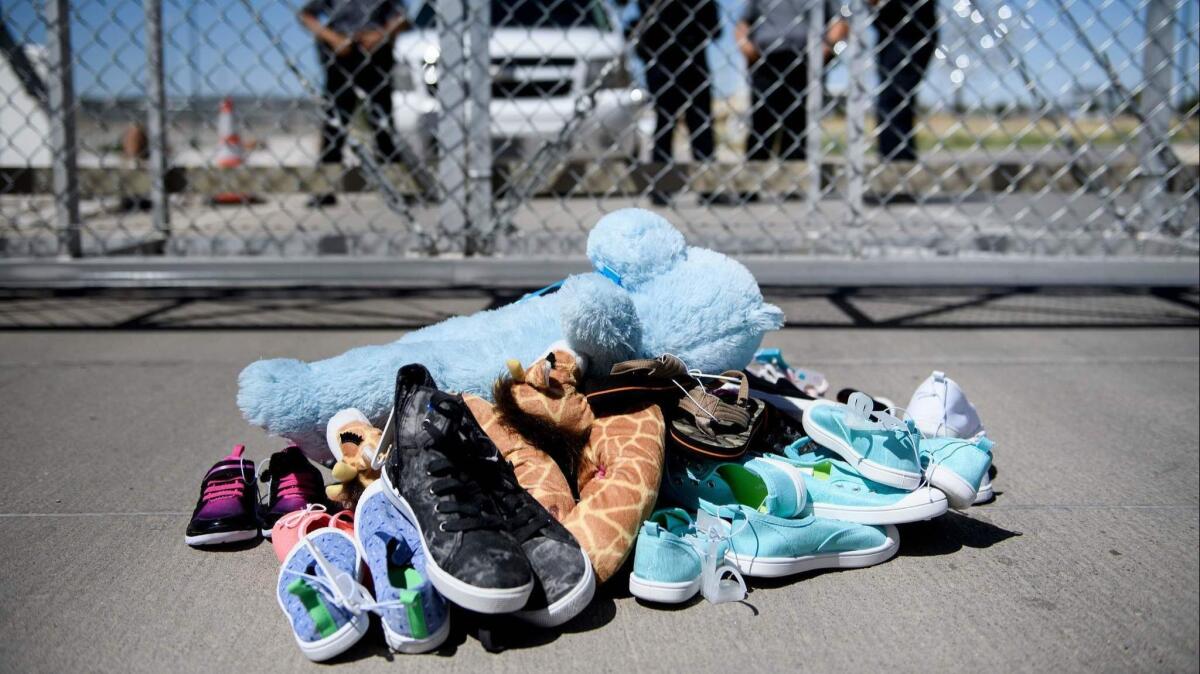 The failure of the U.S. government to reverse the kidnapping of thousands of children from their parents has been chalked up to incompetence. People want to believe that this act of extraordinary cruelty — and the Trump administration's inability to fix it — stems from our leaders' lack of experience or common sense.
But this too is a failure — of our collective imagination. The separation of children from their parents at the Southwest border is not simply a policy that has resulted in immeasurable harm, but a policy designed to inflict it. The government blew its Thursday deadline to reunite these families because it never intended to do so.
How else can we explain what has happened to these families? Some 14 million checked bags are managed by the Transportation Security Administration — and that's just during Thanksgiving weekend. Even high school students can manage a coat check for an evening without losing everyone's coats. They match each coat and owner with corresponding tickets, and do not store the coats outside the building, or even thousands of miles away from the event.
This administration will harm children in order to force Congress to agree to its absurd immigration policies.
The administration did not take even these basic measures when it began to separate children — not coats! — from their parents. It did not use corresponding numbers for the files of parents and children, or take photos of families together, or hand out hospital-style bracelets. It did not house families near one another, choosing instead to hold mothers in California and daughters in Chicago, fathers in Texas and sons in New York City.
In fact, the administration seems to have taken a comprehensive inventory of confiscated items — sneakers, toothpaste, rosaries — everything except which child belongs to which parent.
These are the actions of a government that intended to separate families but did not intend to reunite them. It meant to inflict so much suffering that other families wouldn't make the dangerous trek. No matter how bad the violence might be in Central America, surely these families would choose to stay united rather than come and be separated.
In fact, through all the blather, the Trump administration has admitted as much.
"I would do almost anything to deter the people from Central America," White House Chief of Staff John F. Kelly said in 2017. Even separate children from their parents, asked CNN's Wolf Blitzer? "Yes."
"We expect that the new policy will result in a deterrence effect," Health and Human Services Assistant Secretary Steven Wagner told reporters in June.
"Hopefully people will get the message," Atty. Gen. Jeff Sessions said casually on Fox News in June.
But according to the Department of Homeland Security, no one has been deterred. The number of families stopped at the border actually increased by 64% in the months after the administration began to separate families. So even if you could stomach traumatizing toddlers, this policy did not accomplish Sessions' objective of sending a warning across the desert.
Still, cruelty has its uses. Across the country, Republicans have made the Trump administration's immigration stance their rallying cry for reelection, running more than 14,000 campaign ads this year bragging about their efforts to "stop illegals." And last month, Sessions spelled out the administration's plan to use all the bad press for good.
"We do not want to separate parents from their children," he clarified. "If we build the wall, if we pass legislation to end the lawlessness, we won't face these terrible choices."
In other words, this administration will harm children in order to force Congress to agree to its absurd immigration policies. But let's be clear: No lawmaker of any party should ever accede to a legislative demand in response to the intentional infliction of harm.
Enter the Fray: First takes on the news of the minute from L.A. Times Opinion »
The American people must also speak up. Our government has kidnapped children from their parents. It forces these lost boys and girls to say the Pledge of Allegiance while they are held captive in building wings named for U.S. presidents. (It is not hard to believe that President Reagan would be aghast.)
This is not who we are, we want to say, but that isn't quite true. This policy reveals a darker side of America that has dehumanized black and brown people since our nation's founding. Americans have stolen and enslaved black people, killed indigenous peoples and imprisoned Japanese Americans. The reason why this administration has pumped out racist rhetoric casting people as fish to be caught, infestations to be eradicated, and animals to be caged is because it has worked before.
Will it work again? That's up to us.
Brian Schatz represents Hawaii in the U.S. Senate.
Follow the Opinion section on Twitter @latimesopinion or Facebook
A cure for the common opinion
Get thought-provoking perspectives with our weekly newsletter.
You may occasionally receive promotional content from the Los Angeles Times.