10 Images
10 groundbreaking women we lost in 2013
Margaret Thatcher, the "Iron Lady" of British politics, was the first woman to become prime minister of Britain and the first to lead a major Western power in modern times.
It was a long road. Her critics panned the principles known as Thatcherism -- that personal responsibility and hard work would lead to national prosperity, and that free-market democracies should stand firm against aggression -- but gave her grudging respect in the end.
Said Thatcher: "You don't follow the crowd, you make up your own mind."
Thatcher is seen above in 1989.
(Johnny Eggitt / AFP / Getty Images)
Decades ago, a smart housewife named Pauline Phillips who thought there might be more than mah-jongg to her life transformed herself into the syndicated columnist "Dear Abby," becoming a trusted, tart-tongued advisor to tens of millions.
In a time before the Internet (hard to imagine, we know), her column's influence on American culture was huge; in popular parlance, Dear Abby was an affectionate synonym for trustworthy, friendly advice. How did she do it?
"I learned how to listen," she told a newspaper interviewer years later. "Sometimes, when people come to you with a problem, the best thing you can do is listen."
Phillips is seen above in an undated file photo.
(AFP/Getty Images)
Doris Lessing, "whose richly imagined, scathingly perceptive novels helped define early feminism and the doomed idealism of the postwar generation" wrote more than 50 books, according to L.A. Times reviews, that explored "the social and political conflicts of her day, the colonial experience in Africa, the possibilities of extraterrestrial life and the conflicted recesses of the female."
When Lessing learned she had been chosen as the Nobel laureate in literature in 2007, her response was characteristically blunt: "I can't say I'm overwhelmed with surprise. I'm 88 years old and they can't give the Nobel to someone who's dead."
Lessing is seen above in 2007.
(Shaun Curry / AFP / Getty Images)
Jean Stapleton had enjoyed a successful career for decades, then, at age 48, suddenly became a "star" to the TV public.
By the time the landmark sitcom "All in the Family" premiered in 1971, Stapleton had been acting for 30 years on the stage, in movies and on television. Her screeching, hand-wringing Edith on the TV show was later credited as pivotal; that character's decency and goodness prompted the others to take stock of themselves and perhaps do the right thing.
In the end, she helped engineer her exit from the show, and was glad to regain her own well-modulated voice.
"I wasn't a leading-lady type," she told an interviewer. "I knew where I belonged."
Stapleton is seen above in 1982.
(Los Angeles Times)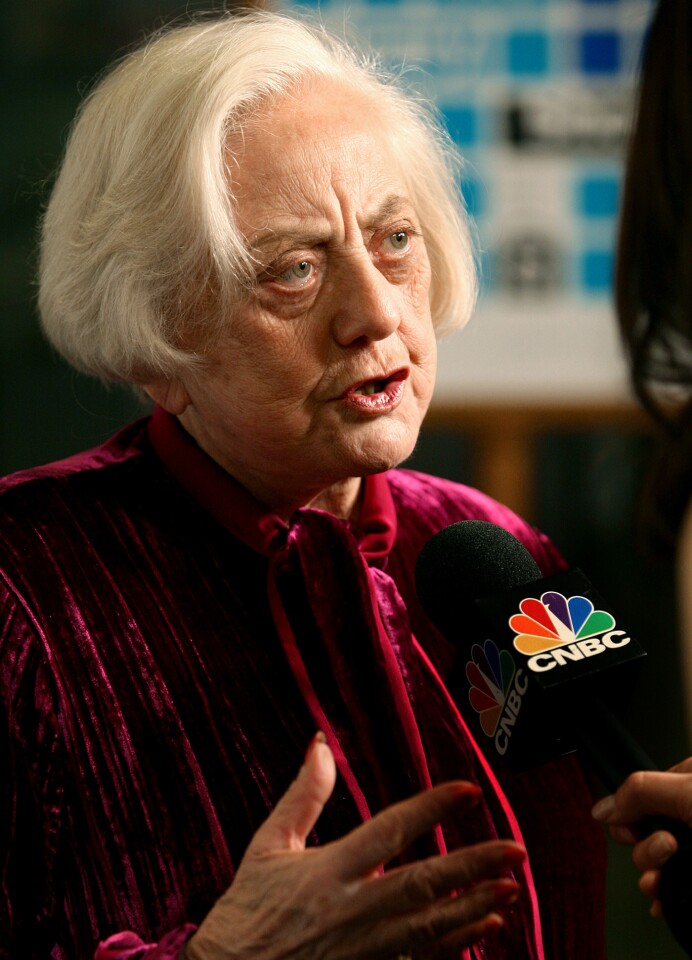 Muriel Siebert became a legend on Wall Street as the first woman to buy a seat on the New York Stock Exchange (and, to her dismay after 1967, remained the only woman admitted there for almost a decade) as well as the first woman to head one of the exchange's member firms.
She also was the first woman to be superintendent of banking for New York state. One of the (ludicrous, it now seems) obstacles to doing her job included controversy over the placement of a women's restroom. Siebert, known as a scrapper, said later: "There's still an old-boy network. You just have to keep fighting."
Siebert is seen above in 2008.
(Craig Ruttle / Associated Press)
Diane Disney Miller, a patron of the arts in California usually known as the daughter of Walt Disney, was a "formidable cultural presence who played a crucial role in the creation of Walt Disney Concert Hall."
The building of L.A.'s Disney Hall was contentious. After her mother, Lillian, died in 1997 and the key downtown project foundered, Miller stepped in and fought to keep famed architect Frank Gehry on the job.
"She said she remembered her father coming home from work, beaten down by various studio bosses," Gehry recalled later, after the concert hall was successfully established. "She said she saw something like that happening here."
Miller is seen above in 2005.
(Brendan McDermid / EPA)
Writer, researcher and sex therapist Virginia Johnson -- along with longtime collaborator William H. Masters -- helped make frank discussion of sex possible.
The couple's work was therapeutic as well as scientific. They helped establish the field of modern sex therapy. The research by Johnson, who started as an untrained assistant, and Masters, a gynecologist, corrected many long-standing scientific misconceptions.
Ridiculed for years, it was a measure of their acceptance, they said, that by the late 1970s Johnny Carson had "not made a single joke" about them.
Johnson is seen above with Masters in 1972.
(Associated Press)
Marcella Hazen, a newlywed who did not speak English, went on to teach Americans about real Italian food -- after finding that spaghetti sauce in her adopted country tasted more like "overspiced ketchup."
The chainsmoking biology scholar opened the door to something beyond red-checked tablecloths and Chianti. Even people who have never heard of her, say today's foodies, cook and shop differently because of the influence of this "Julia Child of Italian cooking" who stressed freshness and basics. Her recipe for tomato sauce includes just four ingredients.
She was never able to write in English, so all of her cookbooks and other works ultimately flowed through her husband, who also published books on wine.
Summed up Hazan: "Simple doesn't mean easy."
Hazan is seen above in 2012.
(Chris O'Meara / Associated Press)
Helen Thomas' blunt questions and sharp tone helped her make her way in a field dominated by men.
The correspondent's journalistic career bridged the years between the time people got their news from radio, newspapers and movie newsreels to today's 24-hour cable and Internet news cycle.
When she began in journalism, most female reporters wrote about social events. She pushed for more.
Along the way, she became the unofficial head of the White House press corps, closing years of presidential news conferences with her signature line: "Thank you, Mr. President."
Thomas is seen above in 2007.
(Will Hart / HBO)
A choreographer and dance instructor, Patsy Swayze owed her start in dance to a car accident and a mother determined to help her child recover.
She trained her late actor son Patrick Swayze on his way to "Dirty Dancing" fame; her pupils also included Broadway star Tommy Tune, "Fame" director Debbie Allen, actors Randy Quaid and Jaclyn Smith and her own acting/dancing children.
She taught dance and worked in Hollywood for decades.
She moved to Simi Valley in 1980 after choreographing the movie "Urban Cowboy."
"It was rural, like Texas, and the three children still living at home could have horses and dogs," Swayze told the L.A. Times in 1991.
Swayze, center, is seen in 1978 with her son Patrick and his wife Lisa Haapaniemi.
(Tom Colburn / Associated Press)