Opinion: Did a caricature of Donald Trump go too far? Depends on your opinion of the president.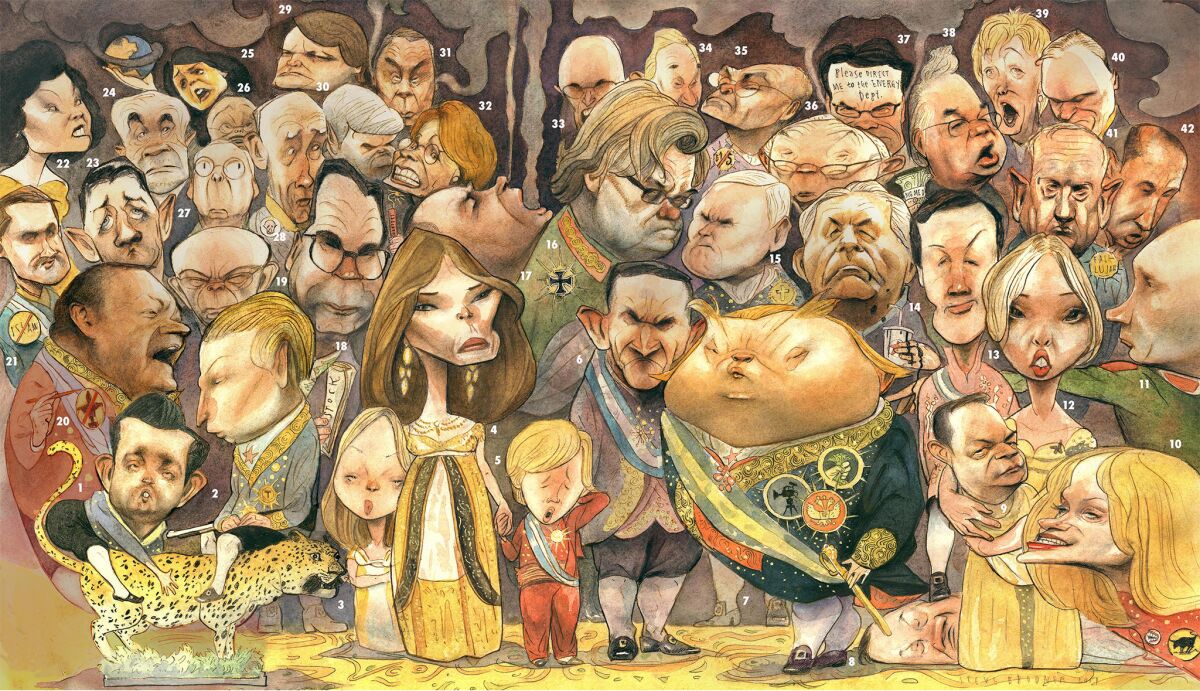 With his caricature of "The Court of Donald I" on Sunday, artist Steve Brodner prompted a reader response that fits in neatly with the broader public opinion on President Trump: You're either fiercely for or against him, with the middle ground sparsely inhabited.
Brodner's piece, based on a 19th century masterpiece depicting King Charles IV of Spain, drew nearly two dozen reader responses. About half the letter writers declared the op-ed art prize-worthy; to the other half, it was a disgrace to journalism.
Is this a preview of public discourse over the next four years?
Fullerton resident John Flocken thought Brodner's piece was garbage, literally:
I threw my Sunday Times in the trash.
Does Trump deserve the artist's stinging and truthful satire? Yes, of course.
— Jeanne S. Morgan, Santa Barbara
How could you publish such a revolting parody illustration of the new president of the United States, his associates and appointees — and his wife and family? It was disgusting, beyond belief. This is the op-ed page of the Los Angeles Times?
Well, I hope George Soros or some other liberal billionaire will be funding you in the future, because you're not getting any more money from me.
Ralph Manker of Torrance describes the artwork as "magnificent":
Congratulations to Brodner. He did a magnificent job of portraying the Trump family, the cabinet, and the people behind the scenes whispering in the king's ear.
I'm sure they all feel pretty smug at this point, just having assumed power. I hope they keep in mind the large opposition still active in this country. Last Saturday's Women's March should be a reminder.
At some point we need a government that can mediate and compromise.
Francis Allen of Fountain Valley criticizes Brodner partly on artistic grounds:
Francisco Goya's "Charles IV of Spain and His Family" is considered a masterpiece. What made this painting so exceptional was Goya's willingness to paint the king's family without flattery and an innovative composition using a mirror to reflect the king and queen observing Goya's work in progress.
Brodner's caricature of Trump seemed to have no relevance to Goya's work. Why is it that The Times devoted two pages to push a political agenda? I subscribe to a newspaper, not a political pamphlet.
Jeanne S. Morgan of Santa Barbara encourages other artists to depict Trump satirically:
Strong thanks for Brodner's powerfully eloquent satire of Trump's ascension, appropriately printed as a "keeper" for mass consumption. Cheers for the editor who placed this inspiring artist's savage truth on the final pages as a perfect climax to your historic pictorial record of post-inauguration international dissent.
Does Trump deserve the artist's stinging and truthful satire? Yes, of course. A person cruel enough to mock a disabled man and to laugh at grief is a pure inspiration for the artists who can eviscerate a subject with the inspired precision of dissenters such as Brodner and the entire Fourth Estate.
Follow the Opinion section on Twitter @latimesopinion and Facebook
---
Life is stressful. Our weekly mental wellness newsletter can help.
You may occasionally receive promotional content from the Los Angeles Times.