Readers React: Don't forget: Stephen Hawking strongly denounced Trump's climate policies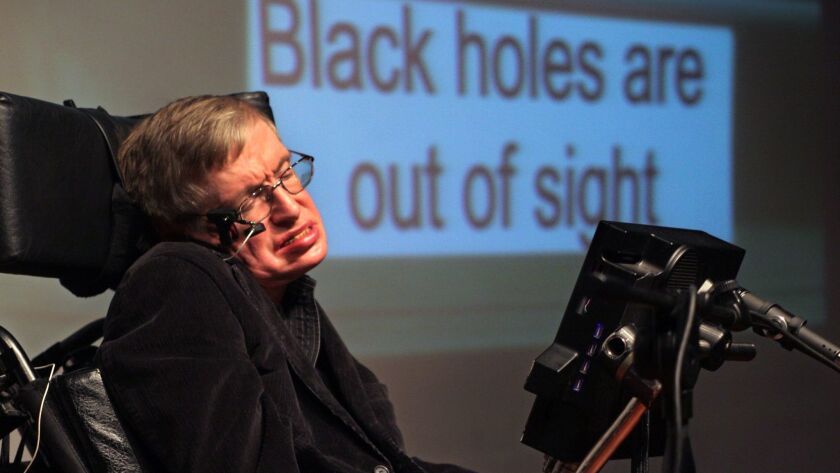 Stephen Hawking, the brilliant theoretical physicist and adept explainer of science who died Wednesday, contributed more to humankind's understanding of its universe than all but a small handful of people who ever lived. But as someone who served as a highly visible public figure as much as an accomplished academic, Hawking represented different things to different people.
The letters sent in by Los Angeles Times readers reflect that. To some, Hawking the public intellectual shined as a bright beacon of reason and intelligence in the dark era of Trumpian impulsiveness, and to others his nearly lifelong existence with a paralyzing motor neuron disease served as an inspiration to people with disabilities. For a few, it was his science, his life's work, that inspired.
Ann Rushton of Sherman Oaks repeats Hawking's warning on climate change:
Your obituary on Stephen Hawking's death described his remarkable intellectual gifts that have advanced our understanding of the universe and its origins. But let's not forget that he did more than explain black holes and the history of everything.
He repeatedly warned us of the dangers we now face related to global warming. He castigated climate change deniers and President Trump's withdrawal from the Paris Accord: "Donald Trump ... may just have taken the most serious, and wrong, decision on climate change this world has seen."
Hawking told us that we are at or near the tipping point that will determine whether life on this planet will continue as we know it. He warned that extinction of the human species is a real possibility.
As we recognize his intellectual achievements, we should also heed his warnings and take immediate action to combat global warming.
Studio City resident Russ Woody also makes a political point:
The brilliant Hawking said the universe is infinite with no beginning and no end. I would submit that the obverse is true of human intellect.
It is illustrated beautifully on the front page of your newspaper on Wednesday, where both ends of the spectrum are represented with pictures of Stephen Hawking and Donald Trump.
Kathy Cheer of Santa Cruz notes Hawking's physical disability:
"God sends strange messengers" — this is a quote I can't remember from whom or where, but it suits such incredible persons as Hawking, painter Henri de Toulouse-Lautrec and Christy Brown, author of the book "My Left Foot."
All three exhibited physical irregularities, all were brilliant contributors to their respective fields in the arts and sciences, and all rose above their restraints through sheer determination to fulfill the potential of the gifts bestowed on them.
Bob Wieting of Simi Valley recalls being inspired as a young chemistry student:
I vividly recall, like one of those events you remember all your life, when I first read about Hawking's work.
In the late 1970s, Sky & Telescope magazine described how an English theoretician combined two separate realms of physics — quantum mechanics and general relativity — and the results resembled a third independent realm, thermodynamics.
Wow! Even to a chemistry student, this looked deeply profound.
Follow the Opinion section on Twitter @latimesopinion and Facebook
---
A cure for the common opinion
Get thought-provoking perspectives with our weekly newsletter.
You may occasionally receive promotional content from the Los Angeles Times.