Opinion: Shame on L.A. if it hosts the Olympics without solving its homelessness problem first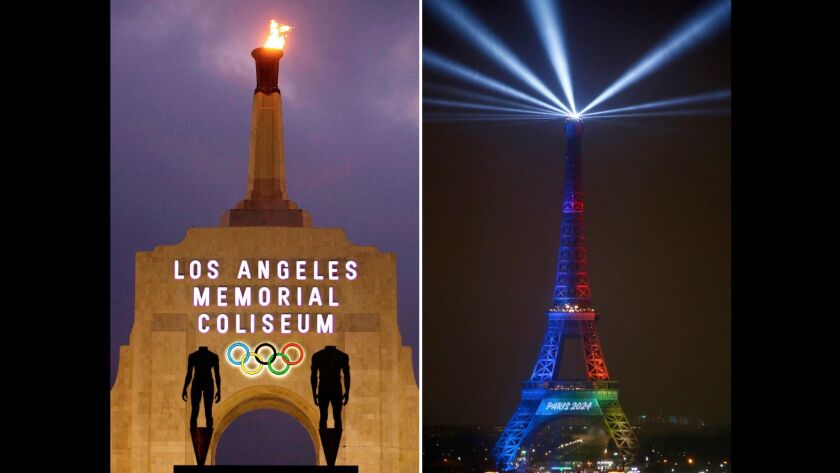 To the editor: Hosting the Olympic Games is a very overwhelming task for any large city. The great Peter Ueberroth managed to do the unimaginable by, among other things, turning a profit for Los Angeles with the 1984 Summer Games. Traffic flowed almost freely and people attended the events in an orderly fashion. ("L.A. 2028? It's not a booby prize but an opportunity for a better Olympics," editorial, June 9)
Today, Los Angeles is different. The epidemic of homelessness has worsened, and we can no longer avert our gaze from this issue. The problem of traffic congestion seems to only increase daily.
What kind of city is more concerned about revenue and fleeting prestige than about the priorities of finding urgent solutions for homeless people? As rewarding as hosting the Olympic Games in 2024 or 2028 would be, it would be a far greater feat to defeat homelessness. Take care of humankind first, and the rest will follow.
We can't hide these people and pretend they don't exist, but we can help change their lives and really be a shining example of how a city should care for all its residents.
Frances Terrell Lippman, Sherman Oaks
..
To the editor: The Times suggests that L.A. graciously accepting the 2028 Games, allowing Paris to host the 2024 Olympics, could actually work to our advantage. Mayor Eric Garcetti could be in a better position to push for concessions from the International Olympic Committee, similar to then-Mayor Tom Bradley getting the IOC to waive its cost-overrun requirement for the first and only time before the 1984 Games.
But is Garcetti strong enough to stand up to the IOC's experienced negotiators and demand the waiver? He seems to so desperately want the Games in L.A., putting the city in a poor position to negotiate.
As history has demonstrated, the IOC wants and wants and wants. Just ask the taxpayers living in the cities where the Games have been held recently.
Harvey Barkan, Studio City
Follow the Opinion section on Twitter @latimesopinion and Facebook
---
A cure for the common opinion
Get thought-provoking perspectives with our weekly newsletter.
You may occasionally receive promotional content from the Los Angeles Times.